The
News
Dedicated to Austrian-Hungarian Burgenland Family History

THE BURGENLAND BUNCH NEWS - No. 259
September 30, 2015, © 2015 by The Burgenland Bunch
All rights reserved. Permission to copy excerpts granted if credit is provided.

Editor: Thomas Steichen (email: tj.steichen@comcast.net)
Archives at: BB Newsletter Index

Our 19th Year. The Burgenland Bunch Newsletter is issued monthly online. It was founded by Gerald Berghold (who retired from the BB in the Summer of 2008 and died in August 2008).



Current Status Of The BB:
* Members: 2374 * Surname Entries: 7665 * Query Board Entries: 5479 * Staff Members: 17


This newsletter concerns:

1) THE PRESIDENT'S CORNER

2) A HUNGARIAN WEDDING INVITATION

3) RESEARCHING MY HAIDER ANCESTRY (by Cheryl Richardson)

4) TUTORIAL III: 1720 AND 1715 URBÁRS

5) CROSS-REFERENCE OF URBÁRIAL VILLAGE NAMES

6) HISTORICAL BB NEWSLETTER ARTICLES:
- LUTHERAN ORIGINS IN SOUTHERN BURGENLAND (from Fritz Königshofer)

7) ETHNIC EVENTS

8) BURGENLAND EMIGRANT OBITUARIES (courtesy of Bob Strauch)

1) THE PRESIDENT'S CORNER (by Tom Steichen)


Concerning this newsletter, after the bits and pieces here in my "Corner," Article 2 is an article about a Hungarian Wedding Invitation. Truly, it is not often that I get to write about the softer and gentler side of the European life our emigrant ancestors left behind, about the nice things like formal wedding invitations. It is my hope that this story will help round out the picture I try to paint about their time and place.

Articles 3, by Cheryl Richardson, is a combination trip report and ancestor hunt, complete with a surprising twist! But I'll let Cheryl tell you about that in her story about Researching Her Haider Ancestry.

Article 4 is a third Tutorial article related to the resources found on the Hungaricana website. This time, however, it is about the 1720 and 1715 Urbárs, which, while accessible from the Hungaricana website, are more accessible via direct links on the BB website.

In Article 5, I provide a (large) Cross-Reference table that relates the current Burgenland village names with the Urbárial Village Names as listed in the 1715, 1720 and 1767 Urbárs. There are a few "bonuses" included too... but you will need to read the article to learn about these.

The remaining articles are our standard sections: Historical Newsletter Articles, and the Ethnic Events and Emigrant Obituaries sections.





New Hungarian Translator: Last month I reported the passing of Joe Jarfas, calling him "one of my go-to correspondents when I needed to understand something 'Hungarian' or needed to translate an obtuse official Hungarian document." Over the years, Joe had become a friend, and it is the loss of that friend that I mourn most of all. However, as BB Newsletter Editor, I also lost a valuable resource, and I worried about replacing that capability.

Enter Réka Kieß! Réka became a BB member in April 2014, being interested in the Hirsch surname from Stöttera and Rohrbach (bei Mattersburg) and the Kiesz surname (possibly from Donnerskirchen). We were able to provide her some leads on her families.

She has since made the occasional comment on newsletter articles, including a comment on last month's Szolgálati Cselédkönyv article. In that comment, she also said, "Should any of the members abroad need some help in the future with Hungarian translation, please do not hesitate to provide them with my email address. I would be happy to help as I know myself how difficult it is at times to understand complex sentences that dictionaries are not useful for."

What else could I say but "Thank you, Réka, for your kind offer to assist!" So I did... and I quickly enlisted her as my resource for Hungarian transcription, translation and more.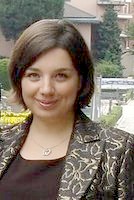 When I first conversed with Réka a year and a half ago, she was in Budapest working both as an English tutor and for the National Archives of Hungary.

Born in Budapest, she completed an undergraduate degree in English Language and Linguistics at the Károli Gáspár University of the Reformed Church in Budapest in 2002 and then obtained a Cambridge CELTA Certificate (certifying skill in teaching English to speakers of other languages). She next studied Publishing at the Donau Universitat. Just this year, she completed a post-graduate degree in the field of Rare Books and Manuscripts Librarian at the University of Szeged. One aspect of this degree is expertise in paleography, which Wikipedia tells me is "the study of ancient and historical handwriting.... Included in the discipline is the practice of deciphering, reading, and dating historical manuscripts, and the cultural context of writing.... The discipline is important to understanding, authenticating, and dating ancient texts."

Along the way, she has worked in archives in Europe, acted as proofreader and lector for various science papers and publications, and became actively involved in linguistic research into the language of printers and publishers in Hungary, England, France, Germany, and Italy. She is currently researching the evolution of the language of printers and loan word etymology in the above mentioned languages.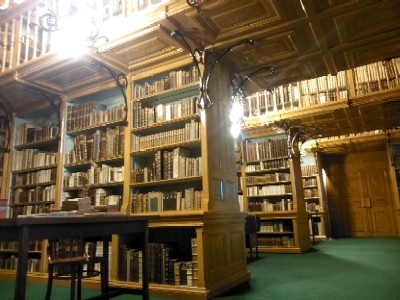 Since August, she is a "rare books and manuscripts research librarian" working in the Somogyi Károly Regional Library in Szeged, particularly in the special collection of the Somogyi Foundation, where incunabula (books produced before 1501 from movable type), and other old books and manuscripts are kept.

She also tells me that she maintains relations with colleagues in the National Archives and is closely connected to the regional archives in the county of Csongrád, also a part of the National Archives.

As you might expect, this extensive educational background, along with her Hungarian origins and her English communication skills, should allow her to be of tremendous help in reading, transcribing and translating old Hungarian handwriting. I look forward to a long successful collaboration with her!





Not So Good News From Eisenstadt: Recently, I asked Klaus Gerger to try to get the current status of the church records (matrikels) digitization project of the Eisenstadt Diocese. He did and, as the title of this tidbit says, the news is not good. Klaus visited the Archive to speak with the head archivist, Mr. Weinhäusel, and he learned the following: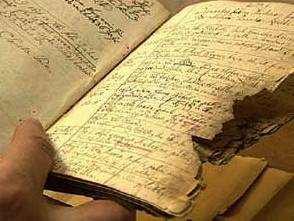 First, the digitization project is stopped due to the limited budget. As I had noted previously, a significant number of the church books were in poor condition. Thus a decision was made to dedicate the currently available money to restoration of books only. While this does not help us internet researchers immediately, it does mean the books will not be lost to decay, will be available in the Diocese Archives for onsite research, and maybe can be digitized in the future.

Second, Herr Weinhäusel assured Klaus that onsite researchers are very welcome (though an advance appointment is mandatory). However, he also said that, while the staff of the Archive will not do research, they will provide scans of single pages (via mail) if precise access data (date and name) is provided and staff time is available.

Third, Herr Weinhäusel recommended Felix Gundacker as a professional genealogist for paid research.



Nickelsdorf Takes Center Stage:
BB Contributing Editor Frank Paukowits comments on the refugee situation in Europe...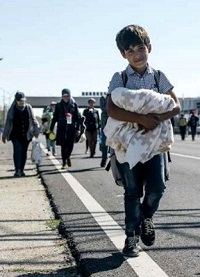 It's a town of 1,600 inhabitants in the Neusiedl District of Burgenland but, most recently, Nickelsdorf has become the passageway for tens of thousands of refugees streaming through Eastern Europe to find better lives in the West. While Germany, by far, is the country which has agreed to provide sanctuary to the largest number of refugees, the Austrians have demonstrated concern over the plight of these people. In fact, newspaper reports recounted how refugees began clapping when they had realized they had reached the Austrian border.

The people come from places like Syria, Iraq, Afghanistan and areas in Africa that have been ravaged by war for many years. They are desperate and have traveled by boat and foot across countries like Turkey, Greece, Hungary Serbia, etc., to find refuge in countries that have demonstrated a willingness to provide a place to live and humanitarian relief.

This situation is reminiscent of the plight of my own ancestors who fled Croatia 500 years ago while being pursued by the Ottoman Turks. These people resettled at that time throughout Burgenland and became an integral part of the German/Hungarian towns in the area. Personally, I am glad that there was a haven for my ancestors many years ago.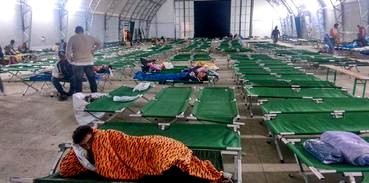 Ed: Frank is correct that Nickelsdorf, Burgenland, being the first train station over the border from Hungary, has been the primary access point for refugees entering Austria from Hungary. Temporary accommodation centers (see example to the right) have been created to feed and house the refugees as they wait for further transport into Europe. Similar facilities are in Parndorf (the village nearest the infamous abandoned truck) and other nearby areas. My understanding is that Burgenland has offered permanent asylum for about 3000 refugees but only a handful have chosen, so far, to seek asylum there.





DNA Cousins (follow-up): Last month I commented on Richard Potetz' reported autosomal DNA "ethnic makeup" included 3% "Asia Minor" (per FTDNA) or 0.4% "East Asian" (per 23&Me) and my own 10% "Asia Minor" component. I light-heartedly argued that, thus, our ancestral background possibly included a little "Ottoman Turk" DNA, compliments of the Ottoman armies that roamed Burgenland in the 15 and 16 hundreds.

This prompted Bob Schatz to write, saying (in part):
I thought to send a quick note re your mention of Asia Minor DNA in your and Richard Potetz' autosomal makeup. I hate to dispel any notions of 15th-16th century Ottoman Turks or Burgenland slaves, but this part of your DNA could reflect a much more distant Neolithic connection.

Like you, many people of Central and Southern European extraction have some percentage of Asia Minor or East Asian DNA (I myself have 25% through my father, with close matches to men currently living in Italy and distant matches to men currently living in Turkey and the Levant). Anthropologists believe that the presence of "Asia Minor/East Asia" genes in the European population represents a demic diffusion from that part of the world to the western Mediterranean, occurring at various times either in pre- or recorded history through trade, settlement, or military recruitment.

When discussing DNA, we need to take into account that "ethnic makeup" is often a cultural veneer over our deeper biology. In the case of current matches living in Turkey, it's good to keep in mind that although the culture of Asia Minor is now Turkish, the population of Turkey is not all "Turkic" biologically / genetically. History shows that while there was always movement of peoples, general populations tended to stay in place over long periods, and the cultures of those populations shifted as their ruling elites replaced each other through conquest or economic advantage (Central European Celts becoming Germans or Slavs, for example).

In their long history, the peoples of Asia Minor have lived through many cultures, Turkish, of course, being just the most recent. The ethnic designations used in autosomal testing usually refer to the place or the culture that was in existence when a particular genetic mutation occurred, so for example we shouldn't extrapolate forward that the presence of "Asia Minor" genes automatically = a "Turkish" ancestor.

In Richard's case, it would be best to determine how far back in time he shares a common genetic ancestor with his Turkish match (the age of the shared genetic mutation). If that ancestor, or rather the shared genetic mutation, falls within the Modern Era (1500-present), then indeed it could very well point to an Ottoman.



I thank Bob for reminding me to think a little deeper on the meaning of these "place" (rather than "ethnic") designations... with that in mind, I herewith quote the "Primary Population Cluster Description" that FTDNA provides for the "Asia Minor" designation:

The Asia Minor group is present from South Asia, Turkey, the Caucasus, and along the shores of the Mediterranean Sea. It was home to early hunter-gatherers and farmers. It has a deep history and connects to many lineages. It is the mark of those who moved east to west and back again, along what would become the Silk Road. The Asia Minor group is connected to the oldest groups of modern humans. As early humans left Africa, they settled in this area. The hunter-gatherers were eventually replaced by the first farmers.

Early recorded history confirms several cultures lived in this area and left their mark, such as the Phrygians, the Hurrians, the Hittites, the Hatti, and the Armenians. Later, the Turks swept down from Asia and brought people from the Asian Northeast group. Likewise, the Arab expansion brought members of the Eastern Middle East group to the southern borders of the Asia Minor. We find that it is the strongest in Turks from the Fertile Crescent and people from the Caucasus. Closed social groups, such as the Druze and Assyrians, also have clear signatures of the Asia Minor group, suggesting that their genes are native to the region.



Thus we see that, as Bob suggests, there are many "ethnic" groups that fall under the "Asia Minor" designation, with Ottoman Turk being one such group. The territory of the modern state of Turkey (and that of surrounding states) has been under the historical political rule of many empires, each of which changed the local culture and influenced the "ethnic" genetic makeup of the region. The Ottomans only arose in 1299 AD, establishing Constantinople as its capital in 1453. Prior to that, the region was sequential part of these empires: 330-1453 AD, Byzantine (Eastern Roman) Empire; 27 BC-330 AD, Roman Empire; 330-27 BC, Macedonian Empire; 550-330 BC, Achaemenid (First) Persian Empire; and only then do we get back to the aforementioned "Phrygians, the Hurrians, the Hittites, the Hatti, and the Armenians."

I suppose one should do as Bob suggests and work out when the common ancestor (or genetic mutation) occurred, and then tie it (gently) to a particular "ethnic" group, but for now I think it will be more fun to conjecture that Richard is, say, part Hittite or Druze... or even Ottoman (and he can conjecture about me... but I think I want my "ancestor" to be a wanderer on the Silk Road... who eventually ended up on the Amber Road quite near their crossing!).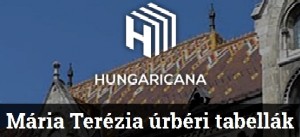 HUNGARICANA 1767 Urbárium Database Follow-up #2: The 1767 Urbárium tutorial continues to draw comments... and I'm pleased to receive and share them.

Dr. Esther Tóth, an award-winning physics teacher at the George Boronkay Grammar School and College in Vac, Hungary, shared a copy of the Hungarian-language version of the Urbárial table headings. I had noted previously that there were German, Latin and Hungarian variations; further research reveals there were also Slovak and Croatian versions, but that same research failed to find an example of a form printed with Latin headings (I did find numerous handwritten Latin headings, but those forms did not match up exactly with the pre-printed forms). I'll insert examples of the Slovak and Croatian headers at the end of this note, but here are examples of the Hungarian form and of an annotated German form, as I have quite a bit to say about them: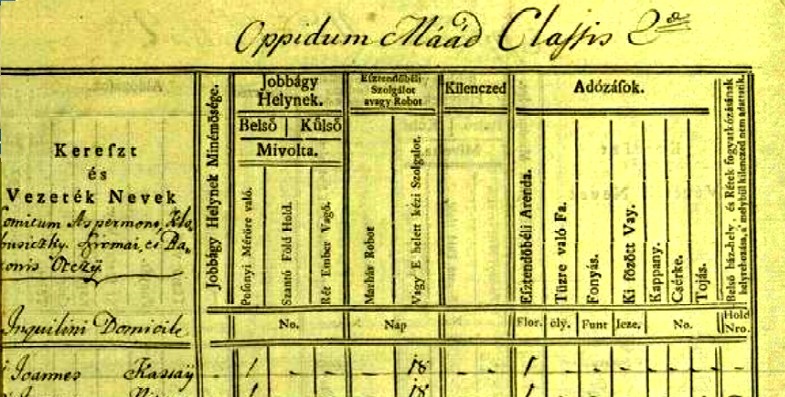 These Hungarian headings translate, in spirit, to the same English meanings as the German version I had shown previously (but see my comments below):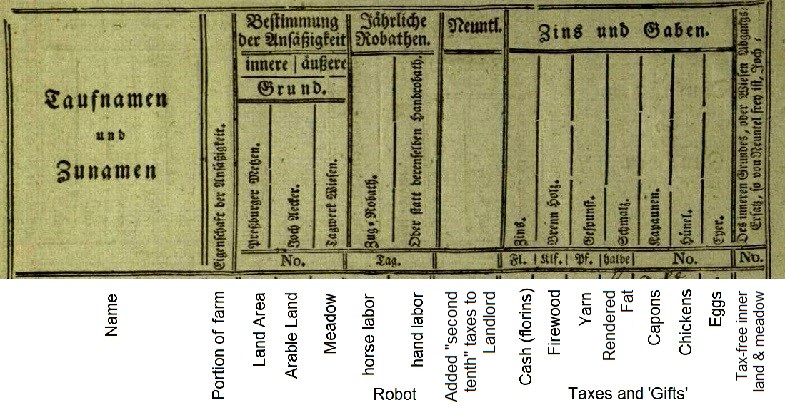 First, I need to point out that I over-simplified one translation in the German version (and it is now fixed, both here and where previously published): per Meir Deutsch, "Schmalz is fat, all kinds, not just butter. I think the best one is from Geese." As you may recall, I had labeled the column "butter."

Now, if you look at the Hungarian version of the form, that column has text "Ki főzött Vay" ...which GoogleTranslate claims is "Who is Vay cooked" ...which makes no sense, of course. However, Esther Tóth tells me that "It is very interesting for me, that the Urbariums in Hungarian uses an old Hungarian. :) (I need time to understand it.)"

With that thought in mind, I played around and discovered that the modern Hungarian "kisütött zsir" = "rendered fats" might be a reasonable "modernization" of the Urbár's old Hungarian and a close match to the German wording. My prior experience with translating the Hungarian headings had shown me that spelling changes or combination of once-separate words is not uncommon... you must assume you have to play with the old words and phrases to make reasonable sense of them (and it is much easier to do so if you have reason to believe you already know the translation). In fact, "kisütött vaj" = "clarified butter" would also be a reasonable updating of the Urbár phrasing. Even GoogleTranslate comes closer if you change Vay in the original text to Vaj: "Out-cooked butter" is the new translation, and "out-cooked" is a reasonable synonym for "clarified" or "rendered."

However, Esther tells me that there actually was something called "cooked butter" in Hungary that was similar to the ghi of India or the brown butter of France. She explains that, without cooking, unrefrigerated butter became rancid and smelled (and there was no refrigeration in 1767!). Cooking butter at about 180 degrees Celsius (350° F) allows it to be preserved. She says it has a beautiful smell as well, one similar to the smell of peanuts and is a transparent yellow color. And it still exists under name "főzött vaj." So it may be that the Hungarian form actually called for this specific butter.

She also comments that other fats may not have been as valuable in 1767 Eastern Hungary, especially pork-based fat, since pigs, unlike other livestock, were plentiful since they were not confiscated by the Muslims during the Turkish era. However, Western Hungary was not under Muslim rule so pork may not have been so common and its fat of higher value. These type of arguments may explain the difference in wording for this "fat" column.

However, I'll also note here that the Slovak-language form headers are translated at this webpage: http://www.pitt.edu/~votruba/qsonhist/urbariummariatheresa.html and that source also translates the "fats" column as "clarified butter." (The other header column translations match well with what I provide for the German version.)





I also decided to add translations for the Neuntl column and for the last, far-right column (see below for a discussion of the Neuntl column). The last column in the German form is one which formally indicates that homestead land within the village proper, as well as certain fallow meadows, are free from tax. The column, if filled-in, indicates the acreage involved. Given this was not terribly important information, some versions of the German form did not include this column.

Interestingly, the Hungarian text for this column differs notably from the German text. According to Esther Tióth, it translates to: "Ruined homestead land within the village, as well as fallow meadows, are free from tax if they just recover them."
As she explains, the population density was quite low in Eastern Hungary in the 1700s (after the Ottoman were driven out) and there were relatively large villages with few or no inhabitants. This is why German families were invited by the Hapsburgs to resettle the land from 1711 until 1785. These families did not pay tax in the first five years at all, and they did not pay tax even later in the case when they recultivated land, especially for grapes.





Esther and I also tossed around the meaning of the "Neuntl" column, which is written "Kilenczed" on the Hungarian form.

Esther told me that the "Kilenczed" (the second tenth) was given to the land owner, whereas the first tenth was given to the church (from as far back as the first Hungarian King, Stephen). However, the 1767 Urbárium was based on a new law by Maria Theresia and spoke only about the taxes to the land owners, and nothing about the tax to the church, unless the church was the land owner.

In reply, I told her that her comments on the "Kilenczed" column interested me because, since the rest of the document is about labor and payments to the land owner, it seemed unreasonable that the Kilenczed should go to them too.

This prompted her to consult with a fellow history teacher at her school, who confirmed that the data of the Urbariums were only about the taxes to the land owners. The Kilenczed was paid only to the land owner and by the "not-so-poor" peasants, those who had more income. He also noted that, since 1767, the churches, completely separate from the state, collected a tax called the "Tized." At some point, that tax was renamed the "Egyházi adó" = "church tax."

So that seems to resolve the meaning of the Neuntl / Kilenczed column. You should interpret any text and numbers in that column as payments owed to (or deferred from) the land owner.

I'll also note that the website for the Slovak version (see link above) fully agrees with this interpretation... church taxes were not part of this Urbárium.





Lastly, Esther noted that "In natura" translated to Hungarian as "természetbeni juttatás" = "payments in kind". That is, you paid in eggs, milk, meat, etc. and not money.

She also noted (along with a smiley face) that, now-a-days, "if a boy helps a girl, the girl says "May I pay In natura?" And gives a kiss."





We conclude this note with the promised Slovak and Croatian header examples, starting with the Slovak version: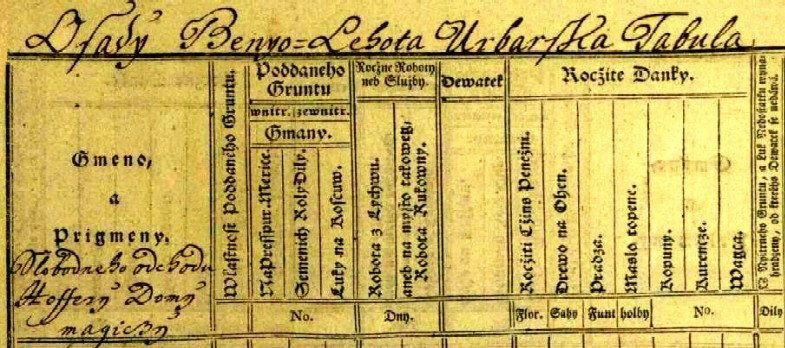 And here is the Croatian version (note the absence of the final column):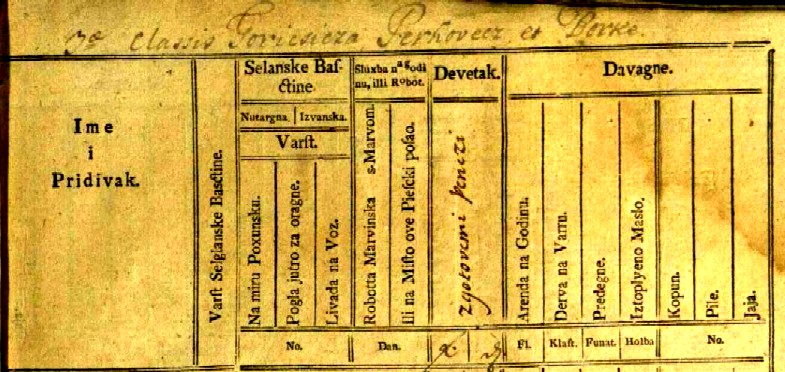 I have not attempted a translation of the Croatian form (but it seems to follow the column structure of the previous forms so the headings likely have the same meanings).





Greenback Dollars: Last month I ended article "History and 'History' Books" with a bit of personal history about my great-great-grandfather, Johann Steichen, and then some questions about "greenback" money. I had provide a sentence quoted in book "History of Stearns County Minnesota" (by William Bell Mitchell, 1915) that read as follows:

"June 8, 1865 -- A German named John Steichner, just arrived from the old country, bought this week from Nicholas Rausch, living near Rockville, twelve miles from St. Cloud, his farm of 160 acres, paying for it $1,200 in gold and $1,200 in greenbacks."

After noting that this really was about my ancestor (despite a few errors), I asked a couple of "bonus questions," which I'll repeat here:

Bonus Questions: What was a "greenback"? and how much was "$1,200 in greenbacks" worth in June 1865? and why do they speak of paying both "in gold" and "in greenbacks"?





Meir Deutsch was the only brave soul to offer answers to these questions... and his answers were only partially correct, as he based his answers on the wrong era. So, herewith I try to provide the full story:

Answers: Before I researched these questions some 15 years ago, about the only thing I knew about a "greenback dollar" was that they were mentioned in the early 1960's Kingston Trio hit song, "Greenback Dollar" (written by Hoyt Axton in 1961). Maybe you remember the chorus:
And I don't give a damn about a greenback, a dollar
Spend it fast as I can
For a wailin' song and a good guitar
The only things that I understand, poor boy
The only things that I understand
Unfortunately, that song came out about 100 years after the advent of "greenbacks" and the meaning (simply as an alternate name for a dollar bill) had changed substantially by then. The sentence about my great-great-grandfather was dated June of 1865, just a few months after fighting in the US Civil War had ended... which is relevant, because "greenbacks" have roots in the Civil War.

Prior to the Civil War, the US Government issued coins ("specie"—containing gold, or sometimes silver) as the only legal tender. There was paper money but it was issued by private or state banks with the promise that the bank would redeem the notes for specie on demand. However, if the bank failed, the paper money was worthless.

Back during the US Revolution, the Continental Congress had issued paper "Continental Dollars" but, since they were backed only with a promise to redeem them for specie at some time in the future, they soon became worthless. This soured people on trusting "money" that did not have some inherent value (such as the precious metal content of coins).

Thus, when it became apparent that the costs of the Civil War would run far beyond the government's ability to pay via its limited income from tariffs and excises, the Lincoln Administration first sought loans from major banks, who demanded very high interest rates. These rates were considered just too high so, in July 1861, Congress authorized $50,000,000 in what was called Demand Notes. They bore no interest, but could be redeemed for specie "on demand." Although they were not "legal tender," they could be used to pay customs duties. They also differed from private and state notes in that they were printed on both sides—and green ink was used for the back side.

In December 1861, the government reneged on its promise to redeem Demand Notes for specie and began to remove them from circulation; by mid-1863, over 95% were gone.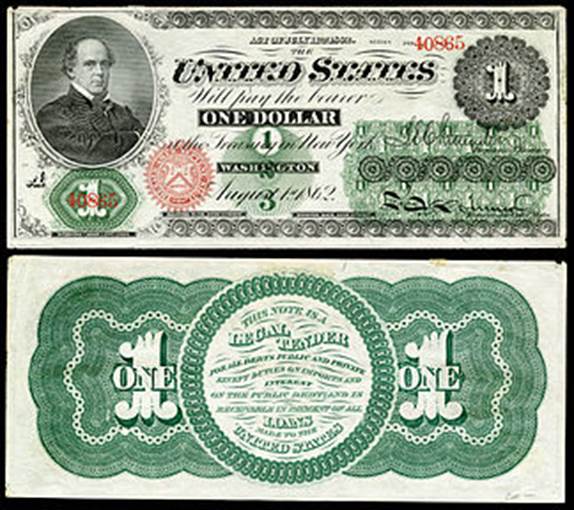 In February 1862, the government first issued what they called "United States Notes," making them legal tender for all transactions but not backing them by specie; they were backed only by the "good faith" of the US government. These also were printed with green ink on the back and quickly became known as "greenbacks" in everyday parlance.

The government used greenbacks to pay their soldiers and to buy goods and labor. Very quickly, however, the value of greenbacks fell below "par" and that value varied greatly based on how poorly the war was going. At their worst, in July of 1864, it took 258 greenbacks to buy $100 in specie.

When the war ended in April of 1865, their value rose to trade at 150 for $100 in specie. Thus "$1200 in greenbacks" was worth $800 in specie, meaning my great-great-grandfather really paid a total of $2000 "in gold" for the farm he bought for $1200 "in gold" (coins) and $1200 "in greenbacks" (paper).

And now you know!

A PS: The Confederate government also issued paper money during the Civil War. The Confederate dollar, often called a "greyback," was first issued in April 1861 and also was not backed by hard assets; rather, it was backed by a promise to pay face value plus interest to the bearer after the Southern victory and independence. Like greenbacks, their value varied depending on the South's success during the war. Late in the war, it took nearly 1700 greybacks to buy a single gold dollar coin; and all value was lost upon surrender.

A second PS: A question I did not ask, but that troubles me, is: Why would my ancestors emigrate to the United States while the Civil War was raging? Were conditions in Europe (Luxembourg in particular) so bad that moving to a country at war was better? Minnesota was far from the battle fronts, so that was a mitigating factor, but the North could have lost the war or the sons could have been forced into military service, and avoidance of military service likely was one reason they left Europe (I'm told that only citizens could be drafted into the US Army at the time they emigrated ...but that could easily have changed with the misfortunes of war). It may also be that my ancestors delayed emigration until the war ended, as it is possible that news of the April 9th end of the war could have reached Luxembourg prior to a departure that allowed them to be in Minnesota in very early June (fast ships could make the crossing in 8-9 days in 1865). I doubt I'll ever know the answer to this question, but I remain curious.





Jewish Burgenland Web Resources: Margaret Kaiser recently had an email exchange with Carole Garbuny Vogel of Branchville, NJ, who is the lead author of a article titled: "Constructing a Town-Wide Genealogy: Jewish Mattersdorf, Hungary 1698-1939," which was first published in Avotaynu: The International Review of Jewish Genealogy, Vol. XXIII. No. 1, Spring 2007. An online version of the article can be found at http://www.recognitionscience.com/cgv/research%20mattersdorf.html.

Margaret shared her message exchange to make me aware of the article, however, I was aware of it and had previously used some of the surname connection data found in it in a reply to a BB member. Since I agree with Margaret that it is a quite useful article, we herewith share it with you, the BB readers.

In her message to Margaret, Carol characterized the publication as a "survey article showing many of the resources available with information on the Mattersdorf Jewish community." She also said, "feel free to share the work and, if you would like, to post a link to it on the website; that will be great."

Then she pointed out these additional links as quite relevant to Jewish research in Burgenland:

http://kehilalinks.jewishgen.org/Lackenbach/, a website "dedicated to the study and commemoration of Jewish family history in the town of Lackenbach" and created by Yohanan Loeffler.

http://kehilalinks.jewishgen.org/mattersburg/, a comprehensive website about the Jewish community in Mattersdorf that was created by Carol Vogel.

http://www.ojm.at/blog/friedhoefe/, which is the part of the blog website of the Austrian Jewish Museum in Eisenstadt that documents Jewish cemeteries in Burgenland.

Our thanks to Carol for sharing her work and pointing out other resources.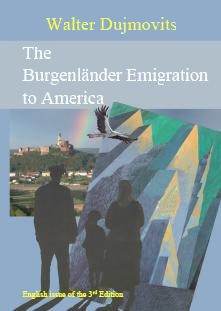 Update for book "The Burgenländer Emigration to America": Here is this month's update on purchases of the English issue of the 3rd edition of Dr. Walter Dujmovits' book "Die Amerika-Wanderung Der Burgenländer."

Current total sales are 923 copies, as interested people purchased 14 more books this month. Surprisingly, the book's rank improved slightly this month, to 410 from 412, likely implying that its competitors among the best-selling Lulu books have had slower than usual sales, as this was actually a slow month for our book!

As always, the book remains available for online purchase at a list price of $7.41 (which is the production charge for the book), plus tax & shipping. See the BB homepage for a link to the information / ordering page and for any current discounts (and there is at least one discount on price or shipping available most of the time... if not, wait a few days and there will be one!).





Burgenland Recipes: Another recipe from cookbook "Recipes for the New Millennium" (© 2000, Morris Press), subtitled "A Collection of Recipes from Former and Present Parishioners of Holy Ghost Church, Bethlehem, PA."

This one looks like a lot of work... but I'll bet it is worth it... plus you get two good sized rolls... should make everyone in the family happy, twice over!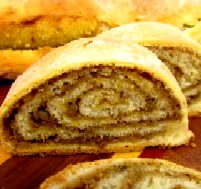 POTECA (Nut Roll)
(from Mary Schneider)

1 c. sour cream 5 1/2 - 6 c. sifted flour
1/4 c. milk 4 egg yolks
3/4 c. sugar 1/2 c. unsalted butter or
1 tsp. salt margarine, softened
2 env. active dry yeast 1/4 c. honey, warmed
1 tsp. sugar Walnut Filling (recipe follows)
1/2 c. very warm water

Combine sour cream, milk, 3/4 cup sugar and salt in a medium-size saucepan. Heat slowly, stirring constantly, just until mixture begins to bubble and sugar dissolves; cool in large bowl.

Sprinkle yeast and the 1 teaspoon sugar into very warm water in a 1-cup measure. (Very warm water should feel comfortably warm when dropped on wrist.) Stir to dissolve. Let stand until bubbly, about 10 minutes.

Stir yeast into cooled sour cream mixture; beat in 3 cups of the flour until very smooth. Cover bowl with clean towel; let rise in a warm place, away from drafts, 1 hour or until doubled in volume; beat mixture down.

Beat egg yolks until well blended in a medium-size bowl; beat in very soft butter until smooth. Beat egg/butter mixture and enough of the remaining flour into yeast mixture to make a soft dough.

Turn out onto lightly floured surface and knead 10 minutes or until dough is smooth and elastic. Place in a large buttered bowl; turn to bring buttered-side up. Cover; let rise in a warm place, away from drafts, 1 hour or until doubled in volume.

Punch dough down; knead a few times. Let rest 5 minutes. Divide dough in half; roll one-half on a lightly floured surface to a 26 x 10 inch rectangle. Spread half the walnut filling over dough, leaving 1/4 inch margins.

Roll up jelly roll fashion, starting with one of the short ends. Pinch to seal seam; turn ends under, pinching to enclose filling. Place, seam-side down, on a greased cookie sheet. Repeat with the remaining dough and filling to make a second cake. Cover; let rise in a warm place, away from drafts, 1 hour or until almost doubled in volume.

Bake in a moderate 350° oven for 35 minutes or until cakes are golden. Cool on wire racks. Brush cakes with warmed honey; sprinkle with reserved chopped walnuts, if you wish.

Walnut Filling for Poteca:
1 lb. shelled walnuts
3/4 c. sugar
4 egg whites, at room temperature

Finely chop or grind walnuts; make sure that the nuts are very fine, so that the cake will cut neatly. Reserve 1/4 cup for garnish, if you wish. Beat egg whites until frothy. Add sugar and nuts. Mix well.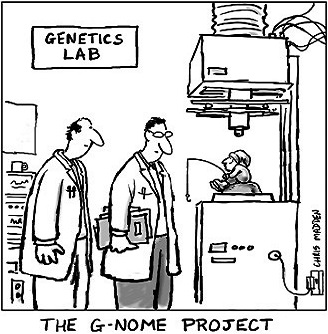 Cartoon of the Month:

A different take on DNA research...


2) A HUNGARIAN WEDDING INVITATION

Recently, the BB received a New Member Information Form from Willemijn and Richard Baumgartner of Fairfax, VA. It indicated that Julius' ancestors, Julius and Mariska (Gaugel) Baumgartner married in 1913 and emigrated the next year to Chicago, IL, where he set up an auto repair shop and they lived out their lives. Both Julius and Mariska were noted as being from Rotenturm, though there was a question mark placed after that village for Mariska; her surname also had Gangl given as an alternate spelling. However, what caused me to do some research and to write back to Willemijn and Richard was that Julius was indicated as being born in 1887 and Mariska in 1871. This struck me as too large an age gap and, relative to what typically occurred when there was a gap in age, it was a gap in the wrong gender direction.

After completing some initial research, I wrote saying:
Is the "born 1871" an error for Mariska? I presume it is supposed to be 1891, yes?

If so, I think they arrived Jan 1, 1914 at Ellis Island on the SS Barbarossa from Bremen under transcribed surname Baumgarten and given names Gxula and Maria. He is listed as 26 and she as 23. Gyula is the Hungarian form of Julius and Maria/Mariska go together. They were listed as coming from village Vorosvar (Rotenturm) and born in villages Vorosvar and Schilding (now Alsó- and Felsö-Csatár, Hungary).

Based on the above birth villages, I found the marriage record in the Felsö-Csatár records (see attached). It gives parental names and exact birthdates.
Although I had not mentioned it in the above email note, Julius/Gyula/Gxula was listed as a mechanic on the Ellis Island passenger manifest, so that matched what Willemijn and Richard had put on their Member Information Form. However, as I confirm my facts for this article, I now see that the departure village and Julius' village of birth was spelled Vorovar (rather than the Vorosvar I put into my email note or the fully correct Vasvörösvár) and that the final destination was listed as New York (not Chicago!) ...however, the manifest indicated that Julius had been in Chicago in 1907 and 1913. In addition, the manifest listed mother Franciszka Baumgarten of Vorovar as nearest relative... and that motherly first name matches what was on the marriage record.

As for that marriage record, it listed Julius under the Hungarian form Gyula and Mariska as Mária Gangel. Mariska is a Hungarian diminutive of Mária, so that ties together, but the spelling of her last name added one more variation to the Gaugel and Gangl of the Information Form.

Having observed many Croatian surnames, my immediate reaction was that a Gaugel spelling would be very unlikely in West Hungary (the "u" in it almost certainly a misreading of a German Kurrent handscript "n" … in fact, the marriage record seemed to support this in that the handscript "u" in Baumgartner had the characteristic mark above it, ŭ, while the handscript n in Gangel was without the characteristic mark but otherwise similar to the handscript u). Further, both Gangel and Gangl were common surname spellings in West Hungary, arising out of a Croatian background, with the Gangl spelling the more common, so I felt a Gaugel spelling must be a simple misread of script writing... and I told Willemijn and Richard so.

As for other data in the Felsö-Csatár marriage record, the couple was married 3 Aug 1913 and Gyula/Julius was born a Roman Catholic on 14 Oct 1887 in Vasvörösvár with current occupation of lakatos (fitter/metal worker/mechanic) ...all consistent with Willemijn and Richard's data. Julius' parents were shown as the deceased (néhai) Ferenc Baumgartner and Franciska Tallián (so Franciska's name as nearest relative on the passenger manifest makes sense).

Mária/Mariska was reported as born a Catholic on 2 May 1890 in Felsöcsatár to parents Ferenc Gangel and Teréz Fiksel. Her birth date was not inconsistent with the provided 1891 date (as the year is often reported as one year more recent than correct when it is calculated from age in a given year). The Felsöcsatár birth location, however, denied the Rotenturm? location given on the Information Form, so Willemijn and Richard's questioning of her birth location was correct.





By now, I presume you are questioning why I titled this article "A Hungarian Wedding Invitation" as, so far, I had yet to mention it. We get to it now!

In response to my email message shown above, Willemijn responded, saying (in part):
You are absolutely right about the 1891 birth year for Mariska. Thank you so much for your response and the updated information on Richard's grandparents. We have a marriage invitation in Hungarian that we have managed to translate and found pictures of the church.
That prompted me to write back saying (in part):
I'm quite curious about the Hungarian wedding invitation you have. Yours is the first one I have ever heard about coming from West Hungary! Is it possible for you to send a good scan of it to me? and possibly your translation? I might want to put a note in our newsletter about it (if that would be OK with you). If so, a copy of the picture of the church and the participants would be nice to include also.
My reason for asking about the wedding invitation (beyond just personal curiosity) was that, too often, much of what I write in the BB newsletter is about the harder side of the European life our emigrant ancestors left behind, forgetting that niceties like wedding invitations existed. I hoped that reporting on this wedding invitation might help round out the picture I try to paint for the readership.

Willemijn kindly wrote back with photos of both the invitation and the church, as well as a rough translation of the invitation's text. Here is the invitation: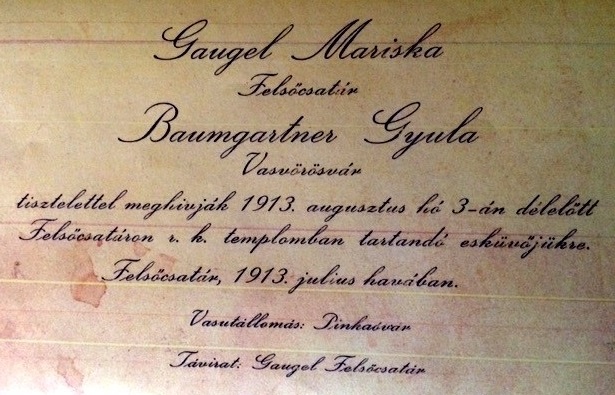 Rather than present the rough translation as provided by Willemijn, I took some time to refine it, coming up with the following:
Gaugel, Mariska
Felsöcsatár

Baumgartner, Gyula
Vasvörösvár

cordially invite you on 3 August 1913 in the pre-noon
to their wedding to be held at Felsöcsatár Roman Catholic church.

Felsöcsatár, the month of July 1913

Train station: Pinkaóvár
Telegram: Gaugel Felsöcsatár
So, there you have it... sweet and to the point, but with no exact time specified. However, Réka Kieß tells me that the Hungarian word délelőtt literally translates as prior to noon, and that Hungarians differentiate between morning hours, which last until about 9 am, and the rest of the morning, which is specified as pre-noon. Thus she believes that the wedding likely took place right after completion of the 9 am morning mass and that the mass attendees remained as the two were given in marriage.

The invitation even kindly indicated which train station to use and how to send a telegram. The train station still exists north of Burg (Pinkaóvár) in Burgenland, though it appears to be long abandoned, with the tracks overgrown: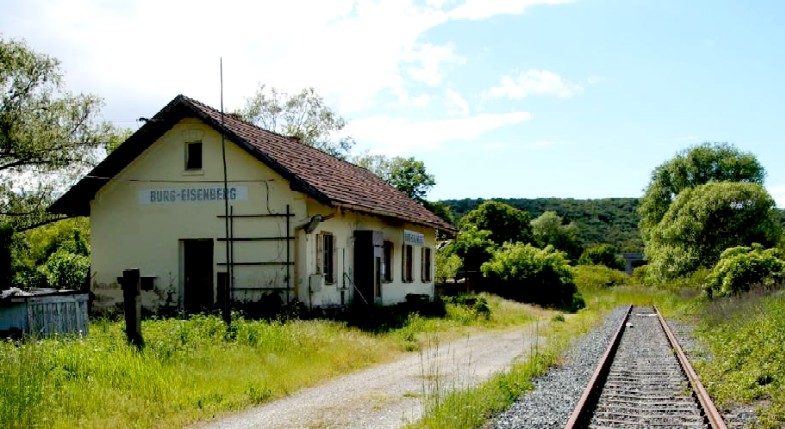 Interestingly, the bride's last name on the invitation is clearly "Gaugel" rather than "Gangel" …this surprised me! I truly thought Gangel/Gangl derived from Croatian origins, so to see it recorded definitively as Gaugel was a shock. It may not be, in fact, a Croatian-based surname (but I still think it is a variation on Gangl, as the Gaugel spelling is extremely rare and points only to Austria, Hungary or, when more specific, to the West Hungary border area; further, Mariska Gaugel was known to speak Croatian, which would be unlikely if that were not her roots).

As for the Felsöcsatár church, it was (and is) Szent Miklós (St. Nicholas) by name. Below are pictures of it and its location nestled in the center of Felsöcsatár.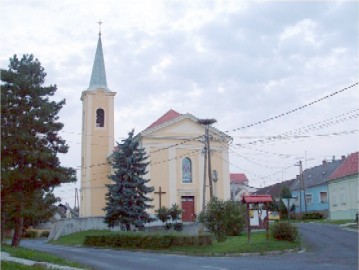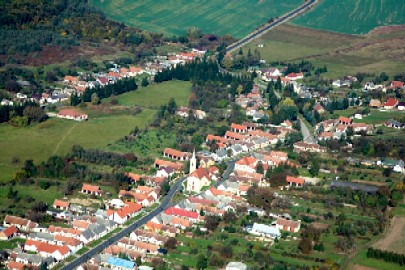 For curiosity, I decided to try to find the baptism records for the wedding couple. Despite some reservations based on spelling variations and inexactness of dates, I'm convinced these are the correct records:

Name Gyula Baumgartner
Event Type Baptism
Event Date 16 Oct 1887
Event Place Vörösvár, Vas, Hungary
Gender Male
Father's Name Ferencz Baumgartner
Mother's Name Sani Talian

Name Maria Gerugel
Event Type Baptism
Event Date 04 May 1890
Event Place Nagynarda, Vas, Hungary
Gender Female
Father's Name Ferencz Gerugel
Mother's Name Theresa Jekszl

Nagynarda was the Catholic recording parish for Felsöcsatár at that time and Vörösvár is what is in the records for Vasvörösvár, so baptism locations are not an issue.

As for the dates, both baptism dates are two days after the birth dates reported in the marriage record. Coincidentally, both birth dates were Fridays and both recorded baptism dates were Sundays. Nonetheless, it was more common for baptisms to be performed on the day of the birth or the day after the birth, if the birth occurred late in an evening. Still, these baptism and birth dates are close enough not to warrant great concern. It may be that the priests did their "paperwork" on Sunday and inadvertently recorded that date rather than the baptism date, or were just not available for a baptism on Saturday (but, of course, were available on Sunday). Likewise, it may be that the parents chose to wait a day, knowing they were going to the church for the Sunday service anyway.

If you recall the marriage record that I described near the beginning of this article, it had generally clear writing so I think I know the correct parental names. Thus, given the difficulty in transcribing old records, I could see Frani (for Fransziska) being mis-transcribed as Sani in the transcription of the above birth record. Likewise, given the phonetic way of recording surnames in Hungary at that time, Talian for Tallián is no great stretch and, combined with transcription problems, Gerugel for Gaugel and Jekszl for Fiksel are in the realm of probable matches (however, which ones are the "correct" spellings can't be determined from this limited data!).

[Ed. note, 2017: With the digitization of the Burgenland microfilms, I was able to look at the records and confirm my suspicions about the names. Rather than Sani, Fani was recorded, and Talian for Tallián; further, it is Gaugel and Fikszl in the other birth record.]

Based on my experience, I find all of these differences to be consistent with typical transcription errors, spelling variations or possible phonetic variations. While I would advise obtaining the microfilms to verify what really had been written, I remain convinced these are the correct records.





I hope you've enjoyed this little trek into the past. I find it comforting to know that a couple that was obviously intending to leave West Hungary for America and a better life (they were ship board two months later and the husband had been in America earlier in the year) would bother with formal wedding invitations, complete with travel and contact instructions. I do, though, wonder if they ever went back to the Heimat...


3) RESEARCHING MY HAIDER ANCESTRY (by Cheryl Richardson)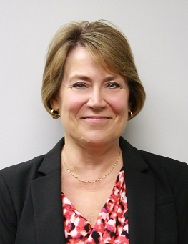 I became interested in researching my Haider ancestors following the death of my mother, Marcelle Haider, in 2012. As my sister and I were sorting through old photographs and correspondence, we found a letter written in 1957 by a Marie (Haider) Winbauer Hanson to her niece, Theresa Haider, in which she enclosed an old postcard from Illmitz along with some photographs. In this letter she gave her age as 82 (implying born 1875-6) and mentioned a brother Andrew and his wife Barbara. On the envelope, my mother had written "Aunt Mary Haider Winbauer." This letter would later be a clue to finding the correct George Haider, my great-great-grandfather.

My mother's father was Frank W Haider, who was born in North Dakota in 1894 to Michael Haider and Elizabeth Millner/Müller. Both Michael and Elizabeth were born in Illmitz and had immigrated to the USA in 1883. Using FamilySearch and Ancestry, I was able to find Elizabeth's baptism record easily, which revealed her parents' names as Josephus Müller and Theresia Kroiss.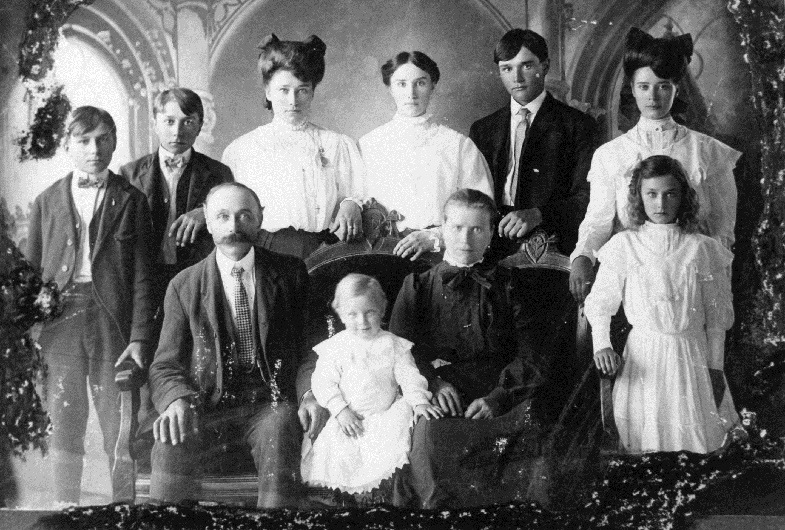 Michael and Elizabeth (Müller) Haider family, circa 1909

However, on-line searching for my great-grandfather Michael Haider's baptism record from Illmitz came up empty. I later discovered this was because I was searching using his full name rather than just his first name, date of birth and location (I know this sounds odd... but read on, it will make sense!). A death certificate listed his father as George Haider, with the mother's maiden name listed as unknown.

In order to find Michael's baptism record, I made my first trip to the local LDS Family History Center in January 2015, where they had a copy of FHL film #700866. I was successful in finding the baptism record for Michael (see below) but was in for a shock. Michael was born 15 Oct 1859 to a Susanna Klein. The record indicated it was an illegitimate birth. No wonder I could not find this record during my on-line search—I had searched using Michael Haider. Now I had the house number where he was born (#15 Alsó-Illmitz), his mother's name and her parents' names of Antonius Klein and Agnes Wegleitner, but no father was named. No one in my family had any idea his birth was illegitimate or had ever heard of the Klein or Wegleitner surnames. Were we even Haiders?




Baptism record for Michael Klein, 15 Oct 1859, Alsó-Illmitz (placed on two lines for readability)

In April 2015, I headed back to the LDS Family History Center and located the marriage record for Michael Klein/Haider and Elizabeth Müller, who were married in 1882. Again, no father's name was listed for Michael and he used the Klein name on this record. It appears that Michael and Elizabeth got married right before departing for the USA around 1883.

Next I wanted to try and find out which George Haider was my great-great-grandfather. There were 3 possibilities that I found. Using Ancestry, FamilySearch, and the BB's BH&R and Houselists, I narrowed my George Haider down to one who was born in 1832 in Illmitz and had later married a Maria Göltl. They immigrated to the USA in 1887 with a group of 10 other people from Illmitz.

I returned to the LDS Family History Center and located baptism records for the children of George Haider and Maria Göltl. I found that their first four children had the exact same godparents, Michael Gangl and Theresia Hopfer, as did my Michael Klein / Haider. Their children were all born in house #25 Alsó-Illmitz. They had a son named András (Andrew) and a daughter named Maria, b. 1876. I then remembered the letter from Maria Haider Winbauer that I had found in my mother's possession: Aunt Maria (Haider) Winbauer was 82 in 1957, implying born 1875-6, and had a brother Andrew. This cinched it. I was sure I had found the right George Haider.

My next stop would be to Illmitz in June 2015.

DNA Family Finder

In preparation for a visit to Illmitz in June 2015, I decided to have FamilyTreeDNA complete a Family Finder test to find out where my ancestors were from and to see if I could find any matches with potential living relatives. The test did reveal my origins are 97% European and 3% Central/Southern Asian (Turks). I also joined the Burgenland DNA Project at that time.

In March 2015, I was contacted by Ewald Hasun, who lives in Austria. We were a DNA match and were estimated to be 2nd to 4th cousins. At that time, the only surname we thought we had in common was Haider. His ancestors had also come from Illmitz. Our shared autosomal DNA in centiMorgans is 58.97.

When Ewald found out that my husband Mark and I would be visiting Illmitz in June, he and his girlfriend Christa made arrangements to meet and spend 2 days with us there.

Collaboration

We both did some research and I found out my Haider, Klein and Müller ancestors lived in house #'s 15, 25 and 53 in Alsó-Illmitz. I found that Ewald's great-great-grandparents, Florianus Hajder and Anna Mann/Mahn, lived in Alsó-Illmitz house #173, and Ferenc Frank and Ann Hajder lived in Felsö-Illmitz house #43. The house #'s just started to be listed on the baptism registers in 1854.

Ewald and Christa made a trip to Illmitz prior to June and found out that the cemetery was built in 1778 ...but there were no old headstones. The oldest dates they could find were around 1890. Ewald also tried to find the current locations of house #'s 15, 43, 53 and 173 by checking with the Illmitz City Hall. Ewald sent me a map of Illmitz with the locations of the houses marked.

I wrote to the Illmitz parish priest in May 2015 to find out if we could visit his parish and look for marriage and baptism records from 1858 to 1864. The priest wrote back and told me that they only had marriage records beginning in January 1876 and that the older records were at the diocese archives in Eisenstadt.

Ewald went to Eisenstadt just prior to meeting us in Illmitz and found the marriage register for my great-great-great-grandparents, Andreas Hajder and Eva Mahn, which provided the names of their parents, Georgius Hajder and Agnes Frank. He also found the baptism record for my great-great-grandfather, Georgius Hajder. He provided me with copies when we met in Illmitz.

Our Time in Illmitz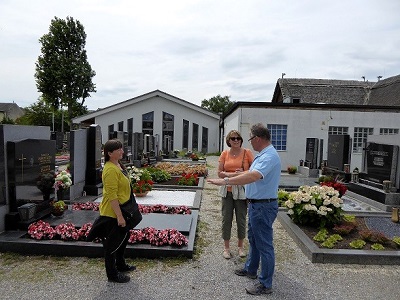 On our first day in Illmitz, we met Ewald and Christa for lunch and wine and got to know each other better, then they took us on a walking tour of Illmitz. We visited the cemetery and looked at the headstones with all our family surnames (the grave sites are very well cared for by family members and are decorated with live flowers).

Next we walked to the addresses of where Ewald had been told the houses of our ancestors had been located. However, we found that there is confusion about where these houses were located due to Illmitz being split, historically, into two parts—Unterillmitz (Alsó-Illmitz) and Oberillmitz (Felsö-Illmitz). According to the gemeinde-illmitz.at website, Illmitz was divided between Unterillmitz and Oberillmitz until 1905. The marriage and birth registers for our ancestors showed that house #'s 15 (Haider/Klein), 53 (Kroiss/Müller) and #173 for Ewald's (Florian Haider/Anna Mahn) were in Alsó-Illmitz and the house of Ewald's ancestor (Franz Frank) as house #43 was in Felsö-Illmicz.

Ewald had made contact with the current resident of house #15 Alsó-Illmitz and she said that her ancestors were not my Haider/Klein family. Ewald is working on trying to verify the true locations of our ancestors' homes. [Ed note: The 1856 Illmitz BB Houselist indicates house #15 in Unter/Alsó-Illmitz was owned by Anton Klein and wife Agnes Wegleitner, putative parents to Susanna Klein and grandparents to Michael Klein / Haider. Coincidentally, house #15 in Ober-Illmitz was owned at that time by a Martin Wegleitner and wife Rosalia Koller.]

Ewald and Christa took us to Florianigasse 8, where some original houses from the 1800s, made in the Hungarian style with thatched roofs, still remain and are in the process of being restored. While there we met Robert, a local resident and nature photographer, who offered to show us his home that was built in 1891. Robert and his wife, Sylvia, gave us a tour of their home and shared some wine and stories with us in their courtyard. It was a memorable and unexpected experience.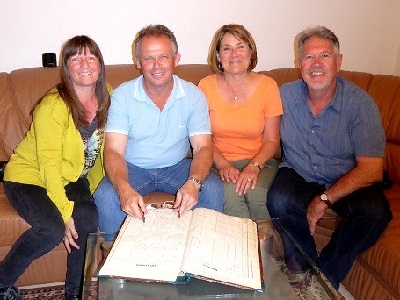 Ewald made an appointment that afternoon with Mag. Anna Haider to look at the marriage, death and baptism records maintained at Illmitz' St. Bartholomäus Roman Catholic parish. Contrary to what I had been advised by the parish priest, we discovered that the parish did have records going back prior to 1876. Ewald and I were both successful in finding records for some of our ancestors.

Ewald had noticed that the baptism and marriage registers he found in Eisenstadt looked different than the copies I had obtained from the FHL Films 700866 and 700867 for Illmitz, so we were wondering whether there were two sets of records maintained for baptisms, marriages and deaths for Illmitz.

Because of the differences, I decided to look at the baptism record of my great-grandfather, Michael Klein / Haider, and to compare it to the copy I had from the FHL film. Lo and behold, there was additional verbiage, written after the fact, on his baptism record in the Illmitz parish register.

Tom Steichen provided the following information after reviewing the document: It is written in the old German "Kurrent" handscript and reads "Gefertigter bezeuge hiemit dass dieses Kind der Susanna Klein mit Namen Michael Mein natürliches Kind sei und es als solches hiemit erkenne." This translates to "The undersigned testifies herewith that this child of Susanna Klein was my natural child by the name of Michael and hereby acknowledges it as such." The Hungarian village name (Illmicz) and the date (am 24 Aug. 1870 = on August 24, 1870) were also provided and it was signed by Georg Haider:




Annotated baptism record for Michael Klein, 15 Oct 1859, Alsó-Illmitz

I was overjoyed! This provided the proof that I had been seeking that my great-grandfather, Michael Klein, was, in fact, the son of George Haider. This discovery alone made the visit to the Illmitz parish worthwhile.

Ewald and Christa made our time in Illmitz very meaningful. The next day, they took us on a tour of the area, including the Neusiedler See-Seewinkel National Park Information Center,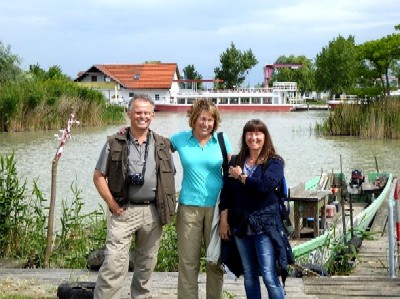 Strandbad, a beachfront park with ferry service and restaurants, and to various bird-watching outpost points on the lake. Mark and I got to experience bird watching in the National Park, a UNESCO World Heritage site, with Ewald and Christa, who are very knowledgeable about the wide variety of birds in the region. We also enjoyed some local cuisine and wine at some of their favorite restaurants.

The people of Illmitz were very friendly and welcoming. We were even treated to a tour of the winery at Arkadenweingut Gästehaus Familie Heiss by the elder Hans Heiss, who is in his early 80s and still works every day in the winery. He generously opened four bottles of different wines for us to taste. One bottle was from 1992, and it was a special honor that he shared it with us.

We were fortunate that, during our stay in Illmitz, the town was having their Summer Village Festival in the evenings, with wine, food and music, so we could enjoy the festivities with Ewald, Christa and the local people.

As a parting gift, Ewald and Christa presented us with a picture book of the National Park Neusiedler See-Seewinkel to remind us of Illmitz, the beautiful surrounding nature and of them. Mark and I will never forget our time in Illmitz with Ewald & Christa and of the local people we met.

Ewald and I still have not uncovered which direct ancestor we share. We are still working on making that discovery. We now know that we have the surnames of Hajder/Haider, Frank, Mahn/Mann, Tsida/Tschida and Gartner in common.

Since our meeting in Illmitz, Ewald and Christa returned to Illmitz and Eisenstadt and found some records dating back to 1798. This is of great benefit to me because the Illmitz records on the FHL films only go back to around 1823. I have continued to do research by using Ancestry, FamilySearch and by visiting the local LDS Family History Center to review the microfilmed Illmitz records. Ewald has compiled all the information on his computer, which has helped provide us with an overview of where our connections may be. By collaborating together we have made great progress on filling in the blanks on our family trees.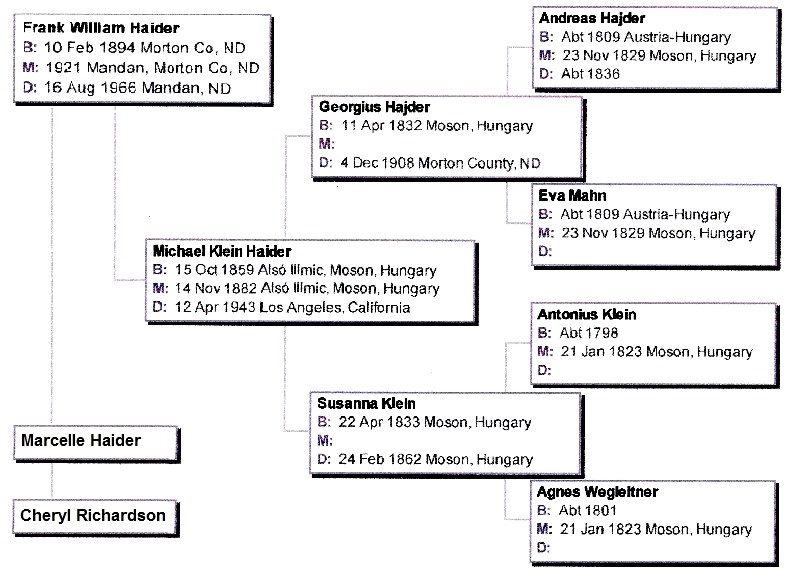 Partial Haider family tree, connecting the main individuals in this ancestral story

For those of you who are planning to take a trip to Burgenland, it is an easy one-hour drive from Vienna. Besides going to Burgenland to discover your ancestral roots, I can also recommend the region for the warmth of the people, the nature and beauty, the fine wines and cuisine, and the outdoor activities of cycling, bird watching, horseback riding and sailing.


4) TUTORIAL III: 1720 AND 1715 URBÁRS

Although I have been doing tutorials for resources on the HUNGARICANA website, this time I've chosen to bring attention to an outside resource that we directly link to via the BB website, that being the 1720 and 1715 Urbáriums on the Hungarian National Archives' AdatbázisokOnline (Databases Online) site. Actually, these Urbárs are available via the Hungaricana site too ...but it is far easier to use the BB's direct links.

First, however, I must give you the usual warning: you should not expect anything real useful to be presented in English! This is a Hungarian site and almost all descriptive or instructional text is in Hungarian. But do not be discouraged... it is actually quite easy to use the site (other than one design flaw... but that is not a language problem).

Like the 1767 Urbárium that I described in BB Newsletter #257, the 1720 and 1715 Urbárs were listings of people who owed taxes and labor to the local nobility. I will not go into much detail about the content of those listings, rather, I will concentrate on helping you get to the ones you want. If you looked at the 1767 Urbár, it makes good sense that you might wish to extend your family research back to this somewhat earlier time.

For the tutorial, I will use the 1720 Urbár... however, the 1715 Urbár is set up similarly to the 1720 one so it should be easy to transfer these instructions to it (there is a minor difference that I'll explain at the appropriate point). I make this choice because Vas county was not included in the 1715 Urbár, thus making 1720 useful to more BB researchers. You can find the links to these Urbárs near the bottom of the BB home page... the section you would look for looks like this:



Clicking on the link for the 1720 Urbárium will take you to its main page. I'll repeat the link here so you can more easily access it: http://adatbazisokonline.hu/en/adatbazis/az-1720_-evi-orszagos-osszeiras.

The main page should look something like the image below: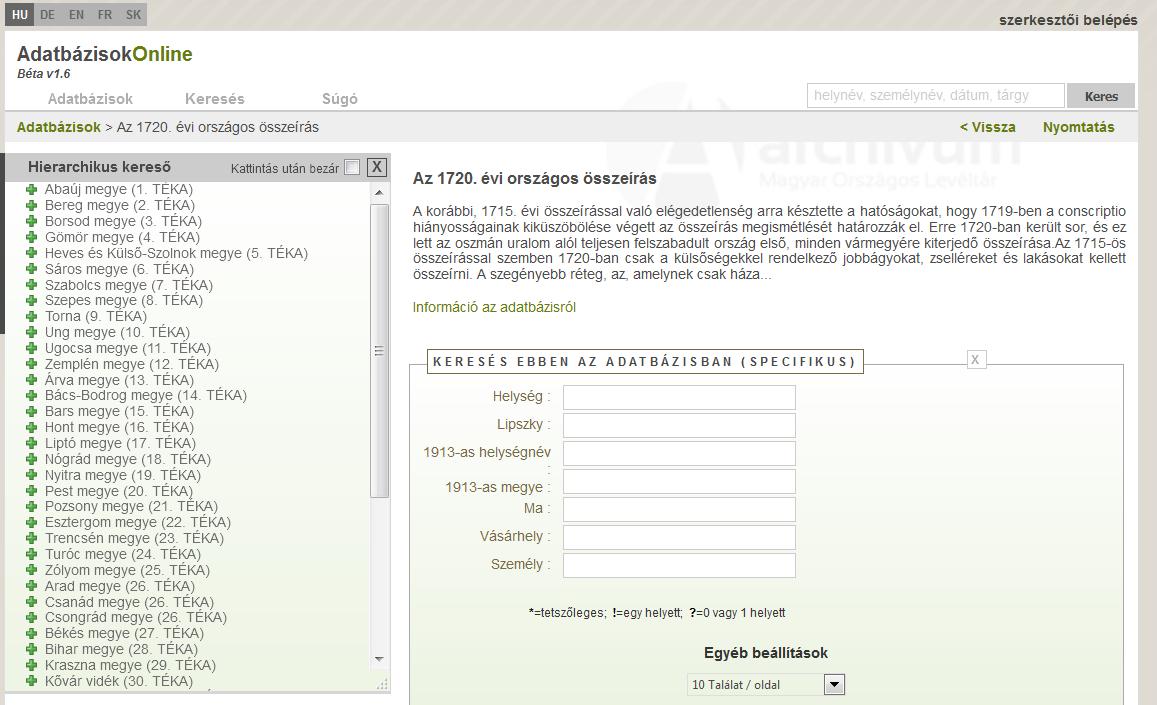 The only thing on this page that you'll be interested in is the Hierarchikus kereso (hierarchical search) section on the left that has the scrolling list of megye (county) names with the green plus signs:

.

For my example, I'll again use Ginger McGurk's village of interest Apetlon, where she has Klein ancestors. Apetlon's Hungarian name is Bánfalu, and it was in Moson megye. As I've mentioned before, all of Burgenland came from three pre-1921 Hungarian counties, Moson, Sopron and Vas. In the scrolling list, they appear toward the bottom, so the first thing to do is grab the grey scroll bar and pull it down to reveal the lower part of the list (you can also position your mouse cursor in the list and use your mouse wheel to move the list up or down.

This gets us to part of the design flaw I mentioned above... the scrolling list is actually an independent "window" that is tied to a particular spot on the underlying page... if the list is too long, it can stretch off the page and you won't be able to see the last lines. This occurs if you have "zoomed" your browser page to make everything bigger (which I tend to do). If you do too, you will need to reduce your zoom to make the whole scrolling list visible.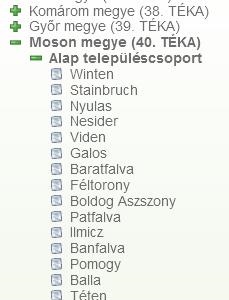 You should find "Moson megye (40. TÉKA)" near the bottom of the list (40. TÉKA just means "library 40"). Click on the green plus. Then click on the next green plus for the sub-list (titled Alap településcsoport = basic settlement group) that is indented. Having done so, you should have a display that looks something like the clip to the right, where the clicked plus signs are now minus signs.

Note that the village names are not arranged alphabetically, so you will need to do some scrolling and searching to find the village you want. Also note that the listed village names are a mix of German and Hungarian names (and sometimes I'm not sure what), often badly misspelled but just as often having some vague phonetic resemblance to a correct Hungarian or German village name. Moson County is actually pretty easy to decipher, as most listed names are close to a correct Hungarian village name.

As you might expect, clicking a minus sign will close any sub-lists under them and return to the unclicked view. However, the villages have a little "page" icon, which indicates that clicking them will take you to a data page rather than open another sub-list.

We wanted Apetlon = Bánfalu... If you check the Moson list, you will find Banfalva (remember, -falu and -falva are interchangeable). Let's click on that name and see what its content page shows.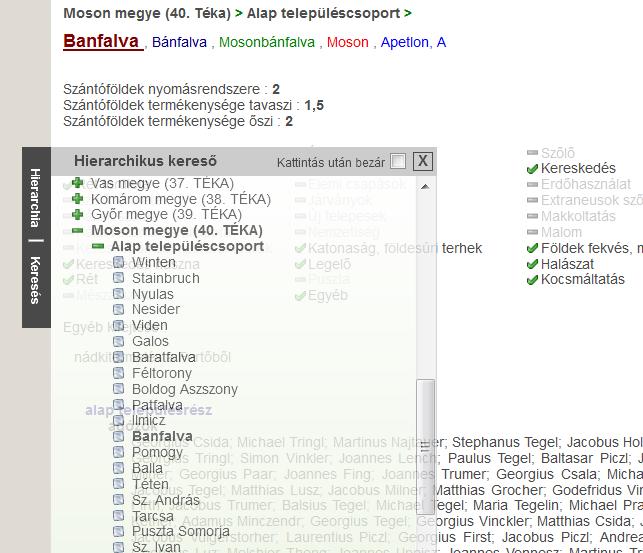 To the right is a clip taken after I clicked on Banfalva. The first thing worth noting, is that the scrolling list remains overlaid on the Banfalva page. If you move your mouse pointer into or away from the area of the scroll list, the list will collapse to just the grey header bar or flicker back into view. This behavior can be a real nuisance, as you can't really see or access the text underneath it (I see this as a design flaw also). However, there is a built-in work-a-round... note the boxed "X" at the right end of the scroll list header bar? Clicking the X will remove the scroll window, including its header, from the page (if you want it back, you can click the black vertical box on the left edge of the page, the one with vertical text Hierarchia; alternatively, if you want the list to remain on the page and not flicker in and out, you can click the empty box next to the X). To make exploration of the Banfalva content page easier, I suggest you click the X.

Having closed the scroll window, the next thing you should do is examine the multicolored string of names that appears on the left below the indicator of where you are in the hierarchical list (see example below):

Moson megye (40. Téka) > Alap településcsoport >
Banfalva, Bánfalva, Mosonbánfalva, Moson, Apetlon, A

This list of names shows, from left to right: the name as it appears in the 1720 Urbár (shown in brown and underlined); the village name given in the 1808 Lipszky Repertorium (dark blue); the 1913 village name (in green) and the county (red) it was then located in; and the current village name (in bright blue), with a country indicator (A = Austria), if not in Hungary. Be sure to check this list to assure yourself that you have the right village.

However, do note I have seen one instance where I believe an Urbár listing was connected to the wrong village. Specifically, a list titled Szent Grótth was assigned to Deutsch Gerisdorf (Német-Gyirót) while I believe it should have been assigned to Gerersdorf bei Güssing (Német-Szent-Grót). I base this belief on 1) the relationship of the list name to the Hungarian name for Gerersdorf: Szent Grótth vs. Német-Szent-Grót, 2) the fact that there was a different list, Geresdorff, already assigned to Deutsch Gerisdorf, and 3) a comparison of surnames in these Urbár lists to surnames in our 1850s houselists for these villages, a comparison which clearly supports my belief.

Likewise, Richard Potetz has noted that Alsó-Strása was assigned to Oberdrosen while he believes the proper connection is to Unterdrosen, which is now called St. Martin an der Raab. Arguments similar to what I gave for Szent Grótth exist to support Richard's belief about Alsó-Strása.

The above comments are not intended to say I think there are significant problems in connecting Urbár lists to current villages; rather, I think errors are rare exceptions. Nonetheless, if the surnames in the list seem unreasonable, do verify that you haven't accessed the wrong list and then use our Houselists to see if there is a reasonable match in surnames... if not, then there may be a connection problem.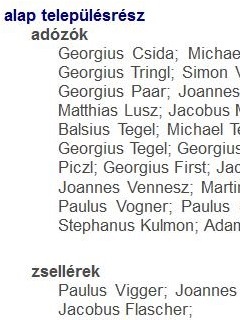 Let's return to the Banfalva page and see what else is there. What I want to draw your attention to is the list of head-of-household people across the bottom of the page (I show a small part of the Banfalva list to the right).

Text alap településrész = basic settlement area while adózók = taxpayers and zsellérek = cottars / landless peasants. For the 1720 (and 1715) Urbár, you have a complete transcription of the names already done! This is an excellent feature that is not available for the 1767 Urbár. My perusal of the Urbár images for several villages indicates that the transcriptions are quite accurate, so you have no need to struggle with the old handwriting if you do not wish to do so.

This, of course, does not mean you should expect spellings of family names in the 1720 transcription to be the same as they are now. For example, Ginger McGurk's ancestral Klein surname appears to be spelled Klajn or Klejn in this Urbár (there are three in total but none showing in my clip).

Note: it is here that there is a slight difference between access methods for the 1720 and 1715 Urbárs. I will explain the 1720 method first then the 1715 method.

1720 Urbár method: If you want to verify the spelling for yourself or see the additional information on the Urbár pages, all you need to do is click on the name of interest and it will open an image viewer showing you the page on which this names appear. I'm going to do so for name Joachimus Klajn. A clip of the resulting page is shown below, after I've zoomed in a little: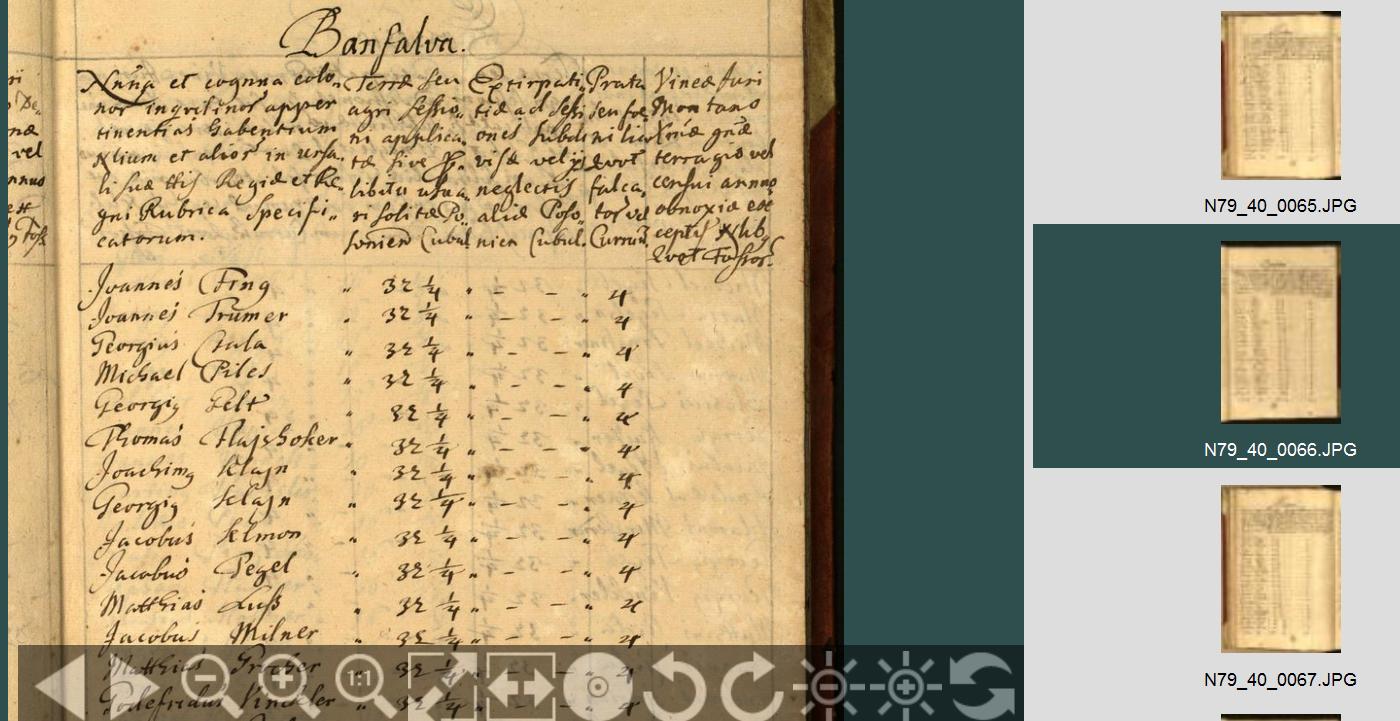 As you can see, the scanned image is shown on the left in the viewer with a scrolling selection of pages on the right. The viewer, itself, has a bunch of clickable controls at the bottom [previous and next page; zoom out, in or 1:1; fit the page to the viewer, whole page or page width; copy to disk (seems disabled); rotate left or right; brightness decrease or increase; and return to defaults] and you can use your mouse to zoom (with the wheel) or drag the page about (press and hold the left button then move).

Listed on the page are the serf's names and three columns of numerical data (at first glance, the first two columns look like only one... but it is two separate pieces of data). The first "apparent" numerical column reports arable (plowable) land, given in holds, and another measure of what "size" farm that is (1/2 farm, 1/4 farm, etc.). The other column reports meadow (pasture) land, also given in holds. Joachimus Klajn is listed seventh on the page and has 32 holds of arable land, which represents a 1/4 farm, and 4 holds of meadow. Right below him is Georgius Klajn, with the same amounts of land.

Note, however, that not all villages have two separate pieces of information in that first column. Other villages skip the "farm size" datum and only show holds of arable land. In addition, some villages have entries in the last column, which reports vineyards, I presume in holds also.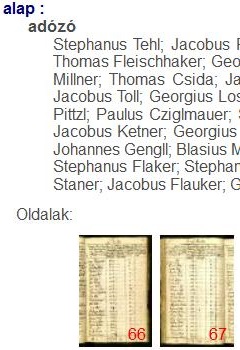 1715 Urbár method: The content pages for the 1715 Urbár differ from 1720 in that the names in the list of head-of-household people are not active links. Instead, there are a set of thumbnail images of the actual Urbár pages (Oldalak) shown below the list of transcribed names (see example to the right).

To access a particular person, you must estimate which page it is on and then click the thumbnail image. Doing so will take you to the same image viewer as for the 1720 Urbár. Everything on the viewer should work as previously described.

An addition, unimportant difference is that the indicator of where you are in the hierarchical list is not shown above the multicolored string of village names/locations, however, this list provides the same information as in the 1720 data string.

Likewise, the actual data in the 1715 tables is the same kind of numerical information as in 1720.





The above is all I'll say here about the actual Urbár pages... but do e-mail me if you have questions. Instead, I want to take a moment to give you some translations for sub-list headers that you will see in the hierarchical search scrolling lists:

járás = district
uradalom = estate
szabad királyi város = free royal city
pápóczi prépostság birtokai = church provost estates
pápóczi prépostság = church provost

I'll also warn you that some of these estates were huge, crossing far into areas other than Burgenland, including into areas that are now part of other countries, so you may need to search though long lists of village names to find the one you want.

Finally, I will note that the 1720 Urbár followed quickly behind the 1715 Urbár because the 1715 version was considered to be a disaster, being highly inconsistent in what and how it reported taxable assets. Further, there was a concerted effort by both the peasants and nobility to hide assets from taxation. In theory, the 1720 Urbár corrected the worst of the problems, providing more consistent reporting and better coverage of assets.





And that is the end of this tutorial (but do see the next article).

5) CROSS-REFERENCE OF URBÁRIAL VILLAGE NAMES

This article is mainly one big table; a table intended to ease the pain of finding villages in the 1715, 1720 and 1767 Urbárs. The table relates the current Burgenland village names with the village names as listed in the Urbárs. As noted previously, the listed village names are a mix of German and Hungarian names (and sometimes I'm not sure what). Some are badly misspelled yet often with some vague phonetic resemblance to a correct Hungarian or German village name... and occasionally having no evident connection whatsoever.

As a bonus, I provide an alternative digital source for 47 villages either not listed in the Hungaricana version of the 1767 Urbár or, in one instance, listed but having no digital images. That source is: http://176.63.203.129/s/?q=urbariumok, a website of the Győr-Moson-Sopron Megye Soproni Levéltára = the Győr-Moson-Sopron County Sopron Archives. This source contains (very large) pdf files of complete Ubárs for villages that would have been in old Sopron county.

These villages are still marked as (not listed) in the 1767 Hungaricana column but also have an * followed by the Hungarian village name, as found in column "Helység magyar neve" in the multi-page table starting at the above webpage. I provide the Hungarian name (rather than the Austrian name or the listing name) because the files are presented alphabetically by the Hungarian name). The webpages also provides the current Austrian name for the village in column "Helység mai hivatalos neve" and the Urbárial listing name buried in the text in column "Eredeti cím". You click the text in column "Eredeti cím" to download the pdf file (be prepared to wait several minutes for the file to download!). You will need to scroll down in the pdf file until you find the data tables toward the end. There are also duplicate records for four villages found in the Hungaricana source; they are marked with an * and the Hungarian name.

Lastly, I am aware that the Burgenländisches Landesarchiv in Eisenstadt, Burgenland, holds paper copies of the 1767 Urbár for 17 villages that are not listed in either digital archives. These are marked in the table by a # in the cell. I have not explored how one might access these records but they are in the Archiv catalog under the Austrian village names (see "Urbare und Bergbücher" inventory file: Inventar).

Listing Names in the 1720, 1715 and 1767 Urbárs for Burgenland Villages
Notes:
1) Villages are listed below alphabetically within current Burgenland district.
2) Some villages were not in an Urbár and are thus marked with a "(not listed)" notation.
3) Some villages had multiple listings in an Urbár, thus have multiple listing names in their table cell.
4) Some villages were listed under a county other than its expected county. If so, the county name is given in parentheses, e.g. (Vas), after the listing name.
5) Expected counties are Moson for Neusiedl villages; Sopron for Eisenstadt, Mattersburg and most villages in Oberpullendorf; and Vas for a small part of Oberpullendorf (12 villages) and all of the Oberwart, Güssing and Jennersdorf villages.
6) Vas County was not included in the 1715 Urbár. Thus the table cells for Vas villages have a

light grey background

to indicate that the village was not surveyed.
7) The 1767 Urbár for Vas county lists statistics for some villages but does not have the corresponding digital images. The table cells for such villages provide the listing name but also have a

light grey background

to indicate no digital images are available.
8) * indicates digital images are available at http://176.63.203.129/s/?q=urbariumok under the listed Hungarian village name.
9) # indicates paper copies are available at the Burgenländisches Landesarchiv in Eisenstadt, Burgenland.
10) The Urbárs for Moson, Sopron and Vas counties included many villages that did not become part of Burgenland. Although some border villages may be of interest to you, this table does not provide listing names for villages that remained part of Hungary.
Villages in Neusiedl am See
1720, Listed As
1715, Listed As
1767, Listed As
Andau
Tarcsa
Tarcsa
Tarcsa
Apetlon
Banfalva
Banfalva
Bánfalva
Bruckneudorf
(not listed)
(not listed)
(not listed)
Deutsch Jahrndorf
Német Jandorff
Német Jandorff
Németjahndorf
Edelstal
Edlstol
Edlstol
Edelsthal
Frauenkirchen
Boldog Aszszony
Boldog Aszonyfalva
Boldogasszony
Gattendorf
Gattha
Gátha
Gáta
Gols
Galos
Galos
Gálos
Halbturn
Féltorony
Féltorony
Féltorony
Illmitz
Ilmicz
Illmicz
Ilmicz (Sopron)
Ilmicz (Sopron)
Illmitz
Jois
Nyulas
Nyulas
Nyulas
Kaisersteinbruch
Stainbruch
Stanbruch
Steinbruch
Kittsee
Köcsiny
Köpcsény
Köpcsény
Mönchhof
Baratfalva
Baratfalva
Barátfalu
Neudorf
Uj Falu
Uifalu
Újfalu
Neusiedl
Nesider
Nezider
Nezsider
Nickelsdorf
Niklsdorff
Niklsdorff
Miklósfalu
Pama
Körtvélles
Körtövélyes
Körtvélyes
Pamhagen
Pomogy
Pomogy
Pomogy
Parndorf
Parndorff
Pandorff
Pándorf
Podersdorf
Patfalva
Patfalva
Páthfalva
Potzneusiedl
Laitafalu
Laitafalu
Lajtafalu
St. Andrä
Sz. András
Sanctus Andras
Szentandrás
Tadten
Téten
Téton
Tétény
Wallern
Balla
Balla
Valla
Weiden
Viden
Vinden
Védén
Viden
Védény
Winden
Winten
Vinten
Vinden
Zurndorf
Czundorff
Czundorff
Czurndorf
Czurendorff
Zurány
Villages in Eisenstadt
1720, Listed As
1715, Listed As
1767, Listed As
Breitenbrunn
Széleskutt
Széleskut
Szileskut
Széleskut
Donnerskirchen
Fejeregyház
Feieregyhaz
Fejéregyháza
Eisenstadt
Kismarton
Kismarton
(not listed)
Gross Höflein
Nagy Heflén
Nagy Heflan
Nagyhöflein
Hornstein
Szarukö
Szarukö
Szarvkö
Kleinhöflein
Kis Heflén
Kis Hiflan
Kishöflein
Klingenbach
Klimpach
Klimpach
Klimpa
Leithaprodersdorf
Pordány ad Laitam
Pordan ad Laitam
Lajtapordány
Loretto
Loretha
(not listed)
Lorétom
Mörbisch
Medgyes
Megyes
Meggyes
* Fertőmeggyes
Müllendorf
Szaraz Vam
Szaras Vam
Szárazvám
Neufeld
Neüfeld
(not listed)
Neufeld
* Lajtaújfalu
Oggau
Okkan
Okkan
Oggau
Oslip
Uszlop
Uzlop
Oszlop
Purbach
Fekete Varos
Fekete Varos
Feketeváros
Rust
Ruszt
Ruszt
(not listed)
Schützen am Geberge
Siércz
Sircz
Sirc
Siegendorf
Szigendorf
Szigendorff
Cinfalva
St. Georgen
Sz Gyorgy
Szent György
Szentgyörgy
St. Margarethen
SzMargaretha
Szent Margaritha
Szentmargaréta
* Szentmargitbánya
Steinbrunn
Büdeskut
Büdöskut
Büdöskút
Stotzing
Stóczing
Stoczing
Stotzing
Trausdorf
Trauszdorf
Trauerstoff
Trauersdorf
Wimpassing
Vimpáz
Winpass
Vimpaszing
Wulkaprodersdorf
Pordany ad Vulkan
Pordany ad Vulkan
Vulkapordány
Zagersdorf
Czagersdorf
Czagerstorf
Zarány
Zillingtal
Czilingthal
Czilingtal
Zillingtal
Villages in Mattersburg
1720, Listed As
1715, Listed As
1767, Listed As
Antau
Anthan
Anthan
(not listed)
* Selegszántó
Baumgarten
Pangorth
Pámbgart
(not listed)
* Sopronkertes
Draßburg
Drazpurgh
Draspurgh
(not listed)
Forchtenau
Fraknó
Frakno
(not listed)
* Fraknó, Fraknóváralja
Hirm
Hiermb
Hierm
(not listed)
* Félszerfalva
Kleinfrauenhaid
(not listed)
(not listed)
(not listed)
Krensdorf
Tormafalu
Tormafalu
(not listed)
Loipersbach
Luitperspach
Loiperspach
(not listed)
* Lépesfalva
Marz
Márcz
Marcz
(not listed)
Mattersburg
Nagy Marton
Nagymarthon
(not listed)
Neudörfl
(not listed)
(not listed)
(not listed)
Neustift
(not listed)
(not listed)
Neustift (Vas)
* Újtelep
Pöttelsdorf
Petersdorff
Petstoff
(not listed)
* Petőfalva
Pöttsching
Pecsenyéd
Pecsenét
(not listed)
Rohrbach
Rárboch
Rarbock
(not listed)
* Fraknónádasd
Sauerbrunn
(not listed)
(not listed)
(not listed)
Schattendorf
Sadndorff
Sadendorff
(not listed)
Sieggraben
Szigraben
Csigroben
Siggrab
(not listed)
* Szikra
Sigleß
Siglós
Sigglos
(not listed)
Stöttera
Stedra
Stedra
(not listed)
* Selegd, Zemenye
Walbersdorf
Borbolya
Borbala
(not listed)
* Borbolya
Wiesen
Vizen
Vizon
(not listed) #
Zemendorf
Czemendorff
Czemendorff
(not listed)
* Selegd, Zemenye
Villages in Oberpullendorf
1720, Listed As
1715, Listed As
1767, Listed As
Blumau
(not listed)
(not listed)
(not listed)
* Lánzsér-Virány
Bubendorf
(not listed) (Vas)
Bubendorf (Vas) #
Deutsch Gerisdorf
Geresdorff (Vas)
Németgyirót (Vas) #
Deutschkreutz
Keresztur
Keresztur
(not listed)
* Sopronkeresztúr, Németkeresztúr
Dörfl
Derfel
Dörfel
(not listed) #
Draßmarkt
Derecske
Derecske
(not listed)
* Vámosderecske
Frankenau
Franko
Franko
(not listed)
Girm
Küllü
Külö
(not listed)
Glashütten
(not listed) (Vas)
Üvegbánya (Vas)
Großmutschen
Uduard
Udvard
(not listed)
* Sopronudvard
Großwarasdorf
Nagy Barom
(not listed)
(not listed)
* Szabadbáránd
Hammerteich
Hamor (Vas)
Taichtell (Vas)
Hámor és Teucht (Vas) #
Haschendorf
Hasendorff
Hassendorff
(not listed)
* Hasfalva
Hochstraß
(not listed)
(not listed)
(not listed)
* Kisostoros
Horitschon
Haricsony
Haricson
(not listed)
* Haracsony
Kaisersdorf
Császárfalu
Csaszarfalu
(not listed)
* Császárfalu
Kalkgruben
Kalchgrueb
Galgruib
(not listed)
* Mészverem
Karl
Kárló
Karlo
(not listed) #
Kleinmutschen
Peruány
Pervany
(not listed)
* Pervány
Kleinwarasdorf
Kisbarom
Kis Barom
(not listed)
* Borisfalva
Klostermarienberg
(not listed)
(not listed)
(not listed)
* Borsmonostor
Kobersdorf
Kabold
Kabold
(not listed)
* Kabold
Kogl
Kogell (Vas)
Kogel (Vas) #
Kroatisch Geresdorf
Girót
Girot
(not listed)
Kroatisch Minihof
Malomháza
Malomháza
(not listed)
* Malomháza
Lackenbach
Lakompach
Lakenpach
(not listed)
Lackendorf
Lakendorf
Lakendorff
(not listed)
Landsee
(not listed)
(not listed)
(not listed)
* Lánzsér-Virány
Langeck
Langeck (Vas)
Langeck (Vas) #
Langental
(not listed)
(not listed)
(not listed)
Lebenbrunn
Lebnbrun (Vas)
Lebenbrunn (Vas) #
Lindgraben
Lindgráben
Lintgrab
(not listed)
* Kishársfalva, Sopronhársfalva
Lockenhaus
Leuka (Vas)
Léka (Vas)
Lutzmannsburg
Locsmand
Locsmand
(not listed)
* Locsmánd
Mannersdorf
Kethely
Kethely
(not listed) #
Markt Sankt Martin
Sz. Marthon
Szent Marthon
Szentmárton
Mitterpullendorf
Közép Pulya
Középpullya
(not listed)
Nebersdorf
Linguánd
Ligvand
(not listed)
* Ligvánd
Neckenmarkt
Nyék
Nyék
(not listed)
Neudorf bei Landsee
Naidrfel
Naidorff
(not listed)
* Lánzsérújfalu
Neutal
Nyujtál
Nyuitál
(not listed)
* Kukerics, Nemestelek
* Sopronújlak
Nikitsch
Füles
Füles
(not listed)
* Füles
Oberloisdorf
Felsö László
Felsölaszlo
(not listed)
* Felsőlászló
Oberpetersdorf
Petersdorf
Felsö Petrstorff
(not listed)
* Felsőpéterfa
Oberpullendorf
(not listed)
(not listed)
(not listed)
Oberrabnitz
Felsö Ramocz
Felsö Rámocz
(not listed)
* Felsőrámoc
Pilgersdorf
Pilgersdorff (Vas)
Pergelin (Vas) #
Piringsdorf
Bonya
Banya
(not listed) #
Raiding
Raidingh
Raiding
(not listed)
* Doborján
Rattersdorf-Liebing
Röth (Vas)
Libingh (Vas)
Rót (Vas)
Rendek (Vas)
Ritzing
Riczingh
Riczingh
(not listed)
Rothleiten
(not listed)
(not listed)
(not listed)
Salmannsdorf
Schalmerßdorff (Vas)
Salamonfa (Vas) #
Schwabenhof
(not listed)
(not listed)
(not listed)
* Kukerics, Nemestelek
Schwendgraben
(not listed)
(not listed)
(not listed)
* Répcefő
Steinbach
Steinbach (Vas)
Steinbach (Vas) #
Steinberg
Köhalom
Köhalom
(not listed) #
Stoob
Csáva
Csava
(not listed)
Strebersdorf
Micske
Micske
(not listed)
* Répcemicske
Tschurndorf
Tsurndorff
Tsurndorff
(not listed)
* Csóronfalva
Unterfrauenhaid
Lóók
Look
(not listed)
* Lók
Unterloisdorf
Alsó László
Also Laszlo
(not listed)
Unterpetersdorf
Petrstorff
Petrstorff
(not listed)
* Alsópéterfa
Unterpullendorf
Alsó Pulya
Alsó Pullya
(not listed)
* Alsópulya
Unterrabnitz
Alsó Rámócz
Alsó Ramocz
(not listed)
* Répcefő
Weingraben
Beingrob
Vaingrab
(not listed)
* Borosd
Weppersdorf
Vepperd
Vepperd
(not listed)
* Veperd
Villages in Oberwart
1720, Listed As
1715 (no records)
1767, Listed As
Allersdorf
Kulcsárfalva
Kulcsárfalu
Allersgraben
(not listed)
Sirokány
Althodis
Ó Hodász
Óhodász
Altschlaining
Ószalonok
Ószalónak
Aschau
Ossau
Aschau
Bad Tatzmannsdorf
Tarcsa
Tarcsa
Badersdorf
Pössön
(not listed)
Bergwerk
Bergverk
Bergwerk
Bernstein
Borostyán
Borostyánkő
Buchschachen
Puisoch
Pujschach
Burg
Óvár
Óvár
Deutsch Schützen
Német Sicz
Németsic
Dreihütten
Traihitten
Háromház (Dreihütten)
Drumling
Drumlingh
Drumoly
Dürnbach
Inczéd
Incéd
Edlitz
Patak Habdalócz
Abdalóc
Eisenberg an der Pinka
Cseke
Cséke
Eisenzicken
Német Cziklén
(not listed)
Glashütten bei Schlaining
(not listed)
(not listed)
Goberling
Gobrlingh
Goberling
Grafenschachen
Grobenschacht
Grabenschachten
Grodnau
Grodnau
Gradnau
Großbachselten
Karasztos
Karasztos
Großpetersdorf
Német-Szent-Mihály
Németszentmihály
Günseck
(not listed)
Ginzek
Hannersdorf
Sámfalva
Sámfalva
Harmisch
Hovárdos
Hovardos
Hochart
Hochhard
Hochart
Höll
Pokoll
Pokol
Holzschlag
Holczschlagh
Holzschlag
Jabing
Jobbágyi
Jobbágyi
Jormannsdorf
Jürmersdorff
Jormansdorf
Kemeten
Komjáth
Komját
Kirchfidisch
Kér Füzes
Egyházasfüzes
Kitzladen
Kiczlád
Kiclád
Kleinbachselten
Karasztos
(not listed)
Kleinpetersdorf
Kis Szent Mihály
Kisszentmihály
Kleinzicken
Kiss Cziklén
Kisciklin
Kohfidisch
Kho Füzes
Gyepüfüzes
Kotezicken
Sáros Szék
Sárosszék
Kroisegg
Kruzek
Krojszek
Litzelsdorf
Lieczensdorff
Lődös
Loipersdorf
Lojbersdorff
Lipoldfa
Mariasdorf
Mariadorff
Mariasdorf
Markt Allhau
Alhó
Alhau
Markt Neuhodis
Hodász
Újhodász
Miedlingsdorf
Mérem
Mérem
Mischendorf
Müske
Pinkamiske
Mönchmeierhof
(not listed)
Barátmajor
Neuhaus in der Wart
Dobra
Óridobra
Neumarkt im Tauchental
(not listed)
Felsökethely
Neustift an der Lafnitz
Neüstifftth
Neustift (Lapincs)
Neustift bei Schlaining
Neistiffth
Neustift (Szalónak)
Oberdorf im Bgld.
Oberdorff
(not listed)
Oberkohlstätten
(not listed)
Felsőkohlstatt #
Oberschützen
Felsö Sicz
Felsőlövő
Oberwart
(not listed)
(not listed)
Pinkafeld
Pinkafeldth
Pinkafeld
Podgoria
(not listed)
Podgorja
Podler
(not listed)
Polánc
Polanic
Rauhriegel
(not listed)
Rauriegel
Rechnitz
Rohonc
Rohonc
Redlschlag
Redlslagh
Redlschlag
Rettenbach
Redenbach
Rettenbach #
Riedlingsdorf
Rödön
Rödöny
Rohrbach an der Teich
Jobbágyuyfalu
Jobbágyiújfalu
Rotenturm an der Pinka
Vörösvár
Vörösvár
Rumpersdorf
Rumpód
Rumpod
Schachendorf
Csayta
Csajta
Schandorf
Csem
Csém
Schmiedrait
Smiraydth
Schmirait
Schönherrn
Senhern
Schönherren
Schreibersdorf
Srajbersdorff
Schreibersdorf
Siget in der Wart
(not listed)
(not listed)
Spitzzicken
Olah Cziklén
Oláhciklin
St. Kathrein
Szent Katalin
Szentkatalin
St. Martin in der Wart
Szent Márton
Óriszentmárton
Stadtschlaining
Szalonok
Szalónak
Stuben
Stuben
Stuben
Sulzriegel
Szulczrigll
Sulzriegel
Tauchen
Tauchen
Tauchen
Unterkohlstätten
(not listed)
Alsókohlstatt
Unterschützen
Alsó Sicz
Alsólövő
Unterwart
(not listed)
(not listed)
Weiden bei Rechnitz
Bándoly
Bandol
Weinberg
Vainbergh
Weinberg
Welgersdorf
Veleghe
Velege
Wiesfleck
Biszflek
Vizek
Wiesflek
Willersdorf
Vilisdorf
Willersdorf
Wolfau
Volfau
Farkasfalva
Woppendorf
Pinkauyfalu
Újfalu
Zuberbach
Szabar
Szabar
Villages in Güssing
1720, Listed As
1715 (no records)
1767, Listed As
Bocksdorf
Pukszdorff
Baksafalva
Burgauberg
(not listed)
(not listed)
Deutsch Bieling
Német Bukkes
Büks
Deutsch Ehrensdorf
Nemet Hársas
Némethásos
Deutsch Tschantschendorf
Német Csencs
Németcsencs
Eberau
Monyorokerék
Monyorókerék
Eisenhüttl
Jezero
Eisenhütten
Gaas
Kertes
Kertes
Gamischdorf
Gamischdorff
Gamischdorf
Gerersdorf
Szent Grótth
Németszentgrót
Glasing
Kolosár
Kolosvár
Großmürbisch
Nagy Medves
Nagymedves
Güssing
Németújvár
(not listed)
Güttenbach
Pinkócz
Pinkóc
Hackerberg
(not listed)
(not listed)
Hagensdorf
Karácsfa
Karacsfa
Hasendorf
Zajecz
Zajcfalu
Heiligenbrunn
Szent Kutth
Szentkút
Heugraben
Sirovnicza
Heugraben
Inzenhof
Boros Gödör
Borosgödör
Kleinmürbisch
Kiss Medves
Kismedves
Kroatisch Ehrensdorf
Horváth Hársas
Horváthásos
Kroatisch Tschantschendorf
Horvát Csencs
Horvátcsencs
Krottendorf bei Güssing
Békefalu
Békafa
Kukmirn
Kukmér
Kukmér
Kulm
Kolom
Kolom
Langzeil
(not listed)
(not listed)
Limbach
Limpach
Limbach
Luising
Lovaszad
Lovászad
Moschendorf
Német Sarós Lak
Németsároslak
Neuberg
Naibergh
Újhegy
Neudauberg
(not listed)
(not listed)
Neusiedl bei Güssing
Naiszidll
Noszoly
Neustift bei Güssing
Naistiffth
(not listed)
Oberbildein
Felsö Beled
Felsöbeled
Olbendorf
Olbendorff
Szentlőrinc (Olbendorf)
Ollersdorf
Olesdorff
Barátfalva
Punitz
Punicz
Punic
Rauchwart
Rauchvorth
Rauchwart
Rehgraben
Prástya
Prástya
Reinersdorf
Horváth Sámand
Német Sámand
Horvátzsamánd
Németzsámánd
Rohr im Bgld.
Rohr
Rohr
Rosenberg
(not listed)
(not listed)
St. Michael im Bgld.
Puszta Szent Mihály
Pusztaszentmihály
St. Nikolaus
(not listed)
Szentmiklós
Schallendorf
Saledorff
Schallendorf
Stegersbach
Szentelek
Szentelek
Steinfurt
Lipócz
Lipóc
Steingraben
Banya
Bánya
Stinaz
Szimácz
Stinác
Strem
Strém
Strém
Sulz
Sóóskútth
Sóskút
Sumetendorf
Szombatfa
Alsószombatfa
Felsőszombatfa
Tobaj
Tybay
Tobaj
Tschanigraben
(not listed)
(not listed)
Tudersdorf
(not listed)
Taródcsencs
Unterbildein
Alsó Beled
Alsóbeled
Urbersdorf
Orbánfa
Orbánfalva
Winten
Totfalu
(not listed)
Wörterberg
(not listed)
Vérthegy
Villages in Jennersdorf
1720, Listed As
1715 (no records)
1767, Listed As
Bonisdorf
Bonisdorff
Bonisdorf
Deutsch Kaltenbrunn
Hideg Kútth
Némethidegkút
Deutsch Minihof
Német Lak
Németlak
Dobersdorf
Dobrafalva
Dobrafalva
Doiber
Dobricza
Döbör
Eltendorf
Körtvélyes
(not listed)
Grieselstein
Kristyán
Kristán
Gritsch
Gricz
(not listed)
Heiligenkreuz
Német Keresztur
Rábakeresztúr
Henndorf
Ercsenye
Ercsenye
Jennersdorf
Gyanafalva
Gyanafalva
Kalch
Kalch
Kolig
Königsdorf
Királyfalva
Királyfalva
Kroboteck
Horvatfalu
Horvátfalva
Krottendorf bei Neuhaus am Klausenbach
Krotn Dorff
Békató
Minihof-Liebau
Liba
Liba
Mogersdorf
Nagyfalva
Nagyfalva
Mühlgraben
Mülhgraben
Mühlgraben
Neuhaus am Klausenbach
Dobra
Vasdobra
Neumarkt an der Raab
Farkasdifalva
Farkasdifalva
Oberdrosen
Fölsö Strasa
Felsőstrázsa
Poppendorf
Poppendorff
Popendorf
Rax
Rakss
Ráks
Rohrbrunn
Nádkutth
Nádkút
Rosendorf
Pacsfalva
Pócsfalu
Rudersdorf
Radafalva
Radafalva
St. Martin an der Raab
Alsó-Strása
Alsóstrázsa
Tauka
Tauka
Tauka
Wallendorf
Olaszfalva
Olaszfalu
Weichselbaum
Badafalva
Badafalva
Welten
Veliké
Velika
Windisch Minihof
Münchoff
Tótlak
Tótminihof
Zahling
Czaling
Zahling
6) HISTORICAL BB NEWSLETTER ARTICLES
Editor: This is part of our series designed to recycle interesting articles from the BB Newsletters of 10 years ago. However, there was no August 2005 edition so I have gone back further in time, to Issue 43 from September 1998. I can't say there is a particular justification for choosing this article, other than it was the first to catch my eye while working through some older editions. Like I often do, I've spiffed it up with a few pictures and nicer formatting... that will have to suffice.




THE BURGENLAND BUNCH NEWS - No. 143A
September 30, 2005

LUTHERAN ORIGINS IN SOUTHERN BURGENLAND (from Fritz Königshofer)

(ED. Note: While we have found very little concerning the movement of Germanic people into the Burgenland area, one idea that emerged from discussions was the fact that many came for religious reasons. Fritz Königshofer decided to look into that the next time he visited Graz. The results of his research follow.)

Fritz writes: In this e-mail I would like to summarize what I found in Graz in May when browsing literature about the counter-reformation in Austria and Styria. My aim was to hunt for any hints regarding movement of persecuted Lutherans from Styria to then West Hungary (today's southern Burgenland).

I was able to look, albeit only cursorily, through most of the books listed in the e-mail I had sent you four years ago. I am attaching this e-mail and the reaction you had provided at the time. (ED Note: we will publish in this next newsletter.) Most of my time I spent reading the book by Dr. Leopold Schuster (who himself was archbishop of the Diocese Graz-Seckau and, coincidentally, a contemporary of Father Alexander Berghold) about "Fürstbischof Martin Brenner," the Roman Catholic bishop who had been in charge of the most ruthless stage of the counter-reformation in Styria. The book is, of course, one-sided, but contains a lot of information about the precise sequence of events in Styria.

Apparently, it took the Roman Catholic Church a lot of effort to get the Habsburg family to insist on a return of their countries to Roman Catholicism, and then to actually put the foot down on Lutherans. As in Hungary, many of the aristocrats and nobles had converted to the new religion. The real clamp-down in Styria started in 1598 in Graz. Protestants unwilling to convert had to flee. Schuster cites an earlier book by "Resolenz," relaying that exiled Protestants from Graz at first moved over the then Hungarian border where they found a friendly welcome by counts Ladislaus and Thomas Nadasdy, Franz Batthyány, Thomas von Zetschy, and in the towns of Pinkafeld, Varasdin and Petanitza.

Apparently, the people of Radkersburg refused to convert back to Catholicism. This town was taken by force in December 1599 and re-catholicized. Some citizens had fled to Hungary. They were offered amnesty if they were to return.

The same thing then happened in the (Eastern Styrian) towns of Klöch and Halbenrain. The powerful, ruthless and evidently vicious commission in charge of the counter-reformation continued its path to Windenau (near Marburg), Pettau, Windischfeistritz, Gonobitz, Cilli, Windischgrätz, Drauburg, Mahrenberg (most of these places were in Lower Styria, today in Slovenia), then to Arnfels, Leutschach, Soboth, Schloss Krottenhof bei Leibnitz, Leibnitz itself, Eibiswald, Wildon, i.e., places south of Graz.

In the next stage, the commission visited and converted towns north of Graz, among them Peggau, Frohnleiten, Trofaiach, Vordernberg, Knittelfeld, St. Michael, lastly Voitsberg in Western Styria, etc.

Then the commission returned to Eastern Styria, namely the so-called Vorau quarter, then again Radkersburg, Fürstenfeld, Burgau, Neudau, Ebersdorf, Wörth, St. Bartholomä, St. Wolfgang, Kalsdorf bei Ilz (where the new and beautiful Reformed church was destroyed), Hartberg, Stubenberg, Weiz, Anger, Birkfeld, and St. Ruprecht. The book says that everywhere the commission arrived, the praedicants (Lutheran priests) fled away onto Hungarian territory.

In the last stage of this intensive forced counter-reformation, the commission visited towns in Upper Styria, namely the Enns and Mürz valleys. Apparently, after this tour which, I believe, lasted until about 1602 (though I forgot to note down the date), some inhabitants of Graz had returned to Lutheranism and were promptly exiled. The book says that there were still many Lutherans in Styria in 1607, among others in Mureck and Weiz.

From the book by Franz Ilwof (Protestantism in Styria, Carinthia and Carniola), I noted that the exodus of Lutheran citizens from Graz started in 1583. The book also reports of forced migrations of protestants to Hungary and Transylvania in the 18th century, among others 1752-55 from Himmelberg in Carinthia, and in 1774 from the upper Mur valley. These migrations do not seem to have been to the area of today's Burgenland, though.

The picture that emerges from this literature is that most of the movement of Styrian Lutherans to Hungary happened in the short timeframe of 1598 till 1602, plus perhaps some trickling in the years after 1602. Most of the Hungarian magnates in the area converted back to Catholicism. The Batthyánys did so in 1629 or 1630, and in 1634 they threw out the Protestant praedicants from all areas under their control. Only the castle in Neuhaus am Klausenbach (the home of Adam Batthyány's mother Eva nee Poppel von Lobkowitz) served as a refuge for Protestants in Hungary and Eastern Styria till Eva's death in 1640. Before the clampdown in Western Hungary, there had been another wave of Lutheran émigrés to Western Hungary, arriving in 1627 from Lower Austria. Between about 1670 and 1680, Protestants were persecuted in Western Hungary, and their religious activities had to be carried out entirely clandestinely. One can, therefore, surmise that if the Bergholds had not been a family living in the Poppendorf area since the original German settlement hundreds of years earlier, if they indeed rather came as Lutheran refuges from Styria, their most likely arrival in Heiligenkreuz or Poppendorf would have been around year 1600.

There is an interesting web site of the "Ungarisches Medien- und Informationszentrum" in Oberwart (http://www.umiz.at). Among others, it offers a write-up of the history of Western Hungary within the overall history of Austria and Hungary. This history mentions the arrival of Styrian Lutherans, nobles and commoners, from year 1598 onwards. Some family names are also provided, though there is no direct reference to Eltendorf or Zahling. The write-up states that the refugees were able to purchase empty houses and even rent entire towns.

Some historical material can also be found in, e.g., the Festschrift of the "Marktgemeinde Kukmirn" of 1982. Page 109 reports the "well-known trickling-in of Lutheran refuges from 1598 onwards." Since the first mentioning of a Lutheran parish in Kukmirn dates from year 1600, it seems possible that it was founded due to the increase in flock from the refugees. The author of the general history chapter was Alfred Ratz, while Gustav Reingrabner wrote the chapter on the history of the Lutheran parish. Perhaps these two authors might know whether there are sources with names of the Lutheran refugees of the close-in area.

I also checked the three-volume set by Fritz Posch on the history of the (Eastern-Styrian) district of Hartberg (published 1978, 1990). About the period of the counterreformation, the book states that the nobles in the area long kept to Protestantism. After the clampdown in Styria (as described above), the nobles let their subjects travel to Neuhaus am Klausenbach to attend Protestant services under the aegis of countess Poppel. Nevertheless, the Lutheran praedicants (pastors), teachers and scribes had all been expelled in 1601. The related decree was re-issued in 1602, with the death penalty as sanction for non-compliance. The book further states that some of the nobles of the district emigrated, but it does not state whereto. It reports that in 1651 a Lutheran preacher from Allhau visited the town of St. Johann in der Haide and took the confession of a soldier's wife. This concludes what I was able to gather about this subject.


7) ETHNIC EVENTS

LEHIGH VALLEY, PA

Thursday-Sunday, October 1-4: Oktoberfest at the Reading Liederkranz. Info: www.readingliederkranz.com

Friday-Sunday, October 2-4: Oktoberfest at Steel Stacks in Bethlehem. Info: www.steelstacks.org/festivals/oktoberfest/

Friday-Sunday, October 9-11: Oktoberfest at Steel Stacks in Bethlehem. Info: www.steelstacks.org/festivals/oktoberfest/

Sunday, October 10: Weinlesefest at the Lancaster Liederkranz. Music by Heidi & das Heimatecho. Info: www.lancasterliederkranz.com


NEW BRITAIN, CT

Friday, October 2, 7 pm: Heimat Abend. Austrian Donau Club, 545 Arch Street, $3. Music by Joe Rogers and his band.

Friday, October 16, 7:30 pm: Heurigan Abend. Austrian Donau Club, 545 Arch Street, $3. Music by Schachtelgebirger Musikanten.


NEW HYDE PARK, NY

Sunday, November 1, 12:30 pm: Katharina Fest Dinner/Dance. New Hyde Park Inn. Music by the Heimatklänge. Come meet other BB members. For info, call Frank Paukowits (718-776-2716).

8) BURGENLAND EMIGRANT OBITUARIES
Katharina Falckenberg (née Fleischacker)

Katharina Falckenberg, aged 97, died peacefully on August 19, 2015 in Hudson, Florida, where she lived since 1974.

She was the beloved wife of Edgar Falckenberg for 36 years.

Born on February 10, 1918, in Kroatisch Minihof, Austria, she was a daughter of the late Andreas and Elisabeth (Jost) Fleischacker.

Katharina is survived by her son Edward and wife Nancy of Hoffman Estates, Il; two granddaughters Amy Diamond and Debra Schwede and six great grandchildren.

There will be a visitation at 10:30 am and mass at 11:00 am at St. Theresa Parish in Palatine, Illinois, on Wednesday, September 9.

A private graveside service will be held immediately after the mass for immediate family members at Ridgewood Cemetary in Glenview.

Published in Chicago Suburban Daily Herald on Sept. 4, 2015



Renate Parascand (née Gerger)


Renate Parascand, 67, of Barnegat, New Jersey, passed September 4, 2015 at home surrounded by her loving family.

Born in St. Nikolaus bei Güssing, Austria, her family emigrated to the US in 1958.

Renate moved to Barnegat in 1978 and had been employed as a hairdresser.

She is survived by her beloved husband of 46 years, Joseph Parascand; two loving daughters and their spouses, Jennifer and Ted Saropoulos, Taryn Parascand and Meinardo Juarez; four cherished grandchildren, Aiden, Noah, Isaiah and Zion; a devoted sister, Elizabeth and husband Michael Stengel; also survived by her loving sisters-in-law, nieces, nephews and family.

Her endearing spirit will forever be remembered and greatly missed.

Viewing Tuesday, Sept. 8 from 2-4 and 6-9 PM at Barnegat Funeral Home, 841 W. Bay Ave., Barnegat. Mass offered Wed., 1 PM at St. Mary's Church, Barnegat. Cremation private.

In lieu of flowers, donations to the Joan Dancy & PALS Foundation, Riverview Medical Center, One Riverview Plaza, PO Box 8157, Red Bank, NJ 07701 appreciated. (www.BarnegatFH.com)

Published in The Record on Sept. 6, 2015



Anna Domyan (née Domyan)


Anna Domyan, 83, of Bethlehem, Pennsylvania, died on Thursday September 17, 2015 at St. Luke's Hospital-Anderson Campus in Bethlehem Twp. She was the wife of the late Joseph Domyan who died in 2008.

Born on April 7, 1932 in Rábatótfalu (Slovenska ves/Windischdorf), Hungary, she was the daughter of the late Charles and Frances (Schamenek) Domyan.

Anna was a sewing machine operator for Lynn's Sportswear in Bethlehem for many years. She loved to sew and bake and will be dearly missed.

Survivors: She will be lovingly remembered by her son, Stephen F. Domyan and wife Nancy of Bethlehem, daughters, Mary M. Linsenbigler and husband Robert of Freemansburg, and Anna M. Byrnes and husband Michael of Bethlehem, 9 grandchildren and 1 great grandson. She was predeceased by brothers Charles and Joseph.

Services: A prayer service will be held 9:30am Tuesday September 22, 2015 at the Connell Funeral Home followed by a Mass of Christian Burial 10am at Sacred Heart Catholic Church 1817 First St. Bethlehem , Pa. 18020. A viewing will be held from 6-8pm Monday evening and 8:30-9:30am Tuesday morning at the funeral home. Burial will be held at Holy Saviour Cemetery in Bethlehem. Contributions: Memorial contributions may be made to the American Heart Association 968 Postal Rd. Allentown, Pa. 18109 or to Sacred Heart Catholic Church. Send online condolences to www.connellfuneral.com.

Published in Morning Call on Sept. 19, 2015


END OF NEWSLETTER (All good things must end!)


NOTICE (Terms and Conditions): The Burgenland Bunch (BB) was formed and exists to assist Burgenland descendants in their research into their heritage and, toward that end, reserves the right to use any communication you have with us (email, letter, phone conversation, etc.) as part of our information exchange and educational research efforts.
• If you do not want your communication to be used for this purpose, indicate that it is "confidential" and we will abide by that request.
• Correspondents who communicate with the BB without requesting confidentiality retain their copyright but give a non-exclusive license to the BB allowing us to forward to BB members, publish in our monthly newsletter or on our website, and/or subsequently and permanently archive all or parts of such communications.

The Burgenland Bunch homepage (website) can be found at:
http://www.the-burgenland-bunch.org

Burgenland Bunch Newsletter, copyright © 2015 by The Burgenland Bunch
All rights reserved. Permission to copy excerpts granted if credit is provided.