The
News
Dedicated to Austrian-Hungarian Burgenland Family History

THE BURGENLAND BUNCH NEWS - No. 239
January 31, 2014, © 2014 by The Burgenland Bunch
All rights reserved. Permission to copy excerpts granted if credit is provided.

Editor: Thomas Steichen (email: tj.steichen@comcast.net)

Our 18th Year. The Burgenland Bunch Newsletter is issued monthly online. It was founded by Gerald Berghold (who retired Summer 2008 and died in August 2008).



Current Status Of The BB:
* Members: 2223 * Surname Entries: 7364 * Query Board Entries: 5255 * Staff Members: 17


This newsletter concerns:

1) THE PRESIDENT'S CORNER

2) AUTOBIOGRAPHY: WILHELM SCHMIDT

3) BOOK REVIEW: THE BURGENLÄNDER EMIGRATION TO AMERICA (by Ron Markland)

4) A SHORT BUT MEANINGFUL TRIP TO BURGENLAND (by Connie Hellerich Schield)

5) CAN YOU READ IT?

6) HISTORICAL BB NEWSLETTER ARTICLES:
- VILLAGE OF KROATISCH EHRENSDORF

7) ETHNIC EVENTS

8) BURGENLAND EMIGRANT OBITUARIES (courtesy of Bob Strauch)


1) THE PRESIDENT'S CORNER (by Tom Steichen)


Concerning this newsletter, we announce (immediately below) Changes in the Staff of the Burgenland Bunch, with two long-standing members moving to Emeritus status and a new staff member being added.

We also announce the public availability of "The Burgenländer Emigration to America," the English issue of the 3rd Edition of Walter Dujmovits' German-language book, "Die Amerika-Wanderung Der Burgenländer."

These two announcements are supported by Articles 2 and 3, with Article 2 being the Autobiography of Wilhelm Schmidt, our new staff member, and Article 3 being a Book Report on the English Issue by Ron Markland.

Article 4 is a Trip Report to Southern Burgenland by Connie Schield, wherein she was able to explore her roots and, serendipitously, retrace a few of her mother's footsteps from her trip from 40 years ago.

Article 5 is a dual member-assistance effort wherein we were challenged to read and translate some difficult texts; unfortunately we totally failed on the second effort... but perhaps one of you can come to our rescue and provide a translation!

The remaining articles are our standard sections: Historical Newsletter Articles, and the Ethnic Events and Emigrant Obituaries sections. I'll note that the Historical Article has become the basis for a new village history!





BB Staff Changes: We announce today the retirement from the BB staff of Bob Unger (Western US Members / Research) and Maureen Tighe-Brown (Judaic Burgenland) and welcome onto the staff Wilhelm Schmidt (title to be determined). Both Bob and Maureen will remain with the staff in Emeritus status (joining Anna Kresh), where they will be copied on all-staff messages and welcomed to comment as they see fit.

I'll say a few words about Bob and Maureen below.

As for Wilhelm, as a first assignment, I asked him to provide an autobiography so we can get to know him a little better. That bio appears as Article 2 in this newsletter. Wilhelm (Willi) has been active within the BB for some time, often providing an "insider's" view on Burgenland words and traditions. As you will learn in his bio, he was born in Pornóapáti (Pernau), Hungary, so it is no surprise that his contributions have often related to that village. Willi's contributions to the BB website include the Pernau deportation list and the Pernau houselist, as well as comments on, and corrections to, a fair number of past Newsletter articles. And, as a brand-new staff member, he makes a substantial contribution to Article 5 in this Newsletter.





Bob Unger: Bob is one of the select group of people who caused—yes, caused—the BB to exist. While pursuing his own family research, which led him to a village in Europe named Rudersdorf ("...possibly in Germany or Austria"), he wrote to the American Embassy in Vienna for assistance. Months later he received a letter from the Lutheran parish of Eltendorf in Burgenland with information about his Unger ancestors. When he requested additional information, the pastor replied saying she was too busy, but adding that another person was doing the same exact research. That person was Gerry Berghold. In November 1993, Bob wrote to Gerry, beginning a long, wonderful friendship that resulted in the discovery that they were cousins and led to frequent correspondence to share their research information.

Less than 4 years later, on January 11, 1997, Gerry authored and forwarded, via email, the first Burgenland Bunch (BB) Newsletter—sending it to 11 individuals, Bob being one. As Gerry noted many times, he founded the BB because he wanted to reduce the number of emails flying between his network of correspondents... so Bob is at partial fault; thanks Bob!

Over the years since, Bob and wife Alice traveled to Austria many times, and each time Bob wrote an extensive trip report, which was published in the BB newsletter. Bob also authored articles in the BB newsletters on the Steven Morse's Ellis Island tools, the 1828 Census, house numbers in Burgenland, travel hints, research books, tax records and the Thirty Years War. He also was the driving force behind the publication of the translation of "Twenty-Five Years of My Life on My Homeland," a book by another (unrelated) Robert Unger that was enjoyed, in English, by many BB members.

Having been with the BB from the start, he has been the organizational memory and a father-figure since Gerry passed, reminding us all of our history, our principles and the terms and conditions for BB membership.

Now an 88-year-old retiree, married for 67 years, he tries to stay active but must adjust because of leukemia (in remission) and the side effects caused by related medications.

Bob notes that "the Burgenland Bunch played a rewarding part in our lives for many years and I know it will do the same for many others... God has blessed us and we are truly thankful."

The same can be said in reverse: Bob played a rewarding part in the life of the BB and we are truly thankful!





Maureen Tighe-Brown: Maureen was a very early BBer, though she was not in the initial 11 correspondents so we can't blame her for the formation of the BB. However, I suspect she may be a reason—or even "the" reason—for the introduction of "titled" staff members.

Maureen was working on her University of Pittsburgh Ph.D. dissertation about the Jewish and Catholic households of Deutschkreutz, Burgenland, when she discovered the BB's internet site in January 1998 (the BB was formed in January 1997). Maureen has absolutely no ancestors from Burgenland; instead, she joined because of her research interests and soon (July 1998) was answering questions from members about "Jewish Burgenland." In September 1998, Gerry first uses the term "staff," saying he was expanding it... but he did not list any staff members. The first actual staff list appears in December 1998, and Maureen was titled as Contributing Editor for "Judaic Burgenland."

So, for over 15 years, Maureen has been fielding Judaic questions, being our go-to person for such. However, the need to provide care-giving (Maureen is a professional nurse, specializing in medical and surgical nursing care of adults), first for her mother and now for her housemate, have dominated her time in recent years.

One of the more interesting bits of BB support provided by Maureen relates to her nursing/care-giving background. In April 2007, the BB was holding a staff meeting in the Lehigh Valley (as part of a Burgenland government visit). Both Gerry Berghold and wife Molly were already quite ill with cancer at the time, so Gerry felt he could not attend. However, Maureen and housemate Dorothy Zwick, also a nurse, volunteered to provide transportation, wheel chair service, and nursing support during the trip, thus making Gerry and Molly's attendance possible. It became Gerry's last BB hurrah, his last visit to his native Lehigh Valley, and the last time he saw his many compatriots in the BB, BG and Burgenland government.

Had you done nothing else for the BB, Maureen, for this alone you deserve our heartfelt thanks! Given your additional fifteen years of faithful BB service, I also say bless you!





To all three, I'll say one final Thank You; to Bob and Maureen for service well-rendered; to Wilhelm, for being willing to help further perpetuate this group endeavor we call the BB!



English Issue Of The 3rd Edition Of "Die Amerika-Wanderung Der Burgenländer" Has Been Published: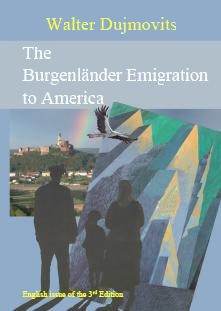 Now titled "The Burgenländer Emigration to America," the English issue is 306 pages in length and is available for online purchase via Lulu Press, Inc. for a list price of $10.45, plus tax & shipping (go to the BB homepage for a link to the information and ordering page). [Note that Lulu Press often provides discount coupons that reduce the list price or provides free shipping. As I become aware of these coupon codes, I'll list them on the BB homepage. The current coupon is a Valentine's 14% off deal: currently you can get the book for $8.99, plus tax and shipping.]

It was August 15, 2000, in BB Newsletter 86B, that BB founder and president, Gerry Berghold, first wrote:

A treasured dream would be an English language version of Dr. Dujmovits' book… Perhaps someday, the BB and BG membership may be such that the combined membership would support the printing of such a publication… A magnificent tribute to our ancestors!
Now, some 13 years after Gerry's wish, an English edition is a reality… and, within 24 hours of its public release on January 9th, over 120 copies were purchased (the current total is 344 copies). I'm sure that Gerry is smiling broadly!

The English translation was performed by BB member, Bob Strauch, and the formatting and final editing was by me, supported by the able assistance of numerous BB staff members who reviewed the book and pointed out needed corrections.

As I noted before, Dr. Dujmovits has generously granted all publication rights for this issue to the Burgenland Bunch; we gratefully thank him for this gift. I also thank Dr. Dujmovits for allowing Gerry's dream to become a reality and also for making his book accessible to us English-only readers. We may have lost the language but we still hold dear the history of Burgenland and the story of our ancestors' migration.

BB staff member Ron Markland volunteered to read a proof copy of the book and provide an initial review. That review can be found as Article 3 in this newsletter. Thanks Ron!

The book is the definitive history of the emigration of Burgenländers to the Americas; if you haven't yet ordered a copy, I recommend that you do so, both for yourself and your family!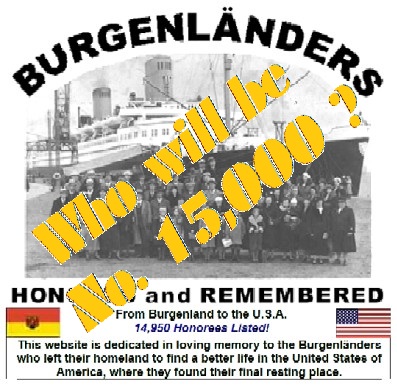 Reaching a BH&R Milestone: There are now close to 15,000 honorees on our BH&R (Burgenländers Honored and Remembered) website for Burgenländers who immigrated to the Americas in the 19th and 20th centuries and are buried there. Each entry in our listing includes space for the name of the decedent (also, the maiden name if the woman was married), the hometown, the years of birth and death, and the burial cemetery and its location. There is also a section of the website that includes recent obituaries and photos of our honored ancestors.

The website has been in the making for over a decade. Three BB staff members (Frank Paukowits, Bob Strauch and Margaret Kaiser) have been instrumental in assembling the listings. It is fitting that this 15,000 honoree milestone is occurring at the time of the publishing of the English edition of Dr. Dujmovits' book on the immigration of Burgenländers to the Americas.

A listing is a perfect way to immortalize our relatives. Special recognition will be accorded to our 15,000th honoree, and a copy of Dr. Dujmovits' book will be provided to the person who provides the decedent's name.

Let's make a concerted effort to reach the 15,000 milestone. Please send your additions, at no cost, to the following e mail link: NYBurgenlaenders@aol.com





BB Friend, Frank Tantsits, has died: It is with great sadness that I report that Frank Tantsits died this past month. Though I will not restate his many contributions to the BB, reported last month when I heard he had to go to a nursing home, I will reiterate that he was a true personal and BB friend; I will miss him!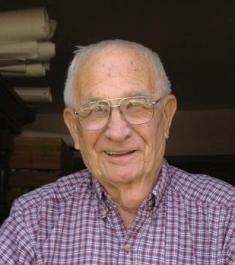 Frank A. Tantsits Sr. 84, of Bethlehem, passed away Sunday, January 19, 2014. He was the loving husband of the late Margaret A. (Palermo) Tantsits. Born in Coplay, he was the son of the late Alois and Elizabeth (Strasser) Tantsits. Frank was a retired Master Sergeant in the United States Air Force and also retired as a construction inspector. He was a member of Notre Dame of Bethlehem Catholic Church and a member of the Knights of Columbus.

Surviving are a son, Frank A. (Shelley) Tantsits, Jr. of Swansea, IL; a son, Mark A. (Brenda Ferraira) Tantsits of Bethlehem, PA.; a daughter Kristine A. (Michael B.) McGinty of Swansea, IL; five grandchildren, Bailey A. (Andrew) Spiers, Nicholas A. Tantsits, Katie and Sean McGinty and Audrey (Derek) McGinty-Vaughan; one great-grandson, Owen A. Vaughan; one brother, Edward (Priscilla) Tantsits of Allentown, PA.

A viewing will be held Wednesday 6-8PM in Downing Funeral Home, Inc. 1002 W. Broad St., Bethlehem, PA 18018. Mass of Christian Burial will be celebrated Thursday at 10:00AM in Notre Dame of Bethlehem Catholic Church, 1861 Catasauqua Rd, Bethlehem. Burial to follow in Cedar Hill Memorial Park.

In lieu of flowers, donations can be made in Frank's memory to the church.

Obituary via http://www.downingfuneralhome.com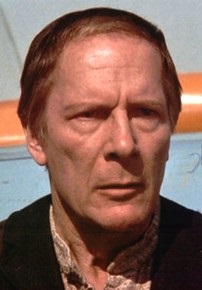 Actor Frank Marth: BB Member Rudy Rothemund wrote in to say that noted character actor Frank Marth died January 12th.

Frank Marth was born in New York City in 1922 to emigrant Burgenländer parents, Franz & Francesca (Richter) Marth, from Geresdorf and Tobaj, respectively.

Francesca (Richter) Marth and Rudy's grandmother were cousins.

In his career, Frank Marth had parts in ten films, fifteen TV movies and 113 TV series, including just about every major American prime-time TV show of the 1960s and 70s, often playing the tough cop, an FBI-type agent, or a military man. A small sample of credited TV series include: Hogan's Heroes, The Man from U.N.C.L.E., Kolchak: The Night Stalker, M*A*S*H, The Fugitive, Bonanza, Car 54 Where Are You?, Hart to Hart, Hawaii Five-O, Mission: Impossible, Mod Squad, Dukes of Hazzard, Wild Wild West, and even The Young and the Restless. He got his start in TV and film as a member of Jackie Gleason's stock company, often cast as an uncredited background character in Cavalcade of Stars (1949) and The Honeymooners (1955).





Recipes from the German/Austrian cookbook of the Austria Donau Club:

BEEF GOULASH (from Linda Poglitsch)
(Hungarian Goulash)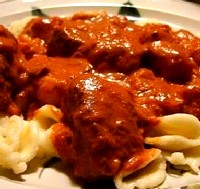 5 Tbsp. fat 1 Tbsp. vinegar
4 medium onions Caraway seeds to taste
3 lb. beef, chuck Marjoram to taste
1 tsp. paprika (or more) 1 to 2 c. water or soup stock
Salt and pepper 1 tsp. flour

Heat fat; fry sliced onion rings until yellow. Cut meat into 2 inch cubes; add to fat. Add paprika, vinegar, caraway seeds, marjoram, and salt. Add 1 cup water or soup, or more, gradually as needed. Simmer until meat is tender (2 1/2 to 3 hours). Add flour; blend well and boil a few minutes. Serves 5.





Genealogical Cartoon of the Month:


2) AUTOBIOGRAPHY: WILHELM SCHMIDT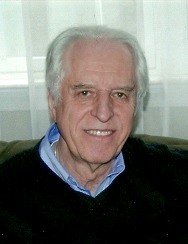 I was born in Pernau/Pornóapáti, Hungary, in 1941. On the day after my fifth birthday, my family was deported to Germany. In the summer of 1955, after I finished grade school, we immigrated to the United States. I went to high school and college, joined the Peace Corps, and studied philosophy for three more years in graduate school. I taught college for two years, got married, and changed careers from teaching to land surveying. After I became licensed in that profession, I opened my own business. I operated it for 25 years. I sold it in 2005, and am now enjoying retirement.

Since I was born in Hungary, I cannot claim to be a Burgenländer. I could have been, except for a historical accident. Pernau had been assigned to Austria by the Treaty of Trianon, and Austrian gendarmes occupied it throughout 1922. But the border commission acceded to the Bavarian Prince Franz's request to keep it in Hungary. He raised pure-bred Arabian horses and kept some of his studs on the estate grounds. He would have lost the land, had it become part of Burgenland.

I am, nonetheless, a bona fide Hianzer. I come—mostly—from Hianzisch stock and Hianzisch is my mother tongue.

My father János/Johann/John (1912-1985) grew up on the Meierhof, the property of Prince Franz. His grandfather, Stephan, had come to the Meierhof in 1876, after he married Maria Schmalzl from Pernau. Stephan was a Wiarisch. This word is the Hianzisch pronunciation of béres, meaning servant, but refers specifically to an oxen driver. Though born in Moschendorf to parents from Bildein, he is actually descended from the Schmidt family of Höll. His oldest son, Stefan, succeeded him. Five of Stefan's siblings immigrated to St. Louis. Only one remained in Pernau, where several of my second cousins still live. My other great-grandfather on my father's side was Lucas Bugnits, a Croatian. He came to Pernau from Horvatlövö, and was employed at the Meierhof as a hauler, using horse-drawn wagons. Lucas' daughter, Agnes, probably met Stefan at the Meierhof. They had four sons. My father, being the second-oldest, had to learn a trade. He became a wheelwright or wagon maker, and acquired the moniker Schmidt Wogna.

My mother, Martha, grew up in the village. Her grandfather, Johann Schmalzl, was a forester (see photo of him, with his rifle and knapsack, in BB Newsletter No. 235, Sept. 2013, "Memories of Pernau...." The young lady standing next to him at the back is my grandmother at age 12.) Johann belonged to one of the most prominent families in Pernau, which had several branches already in 1593. But, being the second-oldest in one of these branches, he inherited only a few acres, which made him a Kleinbauer. In 1904, he built the house in which I was born. He had three daughters, the two older of whom emigrated to St. Louis and died fairly young. His youngest daughter, Anna, therefore inherited the house and the farm. In 1912, she married Joseph Meltsch. He also was a second son in his family, and took up residence in the Schmalzl house. Their daughter, Martha (1921-2008), married Johann Schmidt in January, 1940. World War II having begun, my father was conscripted into a labor force. Rather than live alone, my mother moved in with her parents, and their abode became my Elternhaus.

Both of my parents were bilingual. During their school years, they were instructed in both German and Hungarian. But they made no effort to teach me Hungarian. I learned a few words by parroting what I heard. The language commonly spoken in the village and in my home was Hianzisch. I learned proper German in grade school in Germany. But with my grandmother (her husband died three months before we were deported) and my parents, I continued to speak Hianzisch as long as they lived. I have not forgotten it, and feel most myself when I speak it.

I have reconnected with my roots only since my mother died in 2008. By chance, I met a genealogist, Lester Kis, who stems from a village not far south of Pernau and who did me the favor of compiling my family tree. Then, after hearing the announcement of my mother's passing in the church of Pernau, distant cousin Laszlo Agh apprised me of the circumstances of our deportation and of the early history of the village. Someone else sent me trial pages of Emmerich Koller's book, and Emmerich and I began to correspond. Emmerich put me in touch with John Eberhardt, with whom, I discovered, I was related and who is also an avid genealogist. Through him, I came to know quite a few third cousins here in the United States (descendants of my Schmidt and Meltsch grandparents' siblings, who immigrated in 1900-1910) that I never knew I had.

This unexpected wealth of information begged to be arranged in readable form, if for no other reason than to pass it on to our daughter and two granddaughters. But the sheer amount exceeded the format of a monograph, and I decided to write a complete history of the village, from the Iron Age to post-WW-II. Much of it is background information. Pernau is a small speck of land, but world-historical events affected it. They are the indispensable context for understanding what happened in Pernau. I have the entire book outlined, but only about half written.


3) BOOK REVIEW: THE BURGENLÄNDER EMIGRATION TO AMERICA (by Ron Markland)

[Ed. Note: BB staff member, Ron Markland, volunteered to order a proof copy of the English issue of Dr. Dujmovits book, "The Burgenländer Emigration to America," and to provide an initial review of it for our membership. Here is his review.]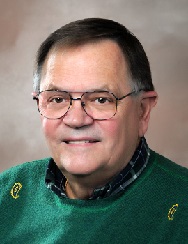 When I first saw mention that this book was soon to be published, I was interested in getting one of the first printed copies. The printer, Lulu Press, was contacted via the internet (http://www.lulu.com) and it was a simple task to purchase my copy. Check out was easy and I decided to choose the lowest cost shipping method, since my experience has been that it usually arrives much quicker than expected and not much later than the higher-priced expedited shipping. In less than one week I had a copy in my mailbox. With Christmas fast approaching, it was not until after Christmas that I first began to read my "Christmas present."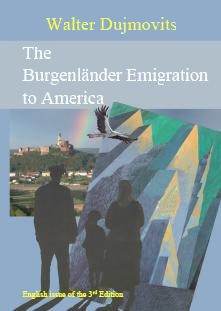 If only my college text books had been as easy to read and understand. Walter Dujmovits' approach results in a very understandable history. He brings to the reader the information that was available to the villager in different time frames. I was able to understand the thoughts that were going through the emigrants' minds as the book progresses through different time frames. He further discusses the happenings going on in America at the same time that made emigration plausible. This is something that many overlook when looking at the history of the area that was not officially known as Burgenland until 1921. The author answers the question as to what was going on at the same time in America and identifies the westward expansion that was occurring, without which emigration would have been extremely different. The author does an excellent job of covering both the emigrant and the immigrant aspects.

Much of my family history was never recorded, however I now am starting to understand why my great-grandfather was living in St. Louis, Missouri, in 1904 and had sent for his two daughters and his son to join him there. A return to Burgenland by my great-grandfather shortly thereafter always seemed difficult to understand—until I read that it was not an uncommon practice. All this, despite a 1000 mile trip from St. Louis to the east coast, several weeks travel by steamship, and then land travel within Europe to Burgenland, is difficult to comprehend.

If I had to summarize this book, I must say it is a treasure trove of information by time frame, village, family and occupation. It clearly points out why various villages were faced with survival—the wars, crop failures, changes in county boundaries and laws, and even the steamship replacing the sailing vessel as a means of transportation. Obviously those that made the decision must have been going on blind faith, and their willingness to work to succeed. All of this being done during a time frame that, unlike the present day, did not provide instant information regarding the happenings where they were emigrating to.

The appendices are truly amazing and filled with details.
►Section 1. A complete listing of the dates and names for the first emigrant from each village.
►Section 2. Milestones. An excellent summary of the various highlights in the time frames covered.
►Section 3. Dates and locations of the Amerikanerkruezes (American Crosses").
►Section 4. Music, lyrics and translation of "Song of the Burgenlander Abroad."
►Section 5. Village Index. Provides a very extensive, quick reference to pages that reference each village.
►Section 6. Photographs and Illustrations. In this section, in some cases, it is difficult to pick out details in the photographs. I assume that these were copies of original photographs and, as such, they will never be perfect. However their quality is similar to several I have from the same era. I just pulled my copy of Mathew Brady's Illustrated History of the Civil War, with its black and white photos from a similar era taken by a well-known professional photographer, and those prints are similar in quality to these.

It can be best said that, while I have put together a family tree with the best information I could find, that tree was still quite bare. This book puts the leaves on that family tree. I would recommend it to anyone who had family that emigrated from Burgenland. It definitely is worth its price, and I hope that Walter Dujmovits is made aware that the special efforts that he made, with the able assistance from many others, were well worth the effort and are greatly appreciated.

As for the construction quality of the book, I have purchased many books and the quality of this paperback book is as good as most and far better than many. I have been reading a couple of chapters at a time and always mark my place with a pencil or some other large object, and the binding of the book is holding up extremely well.

4) A SHORT BUT MEANINGFUL TRIP TO BURGENLAND (by Connie Hellerich Schield)
[Ed. Note: BB member Connie Schield, of Stone Lake, WI, writes of her recent trip to southern Burgenland. She is researching the Steiff, Grabner, Schrampf, and Trinkle surnames. Like so many "pilgrims" have found, traveling to Burgenland to walk the ancestral turf was a truly rewarding experience for her, in great part because of the friendliness and assistance of the local people... but read for yourself.]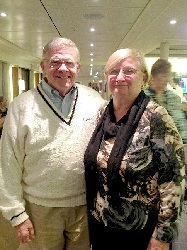 Early in November, 2013, my husband and I made a short but very meaningful trip to the Burgenland. My maternal grandparents, Rosina Grabner and Joseph Steiff, immigrated in 1912 from the Burgenland to Allentown, PA. They were married in 1915 and lived in Allentown for the rest of their lives. My grandmother's two sisters Mary (Diehl) and Cecilia (Weiland) and two cousins (Emma and Anna Schrampf) also immigrated to Allentown.

My parents, Mahlon and Frieda Steiff Hellerich, were baptized, confirmed and married at St. Peter's Lutheran Church in Allentown, where I also was baptized. Many of the members were from the Burgenland. I was born on V-J Day while my father was stationed in Germany, so my first home was with my Austrian grandparents on Jordan St. in Allentown. I have many fond memories of watching my grandmother make fastnachts and kraut and poppy seed strudels. Everyone spoke German and attended the German Sunday school and church services.

Four years ago, after the death of my parents, I brought home boxes of pictures, letters, and obituaries. There was very little information on my Burgenland relatives. Thanks to help from the Burgenland Bunch's staff and members (Fritz Königshofer, Klaus Gerger, Hannes Graf and Alexandra Wagner) and Karl Flieder in Limbach (recommended to me by the Burgenland Bunch), I have been able to expand my family tree in Limbach, Kukmirn, Eltendorf, Rudersdorf, Dobersdorf, and Königsdorf. I was in email contact with Karl Flieder, who gave me wonderful information about the Grabners and Schrampfs in Limbach. Putting all the family puzzle pieces together just whet my appetite for more information. A trip to Europe was in order!

We only had a few days to see so many people and visit so many cemeteries!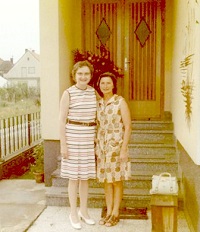 The local people were so helpful and friendly. In Kukmirn, the battery in our rental car died and immediately we got help. We took pictures of family graves in six cemeteries, got house lists from the city halls and tried to find family members (most were not home). Just by dumb luck, one night while having a glass of delicious Burgenland wine, I asked other patrons in the café if they were familiar with my family names. They were so excited because they knew so many of the people. I had taken pictures of my relatives and they knew them! In fact, they told me that one of the ladies lived two blocks away.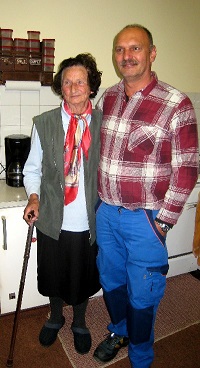 The next day, these complete strangers drove us two blocks in Rudersdorf to meet Frieda Lackner Perl, my mother's first cousin! I actually had taken along pictures of my parent's visit to her 40 years ago and I had a picture of the two Friedas standing together! We had the opportunity to meet her son and his family.

Karl Flieder had given me the name of Rosa Schrampf Weber in Limbach and told me that she could give me some information on my great-grandmother's (Theresa Schrampf) family. We found Rosa's home and visited with her but,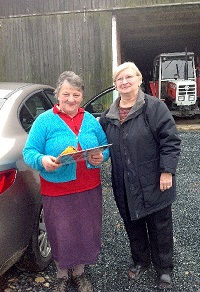 because she spoke very rapidly in German, I was unable to understand her relationship to my great-grandmother. She was so welcoming and I wished I had spent more time refreshing my German. We took a picture of me with her and when I got home and looked at the picture, I realized that there is definitely a relationship because I am her clone! If anyone can help me with family information on Rosa Schrampf Weber, I would love the help!

We did not have enough time to research the records at the cloister in Fürstenfeld where my grandfather's sister (Franceska Steiff) lived. If anyone could help me locate these records, I would be most grateful.

As you see our trip was exciting and fulfilling. My roots are deep in these small villages and I am so proud to be part of this heritage. With so many unanswered questions and wonderful people to meet, I must return!



5) CAN YOU READ IT?

BB member Ginger McGurk, of Omaha, NE, wrote to say: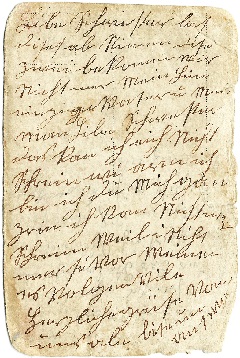 Dear Tom, many times in the newsletter someone has asked for a translation. I wouldn't turn to you, but the German-born people that I know can't read this. I was told that it starts out with my dearest sister, many greetings or something to that effect.

This note is on the back of a picture that my grandfather, Michael Opitz, received. My aunt believes that it is his family. My grandfather, Mike Opitz and all of his family came from Apetlon. His father was Martin Opitz and his mother, Barbara Muellner.

Is there anyone who can read this card and tell us what it says? I am including the front and back [see expandable image to right] of the picture. Thank you so very much!

Ginger Opitz McGurk





This is, of course, the kind of challenge the BB staff enjoys... a short—but not too short—message in the old German handscript that is of potential importance to one of our members. I mention "not too short" because having sufficient examples of various letters, within recognizable words, is useful for "learning the hand" and distinguishing similar yet different letters.

For those of you with some experience, you will recognize that the original text is in the German Kurrentschrift (Kurrent for short) font/alphabet. Sütterlin is a very similar alphabet that was developed in 1911 as a simplification of Kurrent (which was developed in the 1500s). While we do not know the date of Ginger's card or its message, Sütterlin was only taught as the primary German handwriting style from 1935 until 1941, for the short time before the Latin font (the one we write in now) replaced it in the German world. Given these facts, the picture on the card, and what Ginger reports as the birth years of the people likely involved, I'm fairly certain that the text is not Sütterlin, so Kurrent it must be. You can see examples of these fonts at BB page http://www.the-burgenland-bunch.org/Help/BB-german-letters.htm.

In reality, reading text in Kurrent is not too difficult once you develop an eye for the font and learn the peculiarities of a particular author's hand. What makes Ginger's text so challenging is that the author totally ignores punctuation, misspells or uses phonetic versions of many words, throws in capitalization seemingly at random, has poor grammar, runs words together or splits a single word between lines, and sometimes butchers the actual letters. Thus, much of our interpretation is a guessing game: what letter is that; what word is intended; where do sentences begin and end; and what are those occasional seemingly meaningless collections of letters.

I started into a translation for Ginger but realized that I too needed help, so I copied it to the full BB staff. Emmerich Koller is the staff member who embraced the challenge and spent about two hours working out details. Most of what follows is his work, with a few small additions or changes by myself and a few other staff members. Despite this level of effort, a few words still elude us and leave gaps in the translation.

However, below is our best effort, presented in three columns. The left column presents the text "as written" but with the font changed from handwritten Kurrent to Latin typescript. Line breaks from the original card are maintained. Question marks indicate words or letters too obtuse to transcribe fully. Things in parentheses are guesses of possible words or just collections of possible letters. (If you wish to contribute, these are the sections we need the most help with!)

The middle column takes the text as written and tries to turn it into meaningful German words and sentences, correcting obvious misspellings and adding punctuation. Truly, this also involves guesswork and should not be taken as a definitive interpretation. Again, line breaks from the original text are maintained.

The last column holds the English translation, again incorporating guesswork for the missing, unreadable, or uninterpretable words and for when German words might have multiple meanings. Line breaks are maintained where possible but, because German sentence structure differs greatly from English sentence structure, these are often only approximate within a sentence.


As Written (but in Latin font)
Interpreted German
English Translation
Libe Schwester las
dises ab Nimm dise
zwei bekomm(?) wir
Nicht nur Mein (Lini)
einziger Vater u (Mei)
man Libe Schwester
das kan ich eich nicht
Schreim wi arm ich
bin ich du mich (gan
z wie) ih kan ncht mr (?)
schreim weil i niht
(nur?imer?) si vor Meinen
Es (polgen) wile
Herzliche grüße von
uns ale
Bitie? um (ans ma?)
Liebe Schwester, lass
dieses ab, Nimm diese
zwei. Bekomm mir
Nicht nur mein (Linie)
einziger Vater und mein
Mann. Liebe Schwester,
das kann ich euch nicht
Schreiben, wie arm ich
bin. Ich du mich (ganz
wie). Ich kann nicht mehr
Schreiben, weil ich nicht
Mehr sie vor meinen
es (?) will.
Herzliche Grüße von
uns allen.
(?)
Dear sister, let
this go. Take these
two. You'll have
not only my
only father but also my husband. Dear sister,
I can't
tell you how poor I
am. I am (much like)
you. I cannot write
any more because I don't want them to worry
about my troubles.
I send greetings from
us all.
(?)
It should be evident that this translation leaves many questions unanswered. For example, what does "Take these two" mean? You should note that the card does not have an address on it, so it must have been included in an envelope or package... perhaps the "two" refers to something that was in the larger container... but we can't know for sure. Likewise, does "how poor I am" mean financially or health-wise? Even the following sentence does not help, as "my troubles" could be either financial or health troubles.

Later, new staff member Willi Schmidt, having seen and benefited from the above interpretation, provided his own interpretation, giving only the interpreted German and the English translation (the big difference being that Willi assumes more phonetic spellings than Emmerich did above). Again, you will see that he still could not make sense of some of the words, however his core interpretation appears more complete and logical:

As Written (skipped)
Interpreted German
English Translation
Liebe Schwester [ ]
dieses Abnehmen. Diese
zwei bekommen wir
nicht mehr, mein [ ]
einziger Vater und mein
Mann. Liebe Schwester,
das kann Ich euch nicht
schreiben wie arm Ich
bin. Ich tu mich ganz
zehren. Ich kann nicht mehr
schreiben weil Ich nicht
mehr siehe von Weinen.
Es folgen viele
herzliche Grüsse von
uns allen. Bitte um Antwort.
Dear sister [ ]
this photograph. These
two we'll never
get back, my [ ]
outstanding father and my
husband. Dear sister,
I can't tell you
how poor I
am. I am wasting
away. I can't write
any more because I can't
see any more from crying.
/There follow/ many
heartfelt greetings
From all of us. Please answer.
Given all this, whatever additional help you readers can provide will be appreciated!

For completeness, below is the photo from the other side of the card.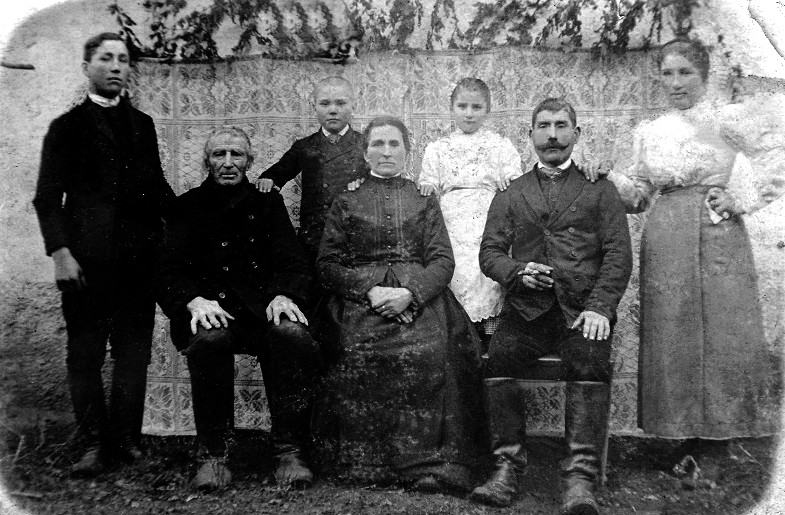 However I won't quite stop yet...

Willi Schmidt, a day after sending his interpretation, wrote an insightful follow-up:
The letter has been going through my mind. The person that wrote it apparently is the woman on the right side of the photograph, standing next to her husband. She is still young. She is apparently living in the old country, and is sending the picture to her sister in this country as a remembrance. She has elementary schooling, and is proficient in using the old German or Gothic script, but spells the way she speaks. That is the reason why some of her words, and therefore also the meaning of her letter, are almost indecipherable.

The poverty she cries over is her state. She is poor in the sense of being lost without her father and her husband, the two mainstays of her life. She is what my grandmother would have called 'a oami Haut'—in high German 'eine arme Haut,' literally 'a poor skin.' In English we'd say she is 'a poor soul,' though we also say 'I wouldn't want to be in her skin.' Her despondency is affecting her health. She probably wasn't eating, not because she didn't have food, but because she couldn't bring herself to eat. Her mother was probably still alive, as well the other younger people in the photo, and very likely provided familial support. They are the ones she refers to as sending greetings. But she was evidently inconsolable. She is seeking sympathy from her sister by asking for a reply.

I can't help wondering what happened to her.
Willi's comments, especially his reference to the father and husband as "the two mainstays of her life," and also the picture (which hints at the family structure), strike a chord in me in light of my reading about Hungarian peasant families in the book "Proper Peasants" (which I introduced to you readers in NL 237 / Nov 2013). While the topic is too extensive to address here, I will note that the loss of both husband and father likely would destroy the family's financial and social underpinnings... truly a cause to consider oneself a poor soul. (Perhaps I've found the next topic I will address from that book.)





However, this wasn't the only translation help requested in recent months. Another example, and one for which we had even less success, came from Kristen Kellick. Her card was in Croatian (or so we believe), but only the salutation was readable. The salutation was written in Croatian but had Hungarian consonants (for example, sz for š); beyond that, however, the text is not interpretable.

When I say "not interpretable," I'll back that up by telling you that I recruited BB member E. Wayles Browne, who says in his BB member information that "I am a translator from Croatia Croatian (and other languages) to English, and would be happy to help people with documents written in Croatian." What Wayles leaves out is that he is also a Ph.D. Professor of Linguistics at Cornell University with a specialty in "the Serbo-Croatian area (Bosnian, Croatian, Serbian)" (he says this on his University biography page).

It was Wayles who interpreted the salutation on the card and pointed out the use of Hungarian consonants in the otherwise Croatian words. However, he was stumped by the body of the message. He wrote, "I showed the postcard to two Croatian scholars and a well-known Croatian-American translator at the Association for Slavic, East European, and Eurasian Studies meeting in Boston, and none of them could read it. I've looked at it many times and haven't gotten any further."

Now it is also worth noting that Wayles has written scholarly papers on Burgenland Croatian and that he has "...also worked on or taught other South Slavic languages, Polish, Russian and Belarusian, the Balkan language area, Old Church Slavonic, Slavic historical grammar, comparative and contrastive grammar, and pedagogical grammar." Given this background, I suspect that Wayles would not be fooled by a change to another language in the body of the message.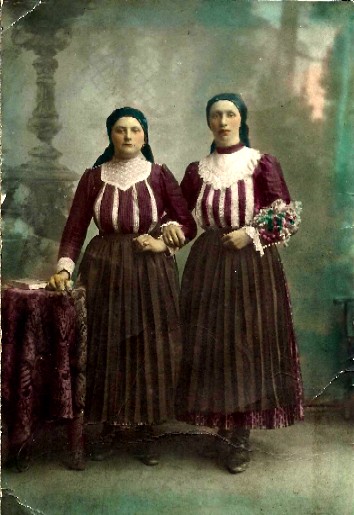 Instead, I suspect this is a case of an under-trained writer, creating text that lacks proper punctuation, spelling and grammar, and with phonetic words from multiple languages mixed together. This baffles even the experts! While I do not know the exact year of the card (there is a note on it that estimates it is from 1917-18), I do know that education in Hungarian-controlled regions prior to 1921 was in Hungarian, with little effort made to teach writing in other languages, thus the writings of the non-Hungarian peasants was seldom polished ...and often abysmal.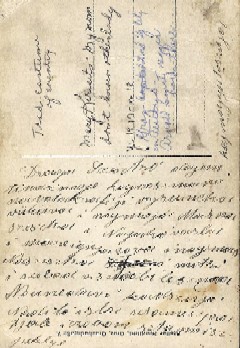 Kristen has agreed to let us share the card with you. To the left is the front of the card, with the shorter woman on the left being Kristen's great-grandmother, Maria Kirisits, who was born in Stinatz in 1898, came to the US in 1922, married in 1923 and had children in Buffalo, NY, from 1925 to 1930.

To the right is a thumbnail image of the back of the card. Clicking on it will pop up a much larger, more readable image. If this text is readable for you, please, please share your interpretation with me; I, of course, will share your note with Kristen, who will share it with her grandmother (who is greatly interested in knowing what it says!).

Regardless, if you run across and old card or letter and are scratching your head about what it says, take comfort that even professional linguists struggle with these difficult texts. Nonetheless, the BB will attempt to help if you need it... but we make no guarantees!


6) HISTORICAL BB NEWSLETTER ARTICLES
Editor: This is part of our series designed to recycle interesting articles from the BB Newsletters of 10 years ago. This month, I reprint one from Newsletter No. 125 (January 31, 2004), concerning the village of Kroatisch Ehrensdorf. I do so because I note we do not have a "village history" file for it among our collection of such, and I will use this and additional research to create one. Until then...

THE BURGENLAND BUNCH NEWS No. 125
January 31, 2004
VILLAGE OF KROATISCH EHRENSDORF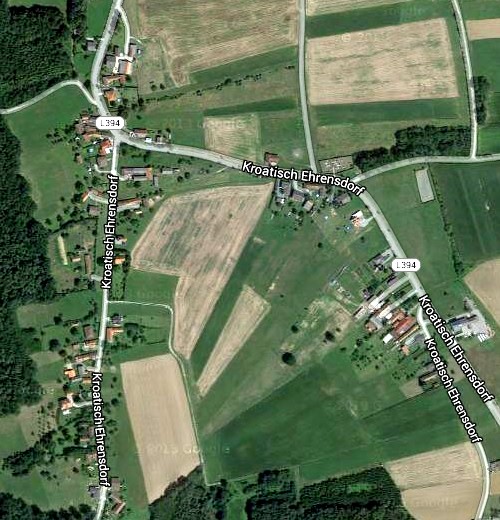 BB member Frank Paukowits writes: Frank Teklits and John Lavendowski have helped me trace my Paukowits family roots back to Kroatisch Ehrensdorf in the early 1700's. In the late 1600's, the Paukovits surname was prevalent there. As a result, I believe there is a strong likelihood that they may have been part of the original settlement. I know very little about the history of K-Ehrensdorf. I've read past Newsletters, but only found sketchy references. I was wondering if anyone knows whether there is anything in writing prepared by Fr. Gratian Leser or others that tells of the founding of this town. Has an "Ortschronik" (history) ever been released?

Fritz Königshofer replies: The only additional information I have is from the district book on Güssing (Güssing im Wandel der Zeit, Kirsner & Peternell) where Kroatisch-Ehrensdorf is described under the commune of Eberau. Accordingly, the first written mention of Horváth Hásos [the Hungarian name for Kroatisch Ehrensdorf] was in the year 1659, but the settlement of the Croat population likely happened about 100 years earlier.

Frank responds: Thanks for responding to my query. I was wondering whether you could speculate on the likelihood that K-Ehrensdorf was an offshoot from D-Ehrensdorf, similar to what happened when the communities were split in Reinersdorf, Stegersbach and Mürbish between the Croats and German-speaking populations? Also, do you have any idea whether K-Ehrensdorf had connections to the Erdödy family, like many of the other towns in the Eberau domain, rather than the Batthyány family.

Fritz replies: The district book about Güssing (which I had referred to) says that the Croat settlement was carved out from the medieval proper of Hásos (Ehrensdorf). This would mean that your guess is right, i.e., that the Croat settlement was an offshoot of Ehrensdorf which then became known as Deutsch Ehrensdorf. Horváth Hásos was first mentioned in a written document in the year 1659, but the assumption is that the Croats had settled there at least a hundred years earlier.

The nearby domain of Eberau went to the family Bakocz in 1496, who were raised into aristocracy and assumed the name Erdödy (it hailed from Transylvania). They embraced Protestantism. In a swap of domains in 1556, which apparently was later contested, Peter II. Erdödy transferred the domain to Count Nikolaus Zrinyi, descendent of old Croat nobility. The Zrinyi family stayed in Eberau till 1613.

The influx of Croats in Eberau happened between 1545 and 1561, encouraged by both the Erdödy and Zrinyi families. When Thomas Erdödy converted back to Catholicism, he won the legal fight for the domain in 1613. From that time onwards, the Erdödy family was in command again.

From this information in the district book, it appears that the Erdödy may well have been the overlords of Kroatisch Ehrensdorf, but probably acted in concordance with the Batthyánys. Unfortunately, I know too little to clarify this question.

From other literature, it seems there were two waves of Croat immigration. The first wave happened under Franz Batthyány around 1550. The other happened around 1650 under Adam Batthyány. From this, one cannot say whether Kroatisch Ehrensdorf may have been founded in the first or second wave. However, as I wrote before, the district book says that it was a foundation of the first wave. If so, the settlers may well have come from the area of Kopreinitz in Croatia, which apparently was the area of origin of the Croats in the region around nearby Rechnitz.

(ED. Note [Gerry]: page 44 (Teklits translation) of "People On The Border" by Johann Dobrovich states: "Jandrisovits says in volume 4 of his 'Urkunden und Dokumente' that 15 Croatian refugees established the small village of Punitz in 1553 on Batthyány property. Croats also established (at the same time?) the villages of Neuberg, Kroatisch Ehrensdorf, and Steinfurt. Neuberg was purely Croatian in 1635, Kroatisch Ehrensdorf was Croatian in 1698 - according to the visitation)." Hajszan in "Die Kroaten der Herrschaft Güssing" has little else to add.)





The above information will be rewritten more compactly and added to a Kroatisch Ehrensdorf "village history" file. Additional information, to be added to the file, include the following:

Kroatisch Ehrensdorf (Hungarian: Horvát-Hásos; Croatian: Hrvatski Hašaš)

Ortsteil (population in 1934 was 191; now 91) of the municipality of Eberau, it is a Kroatisch-speaking, largely Catholic, lineal village in Güssing district. The other villages of the municipality (formed in 1971) are Eberau, Gaas, Kulm and Winten. From 1971 to 1993, Oberbildein and Unterbildein were also part of the municipality.

According to the Ortschronik, the Zrinski (Zrinyi) family had been provided with land in the Pinkatal area of Burgenland, and the origin of the town was traced back to that time period. Peasants aligned with the Zrinski family, who lived in the area of Kostajnica, relocated to Burgenland at that time, fleeing the Turks.

Until 1814, a single church, in a vineyard between Deutsch Ehrensdorf and Kroatisch Ehrensdorf, served both villages (a field cross now stands there as a memorial). From 1814-1929, residents attended church in Sankt Kathrein (Pósa-Szent-Katalin) in the Oberwart district. In 1928, with substantial financial help from emigrants in America, the village built the Church of the Sacred Heart, which opened in 1929. In 1929, the American emigrants helped again, this time to replace the church bells lost to the war.

Family History Library microfilms:
Catholic: Római Katólikus Egyház, Pósa-Szent-Katalin [Film 700714]
Civil: Monyorókerék (Vas). Anyakönyvi Hivatal [Films 2227444; 2236200-5]



7) ETHNIC EVENTS

LEHIGH VALLEY, PA

Friday, February 7: Fasching. Evergreen Heimatbund in Fleetwood. Music by the Josef Kroboth Orchestra. Info: www.evergreenclub.org

Saturday, February 8: Schnitzelfest. Reading Liederkranz. Info: www.readingliederkranz.com

Sunday, February 9: St. Valentine's Dance. Coplay Sängerbund. Music by the Josef Kroboth Orchestra. Info: www.coplaysaengerbund.com

Saturday, February 15: Bratwurst Fest. Evergreen Heimatbund in Fleetwood. Info: www.evergreenclub.org

Friday, February 21: Kappenabend. Evergreen Heimatbund in Fleetwood. Music by the Walt Groller Orchestra. Info: www.evergreenclub.org


LANCASTER, PA

Saturday, February 8, 7:30-11:30: Fasching. Lancaster Liederkranz ($10; $12 Guests). Music by The Continentals. Come in costume!

Sunday, February 16, 2:00 to 6:00 pm: Schneeball & Kaffeeklatsch. Lancaster Liederkranz ($8; $10 Guests). Music by Joe Kroboth.

Saturday, February 22, 7:30 to 11:30 pm: Lumpen Ball. Lancaster Liederkranz ($10; $12 Guests). Music by Joe Weber Band. This is a bum's ball, come dressed down!



8) BURGENLAND EMIGRANT OBITUARIES (courtesy of Bob Strauch)

Ann M. Smith



Ann M. Smith, of Chicago, Illinois, died December 31, 2013.

She was the beloved wife of the late William Joseph Smith.

Born in Mischendorf, Austria. she was the daughter of the late Vincent and Theresa (Sagmeister) Sagmeister.

Survivors: daughters, Pamela (Daniel) Klick & Karen Smith; grandchildren, David Klick, Michael Klick, Brian (Kathleen) Klick, Mark Klick, & Laura Klick; many nieces & nephews. She was predeceased by sisters Cecelia Sagmeister & Theresa (Erwin) Schleser.

Services: funeral Friday, 10:15 a.m., from Thompson & Kuenster Funeral Home, 5570 W. 95th, Oak Lawn. To St. Linus Church for Mass at 11 a.m. Interment St. Mary Cemetery. Visitation Friday, 8:30 a.m. until the time of prayer. Contributions: in lieu of flowers, memorials to Bethshan Association, 12927 S. Monitor, Palos Heights, IL 60436 would be greatly appreciated. www.thompsonkuensterfuneralhome.com 708-425-0500.

Published in Chicago Tribune on Jan. 2, 2014



Paul Michtics

Reluctantly after a valiant struggle, Paul Michtics, of Hamilton, Ontario, Canada, passed away at Emmanuel House on January 1, 2014 surrounded by his adoring family after his last New Years' Eve party.

Paul was born in Kópháza (Koljnof/Kohlnhof), Hungary on June 22, 1926.

He is survived by his loving and devoted wife Ann (nee Soltesz), to whom he was married for 56 years; loyal and loving children Linda (Domenic Pellegrini), Liza (George Zefkic), Paul (Carol) and Peter (Columba); grandchildren Katrina, Victoria, Christina, Danielle, Sydney, Andie, Lucas, Ryan, Kade and Kian; nephew István Szakacs in Sopron, Hungary; brothers- and sisters-in-law Bill and Shirley Soltesz, Jeannette and Murray Mazza and Rosemary and Michael Tratch.

Paul enjoyed sharing conversation, laughter and wine with his immediate and extended family together at the cottage and other family celebrations.

Visitation will be held at MARKEY DERMODY FUNERAL HOME 1774 King Street East (at Kenilworth) on Friday, January 3, 2014 from 2-4 and 7-9 p.m. Prayers at 3:30 p.m. A Funeral Mass will be held at St. Luke's Catholic Church, 200 Mount Albion Road on Saturday, January 4, 2014 at 10 a.m. Interment to follow at Our Lady of the Angels Cemetery. For those who wish, donations in memory of Paul may be made to the Good Shepherd (Emmanuel House) so that they may continue to do their beautiful work.

"His numerous visits to the casino never yielded the big windfall, but he won in the lottery of life."



Rose Kröpfl

Rose Kropfl, 86, of Toronto, Ontario, Canada, died peacefully at the Humber River Regional Hospital on Sunday, November 24, 2013.

Born in Güttenbach, Austria, she was the beloved daughter of the late Mathias and Irene (Magdits) Kröpfl, step-daughter of the late Maria Kröpfl, and loving sister of the late Joseph Kröpfl.

Rose was a dedicated volunteer throughout her life who had a fun loving and supportive nature. Rose will be lovingly remembered by her nieces, nephews, cousins, friends and extended family.

Friends may call at the Turner & Porter Yorke Chapel, 2357 Bloor St. W., at Windermere, east of Jane subway, on Tuesday from 2-4 and 7-9 p.m. A Celebration of Rose's Life will be held at the funeral home on Wednesday, November 27, 2013 at 10 a.m. In lieu of flowers, donations may be made to the Canadian Cancer Society or the Heart & Stroke Foundation.

Published in the Toronto Star on Nov. 26, 2013



Maria Ehritz

Maria Ehritz, 86, formerly of Bethlehem Township, PA, passed away Thursday, January 9, 2014 in Gracedale, surrounded by her loving family.

She was the wife of the late Otto Ehritz, who died April 1, 1978.

Born February 9, 1927, in Jennersdorf, Austria, she was a daughter of the late August and Theresia (Ludwan) Müller.

She and her husband owned and operated the former Otto's Cafe, Wilson Borough, for thirty years. Maria enjoyed spending time with family and friends, her dog and her family's dogs, knitting, traveling, cooking and taking care of her home. She was member of St. Jane Frances de Chantal Catholic Church.

Survivors: Two daughters, Eileen C. Sales and her husband David, of Bethlehem Township, PA and Rosemarie A. Thomas and her husband Walter C. III, of Palmer Township. She was predeceased by five brothers and a sister.

Services: 10 a.m. Monday from the Strunk Funeral Home, Inc., 2101 Northampton Street, Wilson Borough, followed by a Mass of Christian Burial at 10:30am in St. Jane's Catholic Church, 4049 Hartley Avenue, Palmer Township. Call Monday 9 -10 a.m. in the funeral home. Burial will be in Northampton Memorial Shrine. Offer on-line condolences at www.strunkfh.com. Memorials: May be made to the Center for Animal Health & Welfare, 1165 Island Park Road, Easton, PA 18042.

Published in The Express Times from Jan. 9 to Jan. 10, 2014



Anna Chaban

Anna Chaban (née Wagner), 85, of Clifton, New Jersey, passed away on January 12, 2014.

Born in Unterbildein, Austria, she came to the US in 1955 and lived in Passaic before moving to Clifton in 1962.

A long-time resident of Evergreen Manor in Clifton, Anna worked for Plantronic Seals of Clifton for more than 20 years, retiring in 1993.

She was the beloved mother of Michael Chaban and his husband AJ Pietrantone of NYC, and Irene Duncan of Hopatcong; loving Oma of Billy, Mark and Heidi; dear sister of Stefan Wagner of Austria.

A Memorial Gathering will be held Thursday, January 16, 2014, 5-7 PM at the Shook Funeral Home, 639 Van Houten Ave., Clifton (www.ShookFH.com). Cremation was private. In lieu of flowers, please consider a contribution to Meals On Wheels Association of America, 413 N. Lee Street, Alexandria, Virginia 22314 (www.mowaa.org) in memory of Anna.

Published in The Record/Herald News on Jan. 14, 2014



Julius Kroboth

Julius Ludwig Kroboth, 98, of Old Tappan, New Jersey, formerly a 53 year resident of Palisades Park, passed away peacefully January 14, 2014 at Sunrise of Old Tappan.

Born in Stiles, Pennsylvania to Adolf and Helen (Garay) Kroboth of Güssing (Burgenland), Austria, he spent his youth in Burgenland and returned to US at the age of 21.

He was a founding member of Brüderschaft der Burgenländer, an Austrian-American cultural organization formed in New York in 1937.

In the early 1940s, he worked in NYC's shipyards and married Helen Feibel in 1942 in the Bronx, NY. He served in WW II South Pacific Theater with US Navy Seabees 92nd Construction Battalion from 1943-1945. After WW II, he worked in the sheet metal industry in NY and NJ until retirement. He lived in Palisades Park, NJ from 1952 to 2005 and was active in local Senior Citizen clubs and the Hasbrouck Heights Elks Club with his wife Helen. He was an avid photographer who traveled widely, was also an expert woodworker, gardener and craftsman. He was especially fond of making stained glass angels which he gave as gifts. Julius also enjoyed playing the mandolin and harmonica. He was a loving father, helpful friend and neighbor to many.

He was predeceased by wife Helen in 2009 and eleven siblings in Hungary, Austria and the US.

He is survived by his son, Richard Kroboth and his wife Kathy of Washington Township, NJ; his daughter Rev. Janet Kroboth-Weber and her husband Peter of Nanuet, NY, and numerous nieces and nephews around the world.

A Mass of Christian Burial will be celebrated at St. Andrew's Church, Westwood, NJ on Saturday 10:30 AM. The interment will follow at George Washington Memorial Park, Paramus, NJ at 11:45 AM with military honors. A memorial page and letters of condolences can be offered at the Becker Funeral Home website, http://obits.dignitymemorial.com/dignity-memorial/obituary.aspx?n=Julius-Kroboth&lc=4025&pid=169117866&mid=5817669



Joseph Pinter

Joseph M. Pinter, 90, of Venice, Florida, passed away Thursday, January 16, 2014.

Joseph was born May 30, 1923 in Schachendorf, Austria, the son of the late Joseph and Anna (Vukits) Pinter.

Joseph is survived by one daughter Kathleen Schwartz of Illinois; two brothers Stephen "Bill" and wife Ann of Illinois and Michael and wife Jeanne of Venice, FL; grandchildren Alexandra and Steven Schwartz both of Illinois and numerous nieces and nephews.

Joseph was preceded in death by his beloved wife Emily in October of last year.

Joseph was a member of the United States Army serving during WWII, a retired Captain with the Chicago Fire Department, and a member of Epiphany Cathedral. Both Joseph and wife Emily were members of the International Polka Association and various other clubs throughout his life.

A memorial mass will be held on Wednesday, January 22, 2014 at 10:00 am at the Epiphany Cathedral in Venice. Donations maybe made in Joseph's name to Tidewell Hospice, 5955 Rand Blvd, Sarasota, FL 34238. Ewing Funeral Home in charge of local arrangements.

Published in Chicago Tribune on Jan. 17, 2014



Justine Schwartz

Justine Schwartz, 95, of Whitehall, Pennsylvania, passed away peacefully at Lehigh Valley Hospital on January 17, 2014.

Born in Kleinpetersdorf, Austria, on January 5, 1919, she was the daughter of Karl and Theresia (Herics) Schubits and youngest sister to Theresa, Mary, and Stella.

Justine was predeceased by her husband, Stephen Schwartz. They were married for 64 years at the time of his death in 2003.

Justine loved her garden where she continued to grow her vegetables until the age of 92. Always in her kitchen, she baked the best kipfels and served traditional Austrian dishes. She enjoyed crocheting and made blankets for her grandchildren and great-grandchildren. She worked for the family business, Schwartz Heating & Plumbing, Inc., for many years. Justine was a devoted parishioner of St. Elizabeth of Hungary Catholic Church.

Survivors: Justine will be lovingly remembered and missed by her son, Phillip, and his wife, Marilyn; granddaughters, Kimberly, wife of James Berkowitz, Melissa, wife of Martin OHara, Jennifer, wife of Christopher Peluso, Elizabeth, wife of Eric Stano; and grandson, Phillip. She loved her 14 great-grandchildren, Jack, Alexa, Alaina, Peyton, Bec, Donovan, Phoebe, Serafina, Gianina, Luca, Viviana, Lucianna, Natalia, and Anthony, and they will miss their great-grammy.

Services: Mass of Christian burial will be celebrated at 1 p.m., Wednesday, January 22, 2014, at St. Elizabeth of Hungary Catholic Church, 618 Fullerton Ave., Whitehall. Viewing will be held from 6 until 8 p.m., Tuesday, January 21, at Weber Funeral Home, 1619 Hamilton Street, Allentown, and noon to 1 p.m., Wednesday, before Mass. www.weberfuneralhomes.com. Contributions: In lieu of flowers, memorial contributions may be made to Carmelite Nuns of Allentown Saint Thereses Valley, 3551 Lanark Road, Coopersburg, PA 18036.

Published in Morning Call on Jan. 19, 2014



Gizella Szendrey

Gizella Szendrey (née Jurasits), 83, of Valley Stream, New York, passed away Friday, January 17, 2014.

She was born in Szentpéterfa (Petrovo Selo/Prostrum), Hungary.

She is survived by her son William Szendrey and his wife Susan; her daughter Patricia Szendrey; her son James Szendrey; her five grandchildren, Will, Katy, Kristen, Robert and Michael; her former daughter-in-law Joan; her two sisters Martha Hunter and Betty Yurasits.

Visitation: Thursday, January 23, 2014, 2-4 & 7-9 pm at Edward F. Lieber Funeral Home, 266 N. Central Avenue in Valley Stream, New York. (516) 825-2900. Funeral Mass: Friday, January 24, 2014, 9:30 am at Saint Vincent de Paul Church, 1500 Depaul Street in Elmont, New York. (516) 352-2127. Interment: Friday, January 24, 2014 in Long Island National Cemetery, 2040 Wellwood Avenue in Farmingdale, New York. (631) 454-4949.


END OF NEWSLETTER


NOTICE (Terms and Conditions): The Burgenland Bunch (BB) was formed and exists to assist Burgenland descendants in their research into their heritage and, toward that end, reserves the right to use any communication you have with us (email, letter, phone conversation, etc.) as part of our information exchange and educational research efforts.
• If you do not want your communication to be used for this purpose, indicate that it is "confidential" and we will abide by that request.
• Correspondents who communicate with the BB without requesting confidentiality retain their copyright but give a non-exclusive license to the BB allowing us to forward to BB members, publish in our monthly newsletter or on our website, and/or subsequently and permanently archive all or parts of such communications.

The Burgenland Bunch homepage (website) can be found at:
http://www.the-burgenland-bunch.org/

Burgenland Bunch Newsletter, copyright © 2014 by The Burgenland Bunch
All rights reserved. Permission to copy excerpts granted if credit is provided.