9) GERMAN-STYLE CHRISTMAS MARKETS IN USA
Chicago (November 25 - December 24)
The Christkindlmarket in Chicago is the largest and most renowned Christmas market in the United States, attracting more than one million visitors annually from the Chicagoland area, across the US, and around the world. This yearly event, which has taken place since 1996, celebrates the city's friendship with Nuremberg, home to one of Germany's most famous traditional Christmas markets, with traditional German specialties, music, and decorations. The official grand opening festivities on November 27 even feature the Christkind from Nuremberg. (The market opens beforehand for two "sneak peak" days on November 25-26.)
Akron, OH (November 28 - December 30)
Twelve charming cottages house some 40 vendors - including craftsmen, entertainers and chefs - from Chemnitz, Germany, Akron's sister city, and feature handcrafted wares, including Moravian stars, Erzgebirge (Ore Mountains) arts and crafts, and hand-blown glass ornaments as well as seasonal fare. (Opens for a sneak preview on November 27, 2009. Closed Mondays.)
Dayton, OH (December 5-6)
Celebrate Christmas at the Dayton Christmas market featuring hand-crafted ornaments and gift items, German food and beverages, a Christmas raffle, and concerts by the Dayton Liederkranz children's, women's, and men's choirs.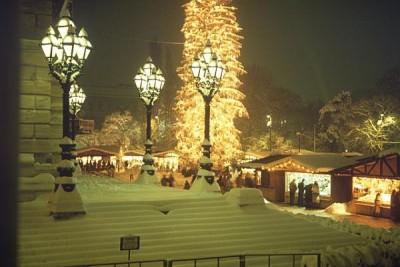 New York City, NY (through Christmas Eve)
Union Square Holiday Market (November 25 - December 24)
Columbus Circle Holiday Market (December 2-24)
Visitors are invited to linger at German Christmas stands at two holiday markets in New York City featuring imported gifts and treats from Germany, including hot winter drinks, gingerbread cookies, the famous Dresden-style Stollen cakes and chocolate advent calendars and Christmas cards. New in 2009 at the Union Square market: German Bratwurst from: German Delights
New York City, NY (November/December)
Also recommend by the German General Consulate in New York:
The Holiday Shops at Bryant Park
Grand Central Vanderbilt Holiday Fair
Philadelphia, PA (November 27 - December 24)
After a successful first year with 150,000 visitors, Christmas Village is coming back to Philadelphia's Dilworth Plaza on the west side of City Hall in 2009. Vendors in more than 50 wooden booths and timber houses which form a medieval village will sell European food, sweets and drinks as well as international seasonal holiday gifts, ornaments and high quality arts and crafts. Thousands of lights at booths and trees will integrate Dilworth Plaza into the scenery of the illuminated city hall. A central stage will be the place for live performances of local choirs, orchestras and bands. (Opens for a sneak peek on November 26, 2009.)
Leavenworth, WA (November 26 - December 31)
Visitors come back year after year for the famous Leavenworth Christmas Lighting Festival, held in the "Bavarian Village." At dusk on Saturdays and Sundays, everyone gathers to sing Silent Night and witness the lighting of the village as it is transformed into a magical wonderland of lights. Booths with holiday fare and a variety of music and entertainment round out the festival.
In 2009 a Christkindlmarkt is featured from November 27-29 and lighting ceremonies are held every weekend from December 5-20.
Helen, GA (November 27-29 and December 4-5)
Helen, nestled in the Blue Ridge Mountains on the Chattahoochee River, is a re-creation of an alpine village complete with cobblestone alleys and old-world towers. Helen invites you to "come do your Christmas shopping in the festive atmosphere of our Alpine Village decorated for the season."
Fort Wayne, IN (November 27 - December 13)
Held at The History Center each year during the holiday season, the annual Festival of Gingerbread features hundreds of gingerbread creations, from those made by area grade school children to master bakers. Weekend activities during the Festival include visits by Santa and Mrs. Claus, storytelling, gingerbread cookie sales and more. Closed Thanksgiving Day.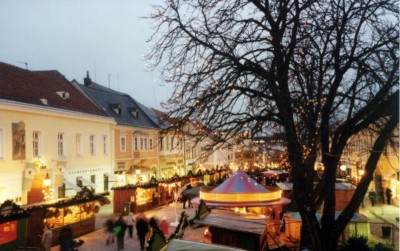 Bethlehem, PA (November 27 - December 20)
This Christmas market, located in Bethlehem's historic downtown district, is a heartwarming holiday event for the whole family. It features live holiday music, great food, and old St. Nicholas as well as vendors of exquisite handmade gifts by artisans from around the country. Open Thursdays to Sundays. Bethlehem also bills itself as "Christmas City" and features a host of related seasonal events.
Denver (November 27 - December 24)
Since 1999, the German American Chamber of Commerce of the city of Denver has held an annual Christkindl Market with a variety of concerts and entertainment as well as vendors selling holiday goodies and gifts.
Hermann, MO (November 28 - December 14)
Enjoy German Christmas traditions at this event featuring food and craft demonstrations, story telling, and a visit from Father Christmas as well as a select group of artists and crafters and a variety of food and entertainment. Two Kristkindl Markt's are part of the program at the Stone Hill Winery Pavilion (December 5-6) and the Hermannhof Festhalle (December 12-13).
Cape Coral, FL (December 3-5) and Lehigh Acres, FL (December 10-12)
The German Christmas Market in Cape Coral (December 3-5) and the German Christmas Market in Lehigh Acres (December 10-12)wtill both feature European arts and crafts, holiday decorations, photos with Santa Claus and the "Christkindl", traditional German food and drink including bratwurst, schnitzel, Glühwein (mulled win) and German beer and a variety of entertainment, including Latin and Country & Western acts. Both markets are organized by the European Business Council of Cape Coral.
Fredericksburg, TX (December 4-5)
This family-friendly Christmas festival at Fredricksburg's Marktplatz features traditional refreshments and German food, including popular Sauerkraut-based dishes, holiday arts and crafts for children attending the festival, and a wide variety of live entertainment.
Tulsa, OK (December 4-6)
The German-American Society of Tulsa creates a winter wonderland which includes many crafters displaying their wares, including booths featuring nutcrackers, smoker-männle, imported Christmas tree ornaments and Germany's famous Christmas Stollen, as well as Wurst, Kartoffelpuffer (potato pancakes), hot apple cider, hot chocolate and coffee. The Christkindl (Christ Child) and St. Nikolaus walk among the booths to the delight of the children, who are also entertained in a special Spielstube, or playroom.
Elkhardt Lake, WI (December 4-13)
The Osthoff Resort's annual traditional European Christmas Market, reminiscent of the centuries-old German Christkindlesmarkt, features authentic gifts, toys, ornaments and food specialties from international and regional artisans in timber booths adorned in fresh greens and thousands of twinkling white lights.
Potomac, MD (December 5)
The nation's largest German School serving the greater Washington DC area holds a big popular annual Christmas bazaar offering homemade authentic Christmas cookies and cakes, original arts and crafts, as well as German and Swiss style sausages and meat products.
Austin, TX (December 5)
Every December, on the first Saturday of the month, the German-Texan Heritage Society puts on a Christmas festival at the German Free School in Austin, with hand-made crafts items imported from Germany. Shoppers can choose from imported German craft items such as nutcrackers, pyramids, smokers, and arches, plus a variety of other gift items, books, and ornaments. Live performances of German Christmas music take place throughout the day, plus a special visit from St. Nikolaus. Visitors can also browse our used German book selection, enjoy complimentary treats, and sip on some Glühwein.
Coral Gables, Fl (December 5)
A traditional Christmas Bazaar will be held on December 5 at St. Mark's Lutheran Church in Coral Gables, Florida, featuring arts and crafts, German books, music and DVD's, children's games and entertainment, traditional Christmas food and drinks and Christmas music.
San Antonio, TX (December 6)
San Antonio's Kristkindlmarkt is a traditional German outdoor market with hand crafted gifts, decorations, gingerbread houses, pottery baskets, ornaments, quilts, clothing, crafts, jewelry, floral arrangements and more. A few days later, on December 8, the Bazaar Sabado features wearable textiles and jewelry from Central and South America as well as various other one-of-a-kind gifts from alcoves across the globe. For more information, go to: San Antonio Holiday Season
Mifflinburg, PA (December 10-12)
Christkindl Market Mifflinburg
Mifflinburg's version of an authentic Christmas Market, inspired by the 700-year-old traditional German Christkindl Markt, or Christ Child Market, is a festive event prepared by various churches, organizations, schools, and residents. For three days, Mifflinburg's Market Street, with its many churches, is lined with festive outdoor huts featuring unique handmade crafts and traditional Christkindl treats.
Tomball, TX (December 12)
Some 80 vendors will sell German Christmas items, arts and crafts, and more at this seasonal music/street festival and open air market set amid antique shops in the old town area and featuring hay rides and Christmas lights tours. Get into the festive spirit with Christmas musical acts and bands including Das ist Lustig and visit the German Tent featuring a beer garden serving Dunkles Bier (dark beer) and Glühwein (mulled wine). A Kinderfest including bungee-jumping and a petting zoo will provide fun for young visitors. Tomball's sister city in Germany is Telgte: Tomball Sister City Organization
Lovettsville, VA (December 12-13)
Coordinated by the Lovettsville German Society, this Christmas market celebrates both the town's and Loudon County's more than 250-year-old German heritage. All cultural activities organized by the Lovettsville German Society also aim to strengthen the relationship between Loudon County, VA, and its sister county of Main-Taunus-Kreis near Frankfurt in Germany's central Hesse state.
Washington, MO (December 14)
Weihnachten Christkendle Markt & Holiday House Tour
Enjoy a traditional German Christmas market and a tour of seven houses. The Markt will include music, crafts, and Father Christmas. More information, visit the official St. Louis, MO, website or call 636-239-2715.