The
News
Dedicated to Austrian-Hungarian Burgenland Family History

THE BURGENLAND BUNCH NEWS - No. 246
August 31, 2014, © 2014 - The Burgenland Bunch - all rights reserved

Editor: Thomas Steichen (email: t_steichen@comcast.net)
Archives at: BB Newsletter Index

Our 18th Year. The Burgenland Bunch Newsletter is issued monthly online. It was founded by Gerald Berghold (who retired Summer 2008 and died in August 2008).



Current Status Of The BB:
* Members: 2277 * Surname Entries: 7467 * Query Board Entries: 5366 * Staff Members: 17


This newsletter concerns:

1) THE PRESIDENT'S CORNER

2) BURGENLAND'S STONEHENGE?

3) AN AUSTRO-HUNGARIAN MILITARY PHOTO (from Claudia Bader)

4) GERMAN LANGUAGE HOUSE LISTS IN HUNGARY ARE THE RESULT OF THE FAILED HUNGARIAN REVOLUTION OF 1848/1849 (by Richard Potetz)

5) A DOUBLE BLAST FROM THE PAST (by Bob Fahringer)

6) HISTORICAL BB NEWSLETTER ARTICLES:
- PAMHAGEN - A WW-II COMBAT STORY AND VILLAGE SEARCH (from Jim Hewitt, Margaret Kaiser, Bob Strauch)

7) ETHNIC EVENTS

8) BURGENLAND EMIGRANT OBITUARIES (courtesy of Bob Strauch)

1) THE PRESIDENT'S CORNER (by Tom Steichen)


Concerning this newsletter, after the bits and pieces here in my "Corner," our first article gives us a glimpse of Burgenland's deep past, as the remnants of Stonehenge-like structures have been found.

Article 3 concerns an old photo of what are believed to be Austro-Hungarian Military Men. BB Member Claudia Bader is looking for help in identifying the unit(s) involved. Perhaps you can help.

In Article 4, Richard Potetz notes an oddity about the BB Houselists and proposes that it may be related to the Failed Hungarian Revolution of 1848/9.

Article 5 is also based around some old photos. A true [Double] Blast From the Past that may hit home with some of you in the Allentown area. BB Member Bob Fahringer writes about his great-grandfather, John Fiedler.

The remaining articles are our standard sections: Historical Newsletter Articles, and the Ethnic Events and Emigrant Obituaries sections. Do note that the Historical Newsletter Article is quite long by the standard I usually impose on such selections, but I found this article to be quite interesting in that it forced me to learn some new things as I worked through its details... so then I made it even longer by adding my own (extended) comments! But I hope that you find it interesting too!





*New* Edlitz Burgenland Book: At the end of June, I received an email from BB member Rudi Wolf, who told me he had "just got back from a four-week Südburgenland trip to Edlitz and Güssing." Among other things, Rudi says he "was able to coordinate the printing as well as a presentation of my book [see image below], which ... pertains to my place of birth, which is Edlitz im Burgenland. It contains a collection of history, traditions, trans-Atlantic migration, photographic images from the 20th century of various village occasions ranging from about 1920-2000, as well as genealogical records back to the late 1600s and family successions of each household."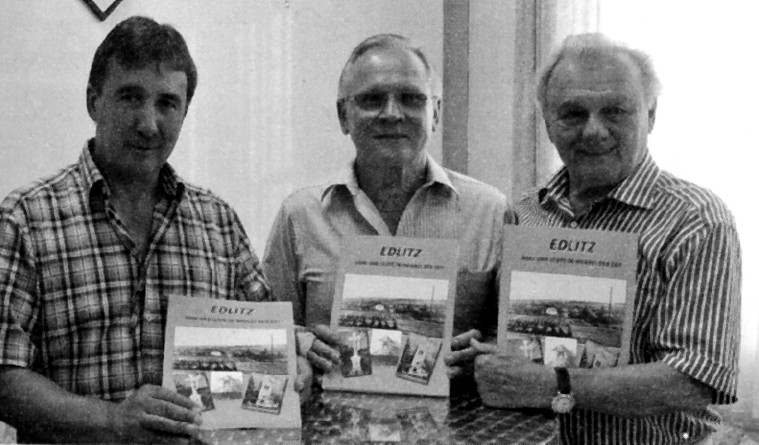 Per Walter Dujmovits' suggestion, Rudi requested my help in getting his book printed and distributed in the US via Lulu (the printer we used for Walter's book). In Austria, it cost €39.50 (~$53) per copy to produce the book. As his goal was not to make a profit but to leave behind a legacy, he thought it would be easier and less costly to have the book printed and disseminated in the US, as he already had US and Canadian requests for the book.

Edlitz: Dorf und Leute im Wandel der Zeit [Edlitz: Village and Its People Through the Ages] is the title and it is now available from Lulu for $18.07 via link Edlitz Book.

Edlitz is a small village of about 30 houses, with a history that dates back to the year 1228. Rudi's aim was to portray the changes over the years, from a once strictly agrarian community into what is now a modern bedroom community, especially the loss of the close-knit communal living of bygone days. The book is 301 pages, with 154 supporting images, and is written in German. The first half documents the history of Edlitz, including its traditions and its way of life. The second half is largely tables and lists, including data on each house and the people who lived there, now and in the past, and complete lists of births, marriages and deaths. It also includes information on the 130 emigrants who left Edlitz, providing (as documented in ship manifests) surname, first name, occupation, date of birth, time of departure, port of departure, ship, arrival and destination in America.

I found the text in the first half to be a comprehensive description of historical Burgenland life. Although written specifically about Edlitz, most of it applies equally well to every other Burgenland village. For this reason, I recommend the book to each of you. Of course, if Edlitz is one of your emigrant villages, you have even more cause to obtain a copy. As I believe the universal nature of the Burgenland life he describes deserves wider dissemination, I've also encouraged Rudi to consider an English translation.

Rudi was born in Edlitz in 1948 and emigrated to America on June 7, 1969; he now lives in Flanders, New Jersey.

[The above picture and some of the background information is from the Burgenländische Gemeinschaft newsletter #431, Jul/Sep 2014.]




Information Request from Walter Dujmovits, Jr.: There is a popular campground at Lake Tschida in North Dakota, which is named after Mr. Michael Tschida. According to the homepage www.laketschida.com, this remarkable man was born in Vienna in 1866, moved to the village of Glen Ullin, ND, in 1900 and was elected its first mayor in 1906. Promoting the construction of the Heart Butte Dam he saw its completion in 1949 and died at the age of 90 in 1956.

There is no doubt that Mr. Tschida´s family roots lay in the Seewinkel in Burgenland, maybe in Apetlon or Illmitz. In an originally German-written book concerning the "History of the Sacred Heart Catholic Church of Glen Ullin between 1884 and 1909" many German names occur, among them Gartner, Schneider and Hess, which are also very common in the Seewinkel.

Does anyone know more about Michael Tschida and the settlement of Burgenländers in North Dakota in the 19th century?

With sincere thanks and best regards!
Walter Dujmovits, Jr.





A bit of background: Glen Ullin is in Morton Co, ND, a few miles south of I-95 and about 50 miles west of Bismarck, ND. It has a population of about 800 residents and was founded along the transcontinental route of the Northern Pacific Railway in 1883. The name was created by the Northern Pacific land agent at that time.

We list only one Ullin-er in our BH&R database, Frances (Renner) Mueller from Bernstein. We also have only one member who lists Morton Co, ND, as emigrant destination: "Sarah Graner; Colorado Springs, CO. GRANER, TSCHIDA, PLATZER, WEISZ, NUEBERGER; Halbturn. Emigrated to Morton Co, ND in 1890-1907." It is notable that she lists surname Tschida from Halbturn, which is in the Seewinkel quite near Apetlon and Illmitz.

Also, I note that there is a city website with a town history and a link to the Morton County GIS real estate mapping program, wherein names and addresses of property owners can be found... a number of Tschidas are listed.

If you can assist Walter with his questions, please do (and copy me). His email address is here (and mine is in the newsletter header).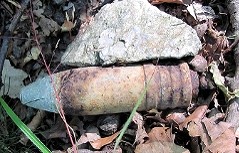 WW-II Relics: Website http://burgenland.orf.at/ recently reported that 54 WW-II high-explosive shells were found on August 28th along the rail line between St. Andrä and Frauenkirchen in the Neusiedler district. This follows a relatively recent discovery of 5 tank rounds in the same area. The shells are presumed to have come from the April 1945 explosion in that area of two rail cars full of military supplies. Relics have been found periodically in the area, so this find is no surprise, other than the magnitude of it. The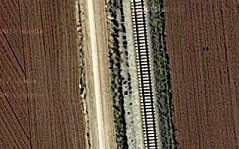 discovery was handed over to the de-mining service for disposal, as a risk of explosion still exists, and the rail company has initiated an extensive search, expected to last a few weeks, to find and remove any remaining material.

What is interesting is that the Google satellite views of the tracks in the area indicate that, with a few small exceptions, the surrounding farmland has been tilled to within a few yards of the track along its full length. I find it simply amazing that nearly 60 years of plowing and other activities near the tracks have not resulted in tragedy... just one more small thing to feel thankful for!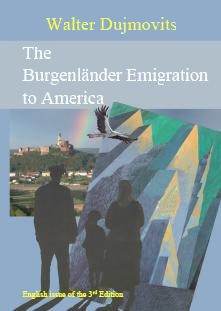 Update on book "The Burgenländer Emigration to America": As I will do for a while, here is this month's update on purchases of the English issue of the 3rd edition of Dr. Walter Dujmovits' book "Die Amerika-Wanderung Der Burgenländer."

As of August 30, 621 copies had been purchased. I'm not sure why, but the book's ranking disappeared for a while... and then returned... but it also seems to have bottomed out at rank 565 (it is currently at 571). This may be because the rate of purchases of our book has slowed and competing books are selling faster. Regardless, I am very pleased that well over 600 copies are now out in the world!

In addition, I'm pleased to announce that Lulu reduced its production charge for the book, allowing us to drop its price. The new production cost is $7.41, thus the book is now offered for online purchase at the new list price of $7.41, plus tax & shipping. See the BB homepage for a link to the information / ordering page and for any current discounts (the current discount—until Sept 3—is 20%, reducing the actual price to $5.93; however, because the price of the book is so low with the reduced list price, free shipping is still a far better deal).




The Master Genealogist (TMG) Computer Program to be Discontinued: Bob Velke, the author and chief developer announced in July that program development and support for TMG was being terminated. The following are excerpts from his announcement:

I am sad to report that the decision has been made to discontinue The Master Genealogist. While thousands of TMG users appreciate the program's many powerful features, the market for those advanced features has proved to be insufficient to support it and continue development. A variety of my own health issues have also contributed to this decision.

There is every reason to believe that TMG will continue to work for existing users for the foreseeable future but official support will end at the end of 2014. [W]e will continue to sell the full product and updates through September with the understanding that product development has been discontinued.

In the interest of preserving users' data, I have released a document that details TMG's internal file structure and I will make GenBridge available for free to developers who wish to produce a direct import from TMG.

It goes without saying that this has been a painful decision and is a significant milestone for me. TMG has been a major part of my life for more than 25 years and it is not easy to let it go. I recognize too and regret the degree to which it may leave researchers uneasy about the future of their data.





So, If you are a TMG user, you should begin to consider what you will do when TMG stops working on some future computer system you purchase. However, I doubt you need to rush this decision. As an example, I use Family Tree Maker (FTM) for my genealogical data. However, it is Version 8, published in year 2000... and it still works fine. And this newsletter is being prepared for the web using MS/Frontpage... a version from 2002. So if TMG remains functional as long as FTM (V8) and Frontpage (2002) have, you have nothing to worry about soon!





Living to Age 100: I recently stumbled across a web article that asked, "How Many People Live to 100?" (see here for full article). The story states that the number reported in the 2010 US census was 53,364 people, which was ~0.0173% of Americans living in 2010 (or 1 in every 5780).

Of course, these last two numbers are somewhat misleading... a more reasonable thing would be to compare the count to the number born ~100 years ago... after all, the US population in 1910 was ~92 million (as opposed to 2010's ~309 million) and some 20 million of them were under age 10 (it was a young country!). [My 1910 data come from website https://www.nhgis.org/, which is the website of the "National Historical Geographic Information System," provided by the Minnesota Population Center at the University of Minnesota.] If we ratio the number of 2010 centenarians to the count of 1910 under-10-year-olds, we get about 0.2617% or 1 in 382 are still living, which are pretty large numbers to me! However, one must assume that some of these 2010 centenarians were born elsewhere (perhaps Burgenland?) and were not counted in our US under-10-year-old group, causing our percentage to be high. Regardless, there is no truly accurate way to estimate these base numbers, so we are stuck with approximations.

I thought it would be interesting to compare these US numbers to Burgenland numbers (you can get census population and demographic data from Burgenland's government website: www.burgenland.at). However, the highest age-grouping they report is 95+... pure centenarians are not to be had! The census numbers show 234 people over age 95 among a 2013 population of 286,691. That works out to 0.0816% or 1 in every 1225 citizens... so Burgenland's percentage of 95+ citizens is nearly five times greater than the US percentage of 100+ citizens... but that is no surprise. So I went back and pulled the 2010 US count of 95+ citizens and computed the numbers... 0.1375% or 1 in 727. Thus, on an equal footing, the percentage of 95+ citizens is ~1.7 times higher in the US than Burgenland.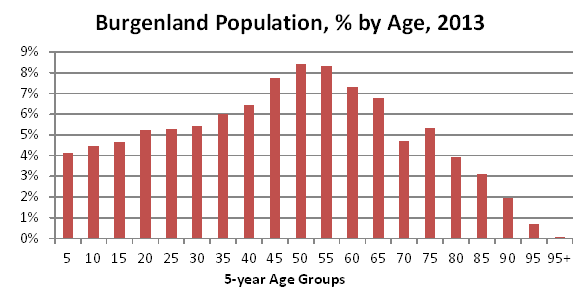 As an aside, to the right is the 2013 population distribution of Burgenland, with each bar representing a 5-year age group (only the larger number for each age range is shown, except for the 95+ group). Clearly, the largest age groups are the 45-50 and 50-55 year-olds. I suspect that the fact that the younger age groups being smaller than their consecutively older groups is of concern to the government in that it indicates a declining / aging population (in comparison, a US chart like this would have essentially equal bars up to age 55, indicating a stable population). Another noteworthy feature is the dip for the 65-70 year-old group. These would be the people born between 1943 and 1948... the dip, therefore, being a remnant of the birth decline due to WW-II.





Recipes from the German/Austrian cookbook of the Austria Donau Club: We are still waiting for Frank Paukowits to resume sending materials; while he has his computer room back, he now can't find the recipe book! ...but recipes will return (we hope!).





Deep Thoughts for the Month (at least for us guys): The following 'guide' appeared on the blog of Birgit Platschka on May 21, 2014.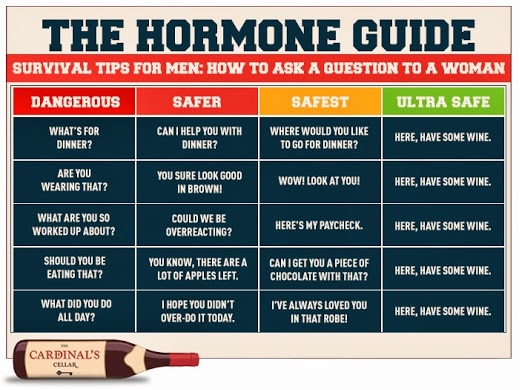 When you get done reading it, you should surmise at least one thing: it was produced by a distributor of wine and Birgit merely reposted it! If you are sharp, you might also surmise that she enjoys a good glass of wine (and, perhaps, some female 'power' games).

Still, you might ask why I repost anything from Birgit; my answer is that her blog is about her daily life in Eisenberg, Burgenland, to where she and husband Bob moved in July 2011, coming from South Africa. As she says: "This blog is about the little everyday things, that I think about in general or see here in Burgenland, that are special, sometimes funny but hopefully enjoyable to you. My aim is to make you forget your stresses for just a few minutes each day." So, if you'd like to see an outsider's view of Burgenland village life, check in on her musings every so often. She is quick to note the little things an outsider sees that makes life special and satisfying... those things that the natives accept without comment... including Burgenland's wines, thus this choice of material on her blog!


2) BURGENLAND'S STONEHENGE?

An email message from BB member Bob Schatz provided a link to a 17 July 2014 English-language article (burgenlands-stonehenge-discovery) about the recent detection of the remnants of two circular trench systems in fields just southeast of Rechnitz. Bob thought the article might be of interest to me and/or the BB readership... indeed, I found it to be quite interesting and this article is evidence that I think it may be of interest to you too.

[A little web research revealed that the English-article text appears on at least a half dozen websites... but all appear to be translations of an original German-language news story that appeared July 16th at burgenland.orf.at.]

Below is a Google Earth historical image (c. 2000) showing the area of the two trench systems (the one marked Ring 1 is slightly visible in this image; Ring 2, which is somewhat smaller, is not apparent in this view; newer Google Earth images show neither ring, likely due to additional cultivation or vegetation smoothing and/or hiding the remaining marks). In the upper left corner of the image is the southeastern outskirts of Rechnitz (geographic North is up in this image).

The rings are about 520 meters (560 yards) apart, with the smaller ring (2) being ~110 meters in diameter and the larger ring (1) having a diameter of about 150 meters.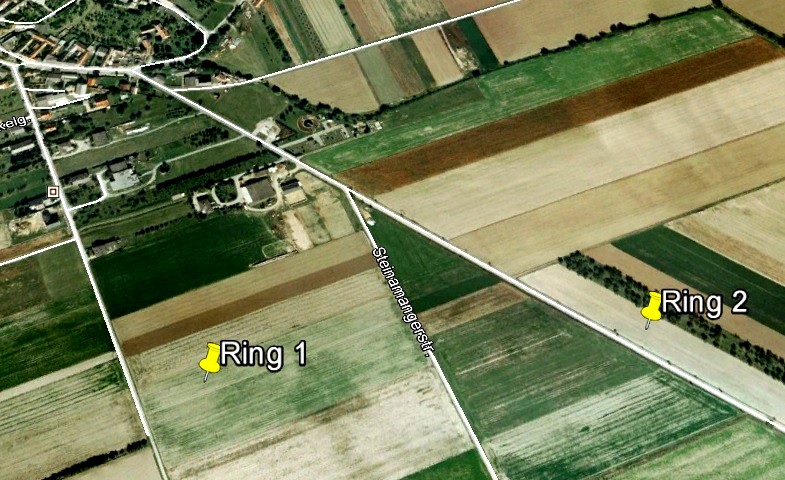 The ORF article contains apparently-enhanced aerial images of each site, taken two years ago (note the rotated views):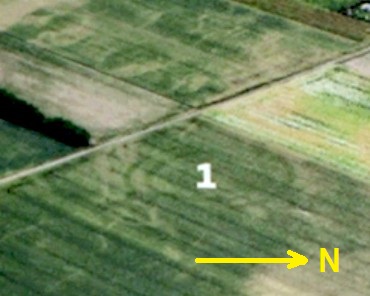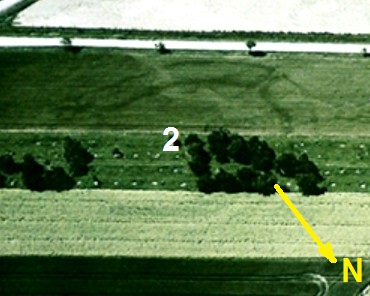 Additional imaging is planned using magnetic measuring techniques.

The trenches are believed to date back to the Neolithic Period (circa 5000 BC); experts conjecture that the sites once served both as giant calendars and places for rituals. Archaeologist Franz Sauer says, "That is roughly equivalent to Stonehenge, only about 2,000 years older."

The concentric circular trenches are likely up to 4 meters (13 feet) deep in places and an inner wooden-pole defensive palisade, with multiple entrances, probably lined the inner trench.

There are similar trench systems in Austria's Weinviertel (the region in Lower Austria north of the Danube above Vienna) and in Bavaria, but the two discovered at Rechnitz are the first in Burgenland.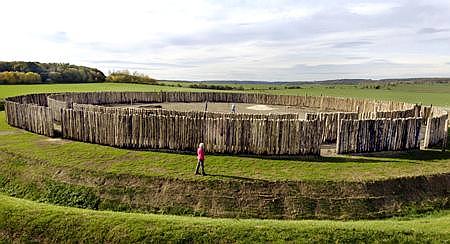 Those earlier-discovered systems have been excavated and both digital and physical reconstructions have been developed. [The structural pictures shown in the articles cited above are almost certainly of one of these earlier physical reconstructions.] To the right is a digital effort, again of a previously-discovered site.

Archaeologist Sauer notes that the logic behind the original choices for site locations are a complete mystery. However, he also says that: "Such circular trenches are always positioned on a gentle slope, in order to give a clear view of the sky for the observation of the heavenly bodies."

Although descriptions of Rechnitz's history usually claim that the area was settled around 500 BC, it now appears evident there was, in fact, a human settlement in the local area over 5,000 years before Christ. "This is quite unique in Burgenland," said Rechnitz Mayor Engelbert Kenyeri. [Actually not, as the Celts of the Hallstatt era were well-established in the Burgenland area in 5000 BC and the La Téne Celts were still present when the Romans appeared in the first century BC. However, the presence of not just one but two trench systems near Rechnitz is totally unique for Burgenland!]





It was in Newsletter 241 that we reported on a digital recreation of the Gladiator School At Carnuntum. That recreation was based largely on images generated from ground-penetrating radar after the site was discovered by aerial archaeology. The advent of aerial photography and radar and other high-tech surveying techniques for archaeology in the 1970s has given the detection and study of ancient sites a whole new dimension. It will be interesting to see what additional sites or details are discovered.



3) AN AUSTRO-HUNGARIAN MILITARY PHOTO

BB Member Claudia Bader wrote to say: Hi Tom, I'm not sure if you are the right person to send this to, so please pass it on to someone else if not. I am hoping that someone within the BB can help identify when and what type of armed services this photo displays. I have a picture of my Great Grandfather, Louis Ponstingl, and was hoping for some information about this picture. On the back of the picture it lists the names of the men in the picture. Louis is identified as Corporal Pohstingl. Louis emigrated to Cleveland, Ohio, May 10, 1905, from Jennersdorf so I know it had to be taken before then. I also have a picture of just him in uniform too. Thank you so much. [Ed: Below is the mentioned picture.]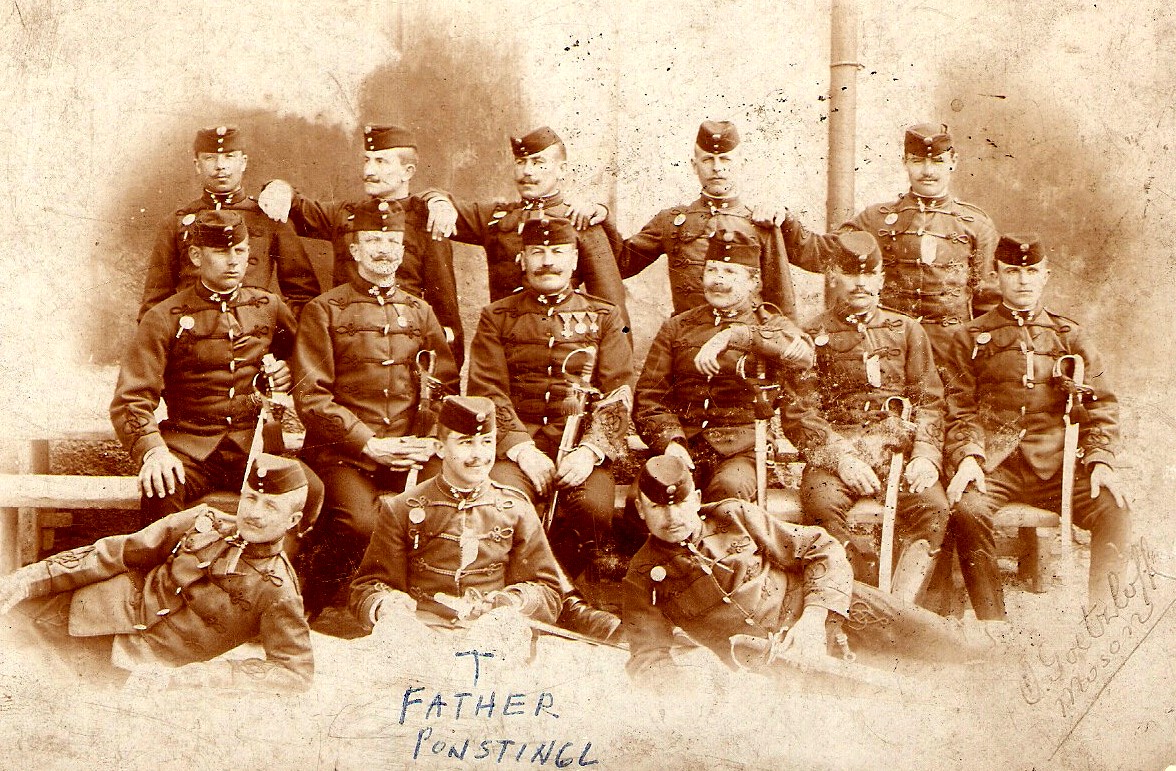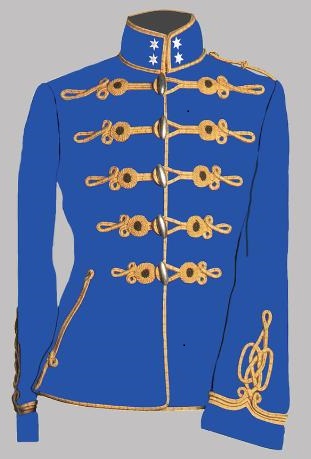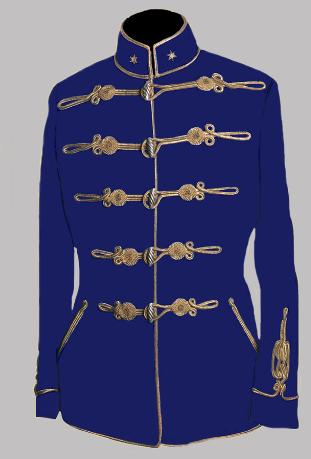 I replied: Hi Claudia, the uniforms appear to be those of Hungarian Cavalry (Hussars, in particular). See [Wiki] page Military_coats_of_Austria-Hungary_(Cavalry) for color examples and note the second (private) and third (corporal). You can see the two collar medallions for a corporal, as in the image you have. I doubt there is any way to know what regiment from the picture, as the regimental banner is not shown. However, there were only a few potential regiments and I can probably come up with the designation if I dig a little. Most men from a given area went into the primary regiment for that area, so it might be helpful to know the names of the other men in the picture. If the names are common to the Jennersdorf area then we can be fairly certain he joined that primary regiment.





Claudia replied: Wow, thank you so much for such a quick reply. I will study the link you sent. Would it help if I scanned the back of the picture for the names? I don't think I would be able to transcribe them.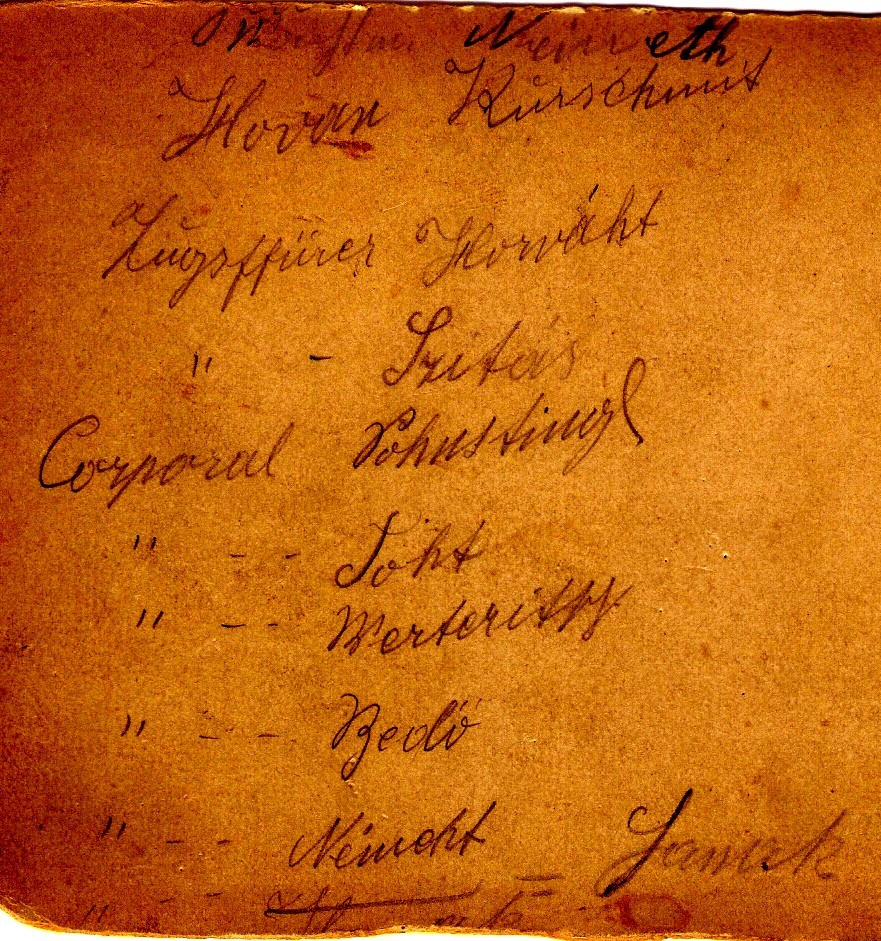 She then sent the image of the names on the back of the photo, which prompted me to reply: Those names are consistent with southern Burgenland, making it quite likely that Louis was in the Honvéd Huszár Regt. Nr 18, headquartered at Ödenburg / Sopron (= Hungarian Light Cavalry Regiment Number 18 – Sopron), as it was the regiment with recruiting rights for Vas County, Hungary. There is no way to prove that without some official documentation, but it seems reasonable given the surnames of the men in the picture and those recruiting rights.





Claudia the offered to share the picture with the BB membership, so I replied: An excellent idea, Claudia! To help clarify timing of the picture, it would be useful to know what year Louis was born (as age for military service was fairly standardized). Given his year of birth and year of emigration, we should be able to pin down the year for the picture fairly close. Also, you say he emigrated from Jennersdorf… is that where he was born also?





She replied [in part]: Louis was born 15 March 1878 in Jennersdorf. He arrived 10 May 1905, sponsored by his brother Frank who had settled in Olmsted Falls, Ohio. My Grandma (Mary Ponstingl Bader) was born here but they all must have gone back to the Old Country a few years later (after Sept 1906). (I haven't been able to document their return trip home). Louis then returned to the US permanently [on] 14 Dec 1912 and the rest of the family followed in the spring of 1913 and lived in the Cleveland area.





I then chose to involve Joe Jarfas: Hi Joe, Want a different challenge? Attached is a photo (from Claudia Bader) of a group of Austro-Hungarian military men. Also attached is a list of names along with the military ranks… spelling seems to be German and phonetic, so the challenge is a little greater. The image was taken some time before 1905, as that is when one of them, Louis Ponstingl, born 15 March 1878 in Jennersdorf, emigrated from Jennersdorf to the US. Given conscription age was 17, Ponstingl would not have been in the military before 1895, so that completes a window on the time of the photograph and the military ranks (1895-1905).

I then inserted the messages to Claudia, shown above, which I won't repeat here, before continuing:

Claudia then offered to let me run the photo and names in the BB newsletter… I thought that would be a nice thing to do but I wanted to do a proper transcription of the ranks and names, which is where you come in! ;~)

Here is my take on the ranks and names (with probable corrected spellings in parentheses):

Oberaftner? Neineth (Németh)
Thovan? Kurschnut
Zugsffürer Horvaht (Zugsführer Horvath)
" Szitois (?)
Corporal Pohnstingl (Ponstingl)
" Joht (Jost)
" Wereritsch (Werderitsch)
" Bedö (?)
" Némeht (Németh)
" ?? Janak (Janek)

My speculation is that the military ranks are given highest to lowest, but that still does not help me guess what the first two are.

Also, if you have any more insight into what type of troops these are and what their regiment might be, or on my logic, I'd appreciate that too.





And Joe replied: Not so simple, Tom, to derive the first two 'ranks' (if they are indeed), but I see much less trouble with the names: h-t exchange is typical by many foreign speakers.

So, the senior officer - in the middle of the picture - is Németh, no question about it (and with the Viennese Military Archives we might even find this regimental unit). Keep in mind though the picture was taken in town Moson, county Moson at the time.

I read the 2nd name as Hovan Kurschmit, often given for Schmidt (Serb-Croat name maybe).

Zugsfeldfürer are Horváth and Szitás.

And Corporals Pohnstingl, Tóth, Werterits, Bedo, Németh, Janak. And a few more missing since there are 14 guys in the picture.

Considering there are no first names listed for anybody the second line 'Hovan' has to be some kind of rank also.

If anything the first line rank could be Obersten or simply colonel.

If I were Claudia I would definitely send a copy to the Military Archives in Vienna. With enough names there and location information they could come up with all the names, regimental unit #'s and even dates: http://www.oesta.gv.at/site/6157/default.aspx





I replied back to Joe: Thanks Joe, I had noted the "Moson" thing and was slightly troubled by it… but does it mean that the picture was taken there or that the photographer was based there? The guy could have had some sort of deal to do military photos and went around to different bases to shoot images. Or this could have been just a bunch of guys in town for a day and decided to have a group photo done… I note all are part of the leadership of the regiment (no privates included).

Down that same line, why was a regimental flag not included if it was an official military photo? And likewise, why no troops?

I agree with you that we are dealing with ranks and surnames, so the 'Hovan' has me confused… even as an abbreviation, I can't make anything meaningful with it.

The Obersten title seems possible… but would a colonel have been photographed with corporals without some majors or captains included also? Seems unlikely to me for an "official" photograph.

Lastly, I've never done anything with the Military Archives; how does that work? Is it a paid service?





And Joe replied: That's a good question, Tom, why would a colonel sit in with corporals, and no other higher rank guys? If this was an informal get-together that might explain it, since other officers might have had other visits to make.

The Kriegarchive in Wien became a bit more accessible in the last couple of years, and I heard of data release, which was unimaginable just a few years ago.

Basically all she has to do is write to kapost@oesta.gv.at, give her [great-grandfather's] data and ask for his military record. With the enclosed pictures, they might get intrigued and dig into the unit history a bit deeper. And, if they find his register, a great detail of his military life will be revealed.





Final notes: Examination of the Kriegarchive website reveals that the staff will do research, when time is available, but for a charge of 37 euros (= ~$50) per half hour... with, of course, no assurance that they will find anything useful.

It should be noted that the Archive has about 180,000 boxes of files and 60,000 account books spread over 50 kilometers (30 miles) of shelves. Although there are 22 different record groups, the ones likely most relevant are the personnel files of officers, petty officers, soldiers and public servants of the armed forces from around 1740 to 1918... but even this is a huge collection.

As paying the Archive staff to do the research is likely an expensive endeavor, I'll open this up to you newsletter readers... can you help Claudia? Both corrections and additions to what Joe and I said about type of unit, meaning of uniform markings, and a specific unit designation are all useful. Do write if you can contribute of recognize any of the people in the photograph.



4) GERMAN LANGUAGE HOUSE LISTS IN HUNGARY ARE THE RESULT OF THE FAILED HUNGARIAN REVOLUTION OF 1848/1849 (by Richard Potetz)

Many genealogy hobbyists in the Burgenland Bunch have built family trees from pre-Burgenland church records. Hungarian and Latin given names fill those trees, taken from baptism, marriage and death records. The 1857/1858 house lists are an exception among pre-Burgenland records. Those house lists show German-language given names, like Johann, Paul, and Franz, equivalents to the Hungarian/Latin names János/Joannes, Pál/Paulus, and Ferencz/Franciscus.

The house lists of 1857/1858 are a prominent part of the Burgenland Bunch website. Thanks to Klaus Gerger, we have this powerful tool to help us research our family trees. A look at history explains why those house lists came to be written in German.

Searching Wikipedia for "Kingdom of Hungary" gives a quick answer to the question of which language was used by government in Hungary: "The official language remained Latin until 1844. Then, between 1844 and 1849, and from 1867, Hungarian became the official language." Those sentences are tough to follow but they're true. From 1849 to 1867 there was no law making Hungarian the official language. It is in that time span that our house lists were written, a time when German-speaking Austrians were running Hungary, the result of a failed revolution.

Many revolutions began in 1848; the Hungarian Revolution of 1848/1849 was just one of them. Hungary's army was doing well against Austria at the start of 1849, prompting the Hungarian Parliament to declare Hungary a republic. Tsar Nicholas I of Russia, reacting to the danger of yet another country operating without a monarch, sent an army to suppress the revolution. By the end of 1849, the Hungarian Army had been forced to surrender and an Austrian military governor in Budapest was heading Hungary. Alexander von Bach, the Minister of the Interior for the Austrian/Hungarian Empire, enforced the same regulations in Hungary and Austria. A large contingent of German-speaking civil servants, working for the Ministry of the Interior, came from Austria to implement new regulations.

The spelling of some surnames provides evidence that the civil servants who filled in the house lists forms were German-speaking outsiders. Germanic surnames were not a problem for them. But consider the name "Bodetz" seen in the Welten house list, appearing in houses 15, 33 and 80. Those families attended the church in Sankt Martin an der Raab, where their name in the records was always spelled "Potetz," not "Bodetz." The LDS index finds no one named "Bodetz" in that parish, but there are many entries with the surname "Potetz."

In defense of the outsiders, it has to be admitted that the pronunciation of the name "Potetz" in the dialect used in the Sankt Martin parish did sound exactly like "Bodetz." The strong local dialects, that made that sort of spelling error possible in 1858, were caused by language isolation. Years later, radio plus education in German instead of Hungarian diminished those dialects to just an accent.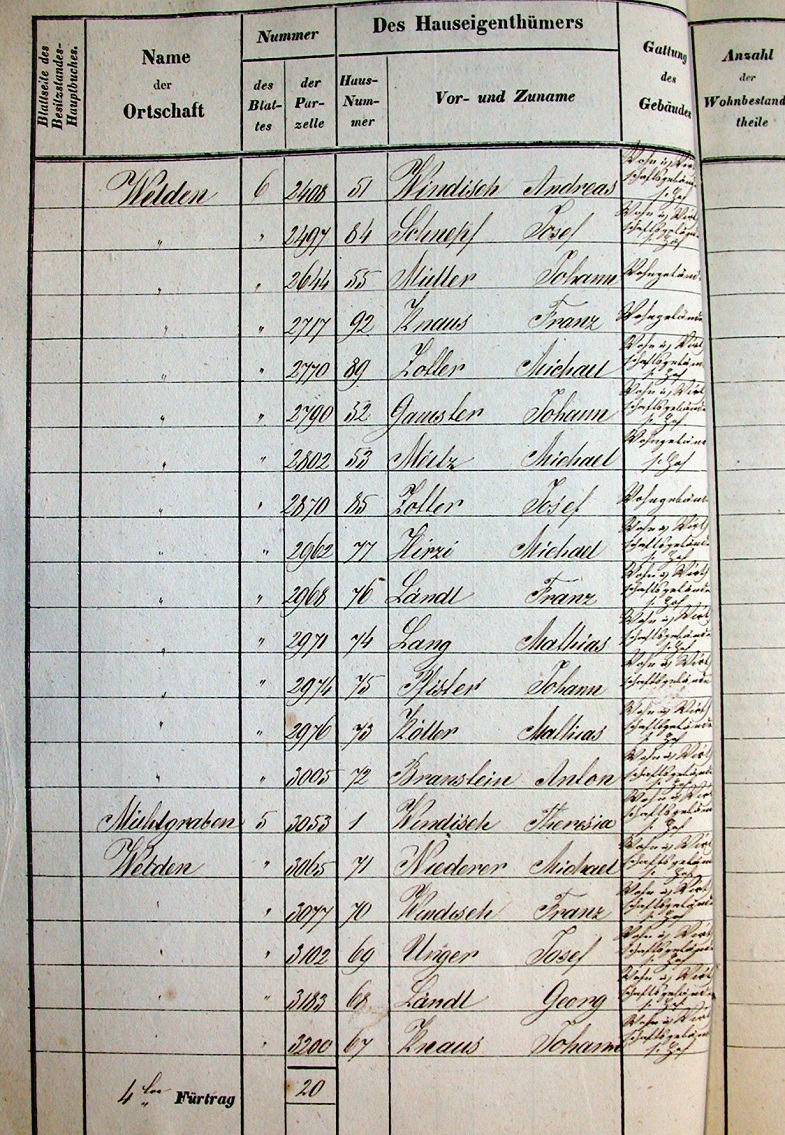 Example page from the Welten House Lists (see below for header translations)

The first names on this page include Andreas, Josef, Johann, Franz, Michael, Mathias, Anton, Theresia, and Georg—all German spellings.

Your German-speaking ancestors would likely have used the German versions of their first names. In the civil records that began in 1895, the first names of the people involved are entered in Hungarian. At the bottom of the form, the informant's signature usually shows the German spelling. When my aunt was born in 1896, her father's name listed in the form was "Sucher János," but his name in the signature block at the bottom of the form was "Johann Sucher."

For the Hungarian civil records in the years 1895 to 1906, there are two signatures at the bottom of those pages, one labeled "anyakönyvvezeto" (the registrar, the official responsible for keeping the register), and a second signature labeled "bejelentö" (the informant). The signature of the registrar starts with the surname followed by the Hungarian version of the given name. The name of the informant, on the other hand, begins with the Germanic version of the given name followed by the surname.

The Hungarian naming convention, placing the surname before the given name, was used by the registrar. Clearly, by this point in time, Magyars had again taken the civil service positions. That Hungarian name order convention is why our ancestors' church records placed the surname first when the record was entered in Hungarian. When the Latin language was used, the given name came first, followed by the surname. For example, Holtzman Borbálya entered in a Hungarian-language record became Barbara Holtzman in a Latin-language record. The language chosen changed other spellings too. For example, my Magyar ggg-grandfather Forján György in a Hungarian-language record was Georgius Forian in a Latin-language record, because Latin did not use a lower case j in Hungary.

The records genealogists use to establish Burgenland family trees contain evidence of the changes brought about by the Hungarian Revolution of 1848/1849. A future article in the BB Newsletter will cover more of the changes that came about because of that revolution.





Ed Comments: In his example house list, Richard shows only the left half of what was a two-page form. Below is the top of a full form from Lackenbach (click to see an enlarged version). Beneath that is a transcription of the column headers and a translation to English.



German Column Headers (l. to r.)
English Translation
Blattseite des Besitzstandes Hauptbuches

Name der Ortschaft

Nummer
des Blattes
der Parzelle

Des Hauseigenthümers
Haus Nummer
Vor- und Zuname

Gattung des Gebäudes

Anzahl der Wohnbestandtheile

Klasse des Hauses

Betrag der Hausklassensteuer (fl. kr.)

Anmerkung

Hinweisung auf nachträgliche eingetretene Veränderungen
in Folge
im Jahre
Leaf Page of the Assets Ledger

Name of the Village (local place)

Number
of the Sheet
of the Parcel

The House Owners
House Number
First and Last Name

Type of Building

Number of Residential Parts

Class of the House

Amount of House Class Tax (florins kreutzers)

Comment

Reference to any Subsequent Changes
in Row (line)
in Year
There are interesting things in both Richard's example page and the one I show.

First, note that the village of Welten is spelled Welden on Richard's page. This again suggests that an German-speaking outsider performed a phonetic spelling of the spoken village name but was confused by the strong local dialect (Velike is the Hungarian name and is sufficiently different from Welten, so that likely did not influence the recorded spelling). [There are many other villages in the House Lists with slight misspellings of their name on the forms.]

Second, note the handscript used in the Gattung des Gebäudes column—it is the German Kurrentschrift handscript font, whereas the preceding columns were written in the Latin handscript font. (If you are curious, most of those entries state "Wohn u[nd] Wirtschafts gebaude s[amt] Hof" [Residential and economic buildings, including yard] or "Wohngebaude s[amt] Hof" [Residential buildings, including yard]). While I have seen the handscript combination as shown in the Welten example, far more common is for only the Ortschaft name and the surnames to be in the Latin font (see my example form); the given names are most often in Kurrentschrift and the right-side columns are always Kurrentschrift. Occasionally, the full form is in Kurrentschrift. I remain baffled by this intermixing of handscript fonts, as I have no idea as to why differing scripts were used.

The third note I'll make concerns the columns on the right half of the form. Of these, I've seen only the Anmerkung (Comment) column in use. This, despite the fact that the primary purpose of the House Lists had to be for taxation purposes—yet the columns relating to taxes were never filled in! Why was this, I ask?

Lastly, I'll note that there were at least two other House List forms in common use during this time (though Klaus usually obtained only the one discussed herein). The form I find more interesting lists (alphabetically) all residents of the village, regardless of whether they were property owners, and gives their "stand" (status, such as Bauer, Inwohner, etc.) in the village. And, yes, these forms were written in German.



5) A DOUBLE BLAST FROM THE PAST

BB Member Bob Fahringer writes: Hello Tom, attached [see below] is a photo of my great-grandfather, John Fiedler, with the Moonshine Brothers Double Quartet, most likely from his days at the Allentown Liederkranz [John is on the lower right, turned profile].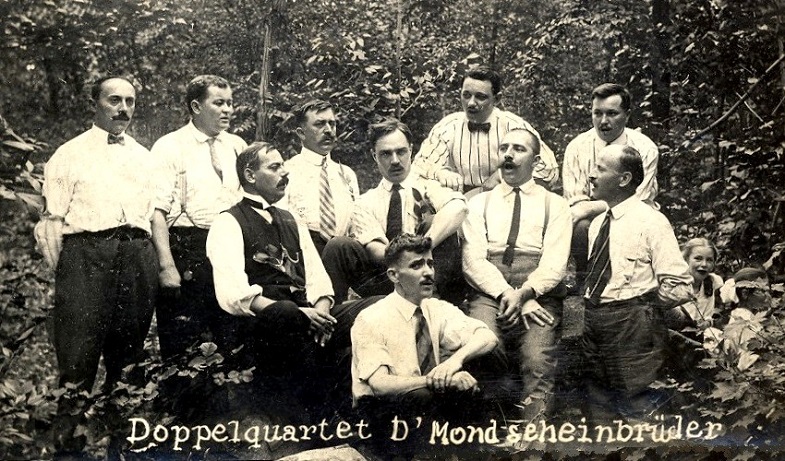 John (Johann) was born in Neustift bei Güssing (Újtelep) and emigrated in 1902, after working near Graz in the village of St. Stefan am Gratkorn with my great-grandmother, Cecelia Zettl, also a Burgenländer from Rábafüzes (Raabfidisch).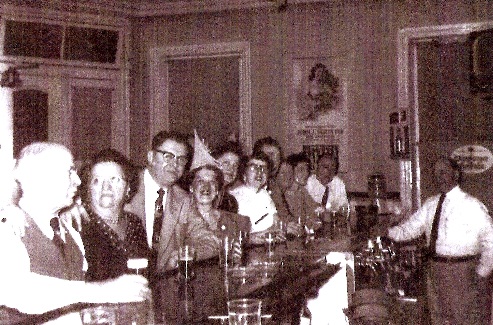 My grandmother, Anna Fiedler, was Austrian-born and emigrated through Ellis Island with Cecelia.

John stayed in Allentown, aided other "Auswanderers," and eventually ran Fiedler's Cafe on 2nd & Gordon Sts. in Allentown. His son, Ed, eventually took over the place and his grandson, Forrest Fiedler, was the best man at BB founder Gerry Berghold's wedding, and vice-versa. Second picture is at the cafe, John on the far left, other children and spouse at bar, and son, Ed, behind the bar.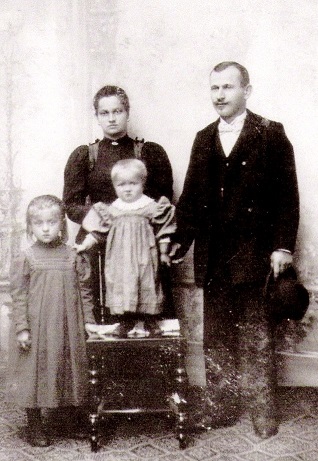 The last picture is of Cecelia (Zettl) Fiedler and John Fiedler, with my grandmother, Anna (b. 1895), and little brother, Franz, who did emigrate but was not long-lived.

My paternal grandma, Theresa (Fuchs) Fahringer, was also Neustift bei Güssing-born and came to the US as an infant, then was sent back to Neustift to be raised there by her maternal grandparents (Steiners), returning in 1922.

Thanks to the BB for all the help and info that you provide and share.

Bob Fahringer





In a separate message, Bob also wrote: I have an old Morning Call clipping, re: the closing of the cafe, and an interview with my great-uncle Ed Fiedler's widow, Pauline (Eder) Fiedler, who has relatives in the BB (Bob Eder, I believe). I still use the goulash recipe from her when I am hankering for it or sharing with relatives.

The bar was cited in a few old BB newsletters, one about "Dracula eggs" on the bar. It was only a half a block from the old Horlacher Brewery and a few blocks from the Neuweiler Brewery in Allentown. (Too bad micro-brewing hadn't caught on back in the day!) They were both fine beers that were no longer produced after the late 1970's/80's.

Regards, Bob Fahringer





We thank Bob for sharing this story and these pictures. Due to curiosity alone, I did a little digging in online records for some of the people mentioned. The emigration of Cecelia Zettl Fielder and children Anna and Franz (see last photo above) is easy to find. It shows that they came over via Antwerp on the SS Zeeland, departing 13 Sep 1902 and arriving NYC on 22 Sep 1902, with intent to join husband and father in Allentown. It is a nice memento, I'm sure. Likewise, various census records track the family and Anna's 1915 marriage record to William Abbott reports that her mother was already dead at that time.

Searching for John Fielder's emigration record leads to some questions that Bob apparently resolved for himself. There is a Johann Fielder, age 31 with last residence Graz (which match other data), who departed Bremen on 6 May 1902 on the SS Kaiser Wilhelm de Grosse and arrived NYC on 12 May 1902. However, he is listed as single and as what appears to be shoemaker (the writing is difficult). He is going to Allentown to join a stepbrother, Jos ???. No other John Fielder can be found that matches sufficiently so I suspect this is his record... the "single" status could be a clerical error (such errors are not uncommon) and perhaps shoemaker was his occupation at the time.

I did not dig deeper but it appears that Bob has done so quite successfully. My only question for Bob is why does the "doppel" quartet (in the first picture) has ten rather than eight members?


6) HISTORICAL BB NEWSLETTER ARTICLES
Editor: This is part of our series designed to recycle interesting articles from the BB Newsletters of 10 years ago. The article below, from August 2004, has nothing to do with genealogy or emigrant history but is an interesting story and lets me speak a bit about some of the Hungarian maps we have on our website. As you'll see, it is about a US Air Force crewman who bailed out south of Pamhagen, Burgenland, and was taken captive.

I'll reprint the original story [with a few editorial inserts like this] then provide some maps and some comments about those maps.




THE BURGENLAND BUNCH NEWS No. 131B
Aug 31, 2004

PAMHAGEN - A WW-II COMBAT STORY AND VILLAGE SEARCH
(from Jim Hewitt, Margaret Kaiser, Bob Strauch)

Jim Hewitt wrote: I am new to the list and just starting my search. I have an uncle who was shot down during WW-II south of Pamhagen, Austria/Hungary, in 1944. He is getting very old and health is starting to fail. While he was in custody in Pamhagen from June 26 to June 29, 1944, there was a newspaper article in the local paper about him. My uncle would like very much to find the article. How can I go about locating a copy of this article?





Margaret Kaiser replied: I googled "Pamhagen" and came across the homepage of Konrad Unger of Wallern (next to Pamhagen). His site is also available in English: http://home.pages.at/kunger/. [Ed: the English-language version was dropped some years ago; Konrad also changed his main web address to http://members.aon.at/konrad.unger/.] He has a collection of about 180 old photos of Pamhagen, including one that looks like a plane wreck. [Ed: I could not find that image on the current site.] Seems they were part of a historical exhibit in Pamhagen in 1992. Try contacting Konrad, who obviously is interested in history. He also has an essay about the emigration to America on his site.

Or try the town hall: Gemeindeamt Pamhagen
Hauptstrasse 7
A- 7152 Pamhagen, Austria
E-mail: post@pamhagen.bgld.gv.at
Mayor: Johann Kotzenmacher

Jim, I also asked a pal (Bob Strauch) if he could help with your question (and Bob contacted Jim.)





Jim responds: Thank you so much for your information. I obtained the lost air crew report from the US Air Force and from there I was able to get the grid coordinates of where my uncle was shot down. From that I was able to use a GPS to pinpoint where he was shot down. It is about 22 km southwest of Pamhagen. From the map there are five small communities surrounding the location and they are all connected by a series of railroad tracks forming a triangle. To the northeast there are the towns of Kauvar [Kapuvár?] and Cecroa [Csorna?]. To the southeast there are the towns of Belen [Beled?] and Keyer [Kenyeri?] and to the southwest the town of Bukk [Bük?]. I sent my copies of the photos of Pamhagen to my uncle and he stated that it was a larger town then where he was held. He says that is was a very small community of farmers and peasants. Today I received two newspaper articles about downed bomber crewman from the Vienna National Library out of the "Ödenburger Zeitung" dated 27 June 1944, which is from Ödenburg (Sopron), Hungary. However, I cannot read German so I do not know what they say and I am looking for a translator (any suggestions?). Can you tell me where Ödenburg or Sopron is located in relationship to Pamhagen?

Also I am sending you a condensed version of my uncle's description of the circumstances and area where he was captured:
Meanwhile I had a perfect landing in a meadow. I thought I was on some huge estate because every thing was neat as a pin and very beautiful. I ran as fast as I could for some dense trees and bushes I saw in the distance. I kept running until exhaustion overcame me and took cover under some of the thick bushes. I expected to be found at any time so decided to move on. I knew I was about nine hundred miles from the front lines and that they were somewhere to the south. I started walking through the forest until I came upon some fields and could hear people who were working there. It began to get dark so I found a tree with a suitable trunk to sleep in where no one could see me, and spent the night there.

The next morning I noticed a cart trail and then I heard someone coming. As I watched I could see that it was an ox cart full of beets driven by a very old man with a long white beard. He was smoking a long clay pipe, the bowl of which was resting on his lap. I watched him go back and forth for a good part of the day as I tried to figure out what to do. I considered my options and then decided to approach the old man. I stepped out from the bushes and confronted him. He looked horrified and, as he frantically reached for his whip, his pipe broke into pieces and he began to flog the oxen into a run. As he disappeared down the trail I knew it would just be a matter of time before I would be captured.

A few hours later about eighty people from the little town, armed with pitchforks, hoes and clubs, came after me. I put my hands high above my head while they all surrounded me. At first it looked like I was in for a rough time. They kept saying words that sounded like "are you a German" in angry voices. I then said American! And their whole attitude changed. They broke out in smiles, gave me water and food, and motioned, without forcing me, to go with them. Once into the town I was taken to what looked like a town meeting hall. It was a large room with windows all around it. Soon a big black limousine pulled up and a large, very official looking man, dressed in an old-fashioned politician-type suit came in. His henchmen made me stand in the middle of the room and the 'official', in broken English, began asking me questions. He demanded I strip off all of my clothes. I could see that they intended to force me if I objected, so I took everything off down to my shorts. The whole town, men, women and children, had their faces glued to the windows...

I was led to the town prison and placed in a cell. The prison was a family-run place with about 10 cells down the hall from the family home. The room had nothing in it except a chamber pot. There was a barred window at one end overlooking a courtyard. The heavy door was locked and had a peephole in it, which was extensively used all night. After about three days, they took me to a bigger prison in another town. The two guards were not Germans; they were dressed in strange uniforms and wore hats that had brightly colored feathers sticking out at the top. Our transportation was an ox cart and took most of the day to get to our destination.

The new prison was run in a more military fashion and I was interrogated regularly. My recollection is that my stay there was only a few days. These people, again, did not seem to be German soldiers but rather Hungarian or Austrian police, or some sort of military type. After a few days, four guards, with rifles, came for me. I was then marched to the rail station.

At the rail station, I was turned over to a single guard who purchased a ticket for both of us. Once on the train, word quickly spread about my presence and soon a woman appeared who spoke perfect English. The car we were riding in filled up with people and the woman asked me many questions, interpreting and conveying the answers to the crowd. The trip lasted about 5 hours, ending at a Vienna train station.



Bob Strauch replies: Hi Jim, I'm the pal that Margaret asked to help. I checked some detailed maps I have of the Sopron area and have located the triangle.

There are actually quite a few villages within that triangle and there's no way of telling which is the one we're looking for. Maybe the articles from the Ödenburger Zeitung will pinpoint the location. Send me the articles and I'll translate them.





Jim responds: Attached is a copy of the GPS map of the location where Sam bailed out. The following statement may be helpful as well: "Somehow, although I was the lightest man on the crew, I had been issued a 25-foot chute. Also, though I didn't know it at the time, I had been the first to jump. These two factors caused me to drift far away from the rest of the crew, whom I found out later, were captured right away by townspeople. It seems our airplane crashed into their town which made them furious and they gave the crew a severe beating."





Bob replies: Here are the translated articles and a map.

The article of June 27th:
2 USA-Bombers Crash in Sopron County, 10 enemy pilots captured.
As reported, there was an air raid yesterday in the city and county of Sopron. The Hungarian defense went into action and was successful. As published, 2 USA-bombers crashed near the towns of Csapod and Csepreg. 2 enemy pilots were killed. 10 enemy pilots saved themselves by parachuting. They were captured near the villages of Esterháza, Iván and Csapod by police, along with the assistance of villagers. 2 villagers were injured by enemy paratroopers and had to be taken to Kapuvár hospital.
The article of June 28th:
Aerial Combat in the Airspace of Sopron
MTI reports from Lövö: Aerial combat took place yesterday morning in the airspace of Sopron County. A 4-engine bomber crashed within the boundaries of Bük and was still burning at midday in the field. The enemy units threw tinfoil ribbons and used Brandplättchen (?) to start fires, which were extinguished. A bomber crashed in the forest of Röjtök [Röjtökmuzsaj], while several bombers crashed within the boundaries of Köszeg. Between Újkér and Felsöszopor [now part of Újkér], crews of damaged crafts parachuted to the ground. 3 of them have already been captured.
Message from Austrian National Library accompanying the newspaper articles:
Dear Mr. Hewitt, in the "Ödenburger Zeitung" we located two articles about American bomber crewmen who were shot down. You find the copies of these articles in the attachment. Pamhagen is in the surroundings of Ödenburg (Hungary). Ödenburg was the former name of Sopron. In the issues from June 27th-30th of the "Völkischer Beobachter" we could not trace any relevant article. For further information see http://www.onb.ac.at/ev/use/awi/awi_eng.htm#comresearch. With kindest regards, Mag. Gerda Koller, Austrian National Library, Research Department. Josefsplatz 1, 1015 Wien Mail: Gerda.Koller@onb.ac.at http://www.onb.ac.at





And finally, Jim writes: Hi Bob, Thanks you all your assistance. It appears that my uncle bailed our near Csepreg and Csapod. The news article says some crewmen were captured in Esterháza, Iván and Csapod. My uncle says it was a small village of poor beet farmers.

According to the first newspaper article, "2 USA-bombers crashed near the towns of Csapod and Csepreg." Csapod is located at latitude 47.51N and longitude 16.91E. Csepreg is located at latitude 47.40N and longitude 16.71E. My uncle bailed out at latitude 47.30N and longitude 16.91E. When he landed he traveled south to the village he was captured at. He states that the villagers were poor beet farmers. Csapod appears to be located to the northeast of Csepreg. Where are Esterháza and Iván in relation to Csapod and Csepreg? I've found some on-line maps of western Sopron County.





More info from Bob: Csepreg has a population of 3500. Pusztacsalád 300. Csapod 650. Iván 1000. SE of Iván are 3 small villages: Csér 50, Csáfordjánosfa 250, and Répceszemere 270. To the SE of Pusztacsalád seems to be a small settlement called Erdölakmajor. Might just be a cluster of houses, not an independent settlement. "Major" means dairy farm. Esterháza is now called Fertöszentmiklos and lies to the NE of Csapod on the main rail line Sopron-Györ.

(ED [Gerry] Note: This was a project; a lengthy thread involving a number of people. My apologies if I garbled the sequence. I doubt if we can find another WW-II Burgenland story like this.)





Now I'll add my maps and comments: As you may have noted above, Jim Hewitt says, "My uncle bailed out at latitude 47.30N and longitude 16.91E," and he also provides latitude and longitude for two villages as well. However, these are not given in the standard 'degrees, minutes and seconds' format of many printed mapping schemes. Instead, they represent only degrees (and fractions thereof). So, '47.30N' indicates 47 degrees + 3/10th of a degree. In minute/seconds format, that 3/10th degree would add 18 minutes, zero seconds (= 47° 18' 0" total in 'standard' format). '16.91' would be 16 degrees, 54 minutes, 36 seconds (16° 54' 36").

You compute these minutes and seconds by taking the fractional part (.91 for the second example) and multiplying by 60 (as there are 60 minutes per degree). Doing so gives 54.6 minutes. Again, we take the fractional part (.6 here) and multiple by 60 (as there are 60 seconds per minute). Doing so gives 36 seconds. Had this calculation not resulted in an integer (whole) number, one can drop the fraction, round it, or keep the fraction... but dropping or rounding it is more than accurate enough for our purposes here.

Nonetheless, I note that GoogleMaps accepts the fractional format that Jim used... and inserting "47.30N 16.91E" into GoogleMap's address line yields this: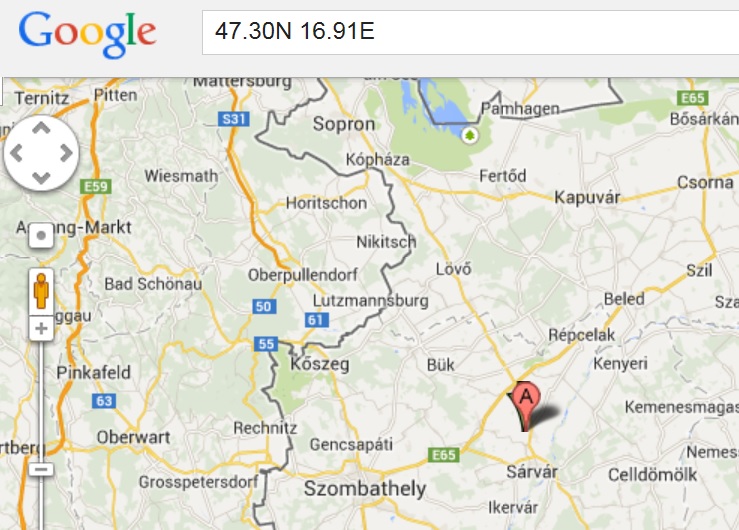 So "A" marks the spot where Jim's uncle says he bailed out. [I also could have entered "47 18 0 N 16 54 36 E" into GoogleMaps (i.e., standard degree, minute, second format), which would have yielded an identical location.]

On the above map, you can also see that a number of the villages mentioned in the original article are shown: clockwise from Sopron near the top center are Pamhagen to its right, Kapuvár and Csorna, Beled and Kenyeri, Bük and Köszeg, and finally Lövö. All the other mentioned villages are within this region but are too small to be shown at this map resolution. Note also the dark gray squiggly line up the middle of the map: it is the border between Burgenland and Hungary, so all mentioned places except Pamhagen are in Hungary, not Burgenland.

While they are not shown at this map resolution, the triangle of railroad tracks mentioned in the article would be as follows: 1) a line from Sopron past Kapuvár and Csorna heading east; 2) a line from Sopron heading south within Hungary to Szombathely; and 3) a line from Szombathely past Sárvár and heading northeast.

Interestingly, the news articles indicate that most of the activity took place mainly within the Lövö / Kapuvár / Beled triangle, which suggests that the prevailing winds took the parachuting airmen and crashing planes north from where Jim's uncle bailed out, with the center of that region being some 12 miles north of that bailout location. I have no idea of what the wind speed was when Jim's uncle bailed, but we can do some back-calculations to see if a drift of that distance was possible...

First, most WW-II bombing took place at 18-24,000 feet of elevation... let's assume 24,000 feet to give uncle the greatest drift time. Also, I see that WW-II parachutes descended at a rate of 18-24 feet per second. Let's assume the slowest rate given what uncle said about his parachute and weight. Given this, we can compute descent time as 24000/18 = 1333 seconds = 22 minutes = 0.37 hours. So, how fast must the average wind speed have been to drift 12 miles in 0.37 hours? The answer is 12/0.37 = 33 mph. This seems quite possible. Taking a worse-case scenario (jumping at 18,000 feet and descending 24 feet per second), similar calculations show that an average wind speed of 57 mph would suffice... again this seems possible. So, if the wind was toward the north and reasonably brisk up high, drifting from where Jim's uncle bailed to the region mentioned in the articles could be done.

Of course, had the plane descended significantly before anyone bailed out, then the required average wind speed becomes so great that a drift of twelve miles seems unlikely. One fact that supports the possibility of such a drift is that the prevailing summertime winds in western Hungary are NW to N-NW, clearly consistent with the direction suggested by the story.

To learn more about these events, we need better map detail and also must cope with changes in place names...





From the news article on the 27th, we know that "2 USA-bombers crashed near the towns of Csapod and Csepreg" and that "10 enemy pilots... were captured near the villages of Esterháza, Iván and Csapod."

Also, from the article on the 28th, a "bomber crashed within the boundaries of Bük" and a "bomber crashed in the forest of Röjtök [Röjtökmuzsaj], while several bombers crashed within the boundaries of Köszeg. Between Újkér and Felsöszopor [now part of Újkér], crews of damaged crafts parachuted to the ground."

Of the above-mentioned locations, only Bük and Köszeg appear on the map shown above. Further, as the original article noted, Esterháza is now known as Fertöszentmiklos. In addition, my inserted notes indicate that Röjtök has been renamed as Röjtökmuzsaj and that Felsöszopor has been incorporated into Újkér. To show these locations, I will resort to maps we reference on the BB homepage under title "Hungarian Maps". I do this for two reasons: first, they show older names and have appropriate detail. Second, they have construction details I wish to point out.

Our Hungarian maps are indexed on BB page http://www.the-burgenland-bunch.org/Hungary/Hungary_Maps.html. If you go there, you will see that the maps are grouped and arranged from quite general down to the specific pre-1921 Hungarian counties that Burgenland was created from.

I wish to start with the very last set—those that are for Vas Megye, as that is the county over which Jim's uncle bailed out. Among the 7 images for Vas, I'll start with the fourth one (http://www.the-burgenland-bunch.org/Hungary/Vas_1.jpg), which is from year 1897. While I will extract clips from this map, you may wish to view the whole map to get a better perspective.

The first thing I wish to point out are the latitude and longitude markings on the map. The latitude markings are on the left and right and are connected by thin black, slightly curved horizontal lines running across the page. [If, after displaying the map, you click on it, you will see that so-clicking causes the map to get larger or smaller... and larger will help you see the details.] Reading the markings, you should see that the latitude ranges from ~46 degrees at the bottom to ~47 degrees, 30 minutes at the top. Given the numbers are higher at the top, we know this represents latitude North (N). Jim's uncle bailed at 47° 18' 0" N latitude, which is, therefore, within the latitude range of this map.

Now, if you look at the top and bottom edges of the map, you will see the longitude markings and the vertical lines connecting them. Reading the markings, you should see that the longitude ranges from ~33 degrees, 30 minutes at the left to ~35 degrees, 15 minutes at the right. (Again, the orientation of these numbers tells us this is East longitude.) However, you may recall that Jim's uncle bailed at 16° 54' 36" E longitude... which is, apparently, nowhere near the longitude range of this map! So what went wrong?



The answer can be found at the bottom of the map, where it says "34° Keleti hosszúság Ferrótól." Translated from Hungarian, this says "34° East longitude Ferrótól." What this notation indicates is that longitudes on the map are relative to the Ferro / Ferrótól / Ferrói prime meridian, which is a prime meridian based on Ptolemy's 150 AD estimate of the "end" of the world, thought to be the western edge of El Hierro Island (aka, Ferro Island) in the Atlantic off the coast of Morocco. [This prime meridian was used by a number of European countries for land maps through and beyond WW-I. See page: http://www.prz.ginsburgs.org/web_stuff/mainframe.html for more information.]

Jim's uncle reported his longitudes relative to the Greenwich prime meridian (which is also the meridian used by GoogleMaps). It turns out that the Ferrótól meridian is 17° 39' 46.02" west of the Greenwich meridian, so we must add these numbers to 16° 54' 36" to get the bailout location relative to the Ferrótól meridian. Doing so gives us a longitude of 34° 34' 22" Keleti hosszúság Ferrótól, which is within the longitude range of this map!

As an aside, had we originally looked at the 6th of our Vas Megye maps, you would find notation "Kel. hosszúság Greenwich-től" at the bottom near the 16° mark and a range of longitude of 15°40' to 17°40' for the map (which, of course, includes the 16° 54' 36" bailout location). The other Vas maps either do not show longitude or fail to include a prime meridian notation; if longitude is shown, you will need to use the information in this article to determine which meridian is used.

Going back to our story, if you carefully measure off the latitude and longitude readings on our original Vas Megye map, you will see that it points to a location just north of Sávár (near the bright red 3 towards the top of the map and right of center). In fact, the location is just west of the towns of F. Paty (Felsö-Paty) and Al. Paty (Alsö-Paty), which joined to form current-day Rabapaty. [Note that if you zoom in on that GoogleMap image of location "47.30N 16.91E" it will show it is just west of Rabapaty, which should be of no surprise.] I have marked the bailout location with a red star in the map clip below. Also, I've circled in red the locations that were mentioned here and in the original article.




Also on the map to the northwest of the bailout location can be seen Köszeg and Bük (which was two villages then, Felsö- and Alsö-Bük), as well as Csepreg, which was mentioned but did not show on the GoogleMap above. All three of these were mentioned as places where airplanes crashed. To the northeast of the bailout location can be seen Beled and Kenyeri. The other mentioned locations were further north in Sopron Megye, so do not appear on this map.

Below, however, is an extract from the corresponding 1897 Sopron Megye map.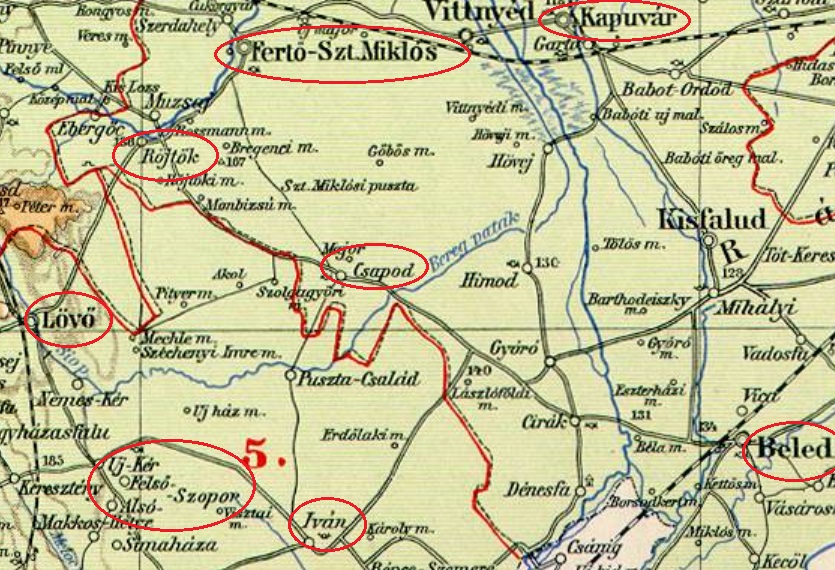 On this clip, Köszeg, Csepreg and Bük are off the lower left corner and the bailout location is a substantial distance straight south of Iván (which is near the bottom center of this map). The news articles mention that planes also crashed at Röjtök and Csapod; both are circled above. Lastly, airmen were captured at Iván, Újkér and Felsöszopor (lower left) as well as Csapod and Esterháza (Fertö-Szent-Miklós). If, indeed, Jim's uncle drifted further than his fellow airmen, then perhaps he was one of those who landed near these more northern villages... but I doubt we will ever know.





Instead, I hope that you have learned a little more about the map resources we have on our website, the need to pay attention to prime meridian notations on old maps, and the variations in village names that affect both Burgenland and nearby Hungarian villages... and, maybe, that you enjoyed reading this story again!



7) ETHNIC EVENTS

LEHIGH VALLEY, PA

Saturday, September 6: Sister City Picnic (Northampton-Stegersbach) at Municipal Park in Northampton. Music from 1-5 PM by the Joe Weber Orchestra.

Friday-Sunday, September 12-14: Oktoberfest at the Lancaster Liederkranz. Info:
www.lancasterliederkranz.com

Sunday, September 14: Oktoberfest at the Coplay Sängerbund. Music by the Josef Kroboth Orchestra. Info: www.coplaysaengerbund.com

Sunday, September 28: Oktoberfest at the Holy Family Club in Nazareth. Music by the J&J Orchestra. Info: www.holyfamilyclub.com


8) BURGENLAND EMIGRANT OBITUARIES

We have another month wherein we did not detect a single obituary of a Burgenland-born emigrant. This is not to say that there were no such deaths, rather, it simply says we did not find any.

Thus, instead, I present a related commentary, one based on a 2012 article in the online Vienna newspaper, DiePress.com, as reported in article: Tim Bullamore: Geschichten über das Leben (Tim Bullamore: Stories About Life). The article was written by Felix Lill and its subtitle translates to "In Anglo-American newspapers, the obituary is, unlike for us, a great tradition. A conversation with one of the obituary journalists for the Times."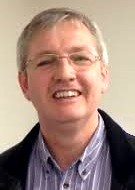 That "obituary journalist" is the well-known British obituary writer, Tim Bullamore, who freelances obituaries for major British newspapers, including The Times and the Daily Telegraph, and is a sub-editor for The Times. Tim is well-known largely because he often speaks on the art of obituary writing, traveling the world to do so [he is also publisher of the specialty niche magazine "Jane Austen's Regency World"].

The first thing you should note, from the sub-title translated above, is that the obituary (Nachruf, in German) is not a traditional feature of Austrian papers (so if you think you might find current or old obituaries, either online or in archives, for people who died in Burgenland, you are wrong. It takes the death of a rather famous person to make the newspapers there, and you won't find it in an "obituary" section, it will be on the front page.)

The thrust of the questions put to Bullamore in the article also reflect how odd Austrian journalists find the concept of writing obituaries to be:

"Do you find it oppressive to depend upon the death of other people to write an article?"

"What makes the 'genre' (obituaries) so popular?"

"Why is the author's name not on the obituary dateline? Is it about decency?"

The article goes on to ask other somewhat difficult questions, such as, why British newspaper obituaries are mostly about Oxford-educated white males and isn't it embarrassing when an obituary is printed about someone who isn't yet dead (Alfred Nobel being the example given). It also discusses less-controversial subjects, such as the pre-writing of obituaries for prominent persons.

However, the important take-a-way for us should be that obits are rare in Burgenland newspapers... and it is largely a waste of time to search for such.



END OF NEWSLETTER


NOTICE (Terms and Conditions): The Burgenland Bunch (BB) was formed and exists to assist Burgenland descendants in their research into their heritage and, toward that end, reserves the right to use any communication you have with us (email, letter, phone conversation, etc.) as part of our information exchange and educational research efforts.
• If you do not want your communication to be used for this purpose, indicate that it is "confidential" and we will abide by that request.
• Correspondents who communicate with the BB without requesting confidentiality retain their copyright but give a non-exclusive license to the BB allowing us to forward to BB members, publish in our monthly newsletter or on our website, and/or subsequently and permanently archive all or parts of such communications.

The Burgenland Bunch homepage (website) can be found at:
http://www.the-burgenland-bunch.org

Burgenland Bunch Newsletter, copyright © 2014, The Burgenland Bunch, all rights reserved