The
News
Dedicated to Austrian-Hungarian Burgenland Family History

THE BURGENLAND BUNCH NEWS - No. 254
April 30, 2015, © 2015 - The Burgenland Bunch - all rights reserved

Editor: Thomas Steichen (email: t_steichen@comcast.net)
Archives at: BB Newsletter Index

Our 19th Year. The Burgenland Bunch Newsletter is issued monthly online. It was founded by Gerald Berghold (who retired from the BB in the Summer of 2008 and died in August 2008).


Current Status Of The BB:
* Members: 2333 * Surname Entries: 7590 * Query Board Entries: 5455 * Staff Members: 17

This newsletter concerns:

1) THE PRESIDENT'S CORNER

2) HISTORICAL BB NEWSLETTER ARTICLES:
- TASTE OF HUNGARY - ROASTING BACON HUNGARIAN STYLE

3) ETHNIC EVENTS

4) BURGENLAND EMIGRANT OBITUARIES (courtesy of Bob Strauch)

1) THE PRESIDENT'S CORNER (by Tom Steichen)


As I mentioned last month, this is a reduced, minimal newsletter—a result of my being away, traveling much of the month.

All you get this month are a few items here in my "Corner" and our "standard sections," Historical Newsletter Articles, Ethnic Events and Emigrant Obituaries... but we will return to a full newsletter next month.

As for my travels, nothing therein had anything to do with genealogy or Burgenland, though I did take in a lot of US history and I enjoyed traveling from pre-spring conditions here in Pennsylvania, through the first buds of spring as I headed south, and into a full spring-flowering glory down around Charleston, SC. Our return trip took us back through that transition again, as the early daffodils were flowering in our yard upon our return (and my car was coated yellow from all the pollen floating in the air along the way!).





Help With Nicknames: BB Member Nancy Kern Sweeten, whose grandparents Franz Joseph and Maria (Gmeindl) Kern came from Alsó-Szölnök, Hungary and settled in McKees Rocks, PA, has a few questions that she hopes you readers can answer.

When Nancy was a young girl, there was a couple she knew that was related in some way to her grandparents... perhaps godparents to her father. As she says, "We called him Gite and her Galtie," though she says she is unsure of the spellings. She tells me that Gite rhymes with light and Galtie sounds like Gaul tea. The couple's formal names were Louis and Theresia Mohapp, so these nicknames are quite obviously not variations on their given names. Both were ethnic Germans from Alsó-Szölnök, born about 1882.

Thus the nicknames must be endearments derived from some sort of relationship... the questions for you readers are: what are the proper spellings of these nicknames (Gite and Galtie), what are they derived from, and what relationship (if any) do they imply?

Obviously, German seems the most likely base language for these nicknames, though Hungarian and English must also be considered. Any interpretational help you can give will be appreciated (you can respond by clicking my email address at the top of this newsletter).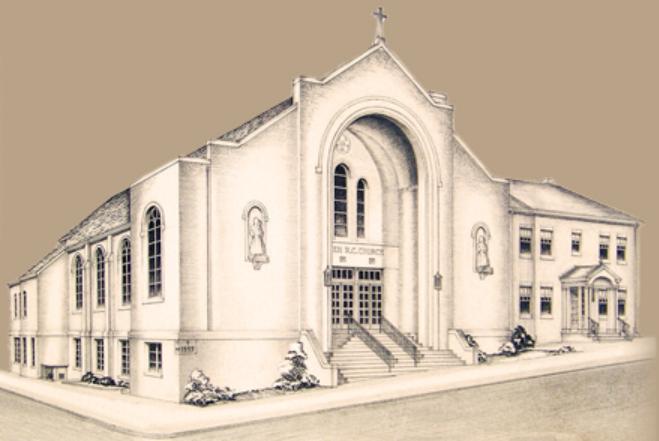 St. Stephen of Hungary, Roman Catholic Church in Allentown, 100th Anniversary: St. Stephen, the only Hungarian church remaining in the diocese of Allentown, PA, started its milestone year with a Hungarian Mass on April 25th. Father Imre Juhasz from Saint Laszlo Hungarian Church in New Brunswick, NJ, was the celebrant and the choir and organist from that parish participated.

For further information please call Elaine Bokanyi at 610-791-0909. Alternatively, see http://allentowncatholic.org/history/ for the parish website and its history.





Church Names: I mentioned last month that I had started a campaign to identify all church/temple/synagogue names in Burgenland. Richard Potetz wrote to pass along the Catholic church name for the village of Kondorfa, Hungary (German name Krottendorf), a border village we include in our listings. It is Saint Lucas, built in 1850, and is a branch church associated with Saint Peter the Apostle church in Őriszentpéter, Hungary. The Hungarian names for these churches would be Szent Lukács and Szent Péter apostol. Do write if you can provide (or correct) any such names.




Burgenland Blog: Klaus Gerger wrote to say that he had received notice about the new "Burgenland History Blog" by Burgenland historian Herbert Brettl of Halbturn. The blog is at www.brettl.at/blog and is in German. Dr. Brettl has been mentioned previously in the BB Newsletter and has made occasional contributions. A list of his publications is on his home page; some of these might be of interest to you.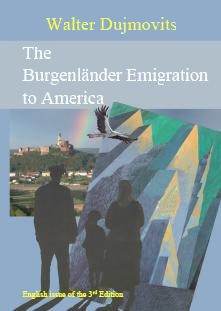 Update for book "The Burgenländer Emigration to America": Here is this month's update on purchases of the English issue of the 3rd edition of Dr. Walter Dujmovits' book "Die Amerika-Wanderung Der Burgenländer."

Current total sales are 841 copies, as interested people purchased 9 more books this month. Given this modest sales count, the book's rank rose to 410 (from a low of 397), so we lost ground this month to competitors among the best-selling Lulu books.

As always, the book remains available for online purchase at a list price of $7.41 (which is the production charge for the book), plus tax & shipping. See the BB homepage for a link to the information / ordering page and for any current discounts (and there is at least one discount on price or shipping available most of the time... if not, wait a few days and there will be one!).





Musikantenstadl: Margaret Kaiser shared links to a couple of recent Burgenland-related videos. The one below was my favorite, so I'll share it with you.

In case you are wondering, Musikantenstadl is a broadcast-live, German-language television program in Austria, Germany, and Switzerland featuring Austrian, Swiss and German popular folk music, international pop and folk music, as well as interviews and comedy. It also tours in Austria and Germany as live concerts and is hosted by Andy Borg. The show takes its name from "Musikanten" meaning musicians and "Stadl" which is the Austrian-Bavarian word for barn. Each episode, which is referred to as a Stadl, is broadcast from differing locations in Austria, Switzerland, Germany or South Tyrol and in front of a live audience at either a large city or small town arena. The audience members sit at long tables in German beer-house style and are served drinks from a bar.

The video below (about 12 1/2 minutes long) is a extract from the first Stadl of 2015, broadcast on March 28th from Oberwart in Burgenland and featuring the Oberwart Stadtkapelle (city band) and the Stadtkapelle from nearby Sopron, Hungary. Even if you do not understand much spoken German, you should still be able to interpret a fair part of what is said. The first 5-6 minutes features the host doing a mini-tour of the Oberwart area to introduce it to viewers elsewhere in its broadcast area who likely know little or nothing about Burgenland. The rest is the entrance of the bands into the arena and the opening words by the host. Enjoy!



As always, once the video starts, you can click the little rectangle in the lower right of the insert to view in full-screen mode.



2) HISTORICAL BB NEWSLETTER ARTICLES

Editor: This is part of our series designed to recycle interesting articles from the BB Newsletters of 10 years ago. This one comes from NL # 139A, April 30, 2005, and is part of an ongoing series Gerry wrote called "A Taste of Hungary." The particular topic is the art of roasting bacon, Hungarian-style over an open fire. I share it, in part, as a follow-on to Richard Potetz' comment in last month's newsletter: "One of my memories resurrected by your discussion of paprika is of a paprika-covered block my dad would buy occasionally called 'speck.' This was not bacon as we know it, not sliced, just a block, similar to bacon but with just the fat, no stripes of meat at all, about the size of a can of spam. He ate it with rye bread, for him a treat that reminded him of his homeland." It seems that Richard's dad was, indeed, recalling a Burgenland memory!





THE BURGENLAND BUNCH NEWS - No. 139A
April 30, 2005

TASTE OF HUNGARY - ROASTING BACON HUNGARIAN STYLE (by Gerry Berghold, as suggested by Bob Strauch)

Bob Strauch sent me an article written by Emma Lelik from the "The Valley Independent" newspaper of Monessen, Pennsylvania, dated July 31, 1987.

It dealt with ethnic Hungarians who had settled in the Monessen valley. The introduction spoke of a group of robust men with handlebar mustaches seated around an open fire roasting bacon [szalonna sütés]. The rest of the article dealt with the Hungarian Workingmen's Sick Benefit Social and Literary Club of Monessen, organized in 1904. They had a "bacon roast" [szalonna sütés] out on the grounds of the Hungarian Club every Saturday afternoon.

This article brought some memories to mind. Some years ago I read where a Gypsy was asked if he'd rather be warm or eat - his reply was "I'd sooner roast bacon!" - he would then be both warm and fed. It turns out that roasting bacon was (is) very common and popular among Magyar herdsmen and farmers.

My wife and I were touring Bosnia some years before the Yugoslav breakup and we were invited to a small village in the karst hills behind the Dalmatian coast. We were given glasses of plum brandy and then seated around an open fire pit in an outdoor summer hut. Our hosts played the violin and the one-stringed gusyla and sang ancient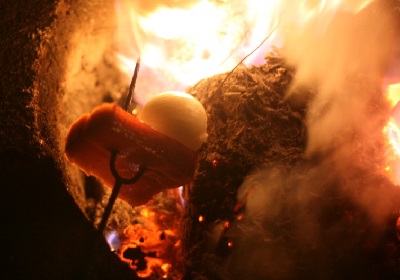 folk melodies featuring Marko the Prince. We were given chunks of bread and raw pieces of paprika bacon on sticks and shown how to toast bacon. When it dripped well and was slightly toasted it was dripped on the bread, which was topped with an onion slice and eaten. When it ceased dripping we also ate the bacon. Accompanied with local red wine, it was very good as it tasted better than it sounds! Of course, today it would be viewed as a cholesterol nightmare. My Hungarian cookbook -- Lang, "The Cuisine Of Hungary" -- devotes a number of pages to Hungarian bacon. There are many types and they all seem to be a cut above the typical American commercial product; I've noticed European bacon always tastes better than ours. This is not to say that we don't have some excellent local products like in southern Virginia and the Amish country. We didn't know at the time that roasting bacon was a Hungarian tradition as well. Pork production was (is) big in southeastern Europe.

I imagine it is part of the culture of all nomadic races to engage in campfire cookery. My maternal grandfather, a German whose family probably migrated from Swabia, but who had an Hungarian mother, loved his paprika bacon, but ate it cut into small pieces for breakfast (German speck style). I never knew him to toast it, although his immigrant Magyar neighbor and life-long friend (Mankos, by name) did.

Nothing I like better than a bacon sandwich but I want it as a Bacon, Lettuce & Tomato with Peanut Butter yet! This open fire bit makes one think of goulash cooking over campfires, western cowboys around a chuck wagon, clam bakes in New England and Americans having a "weenie" or corn roast. Not too long ago, member Joe Jarfas sent us an article about how he cooks goulash over a campfire. Campfire cooking, a throwback to our ancestors -- an open fire seems to mesmerizes us, connects with something in our genes. My son loves to use a Dutch oven over a campfire (his beef stew is just wonderful); must be his Hungarian ancestors talking to him through his g-g-grandmother, Ilona Tarafas. Next time he invites us to a campfire cook out, I'm taking some piece bacon, paprika and onion along -- with a loaf of good bread as well.


3) ETHNIC EVENTS

LEHIGH VALLEY, PA

Saturday, May 9: Maibaumaufstellen & Maitanz at the Lancaster Liederkranz. Music by the Josef Kroboth Orchestra. Info: www.lancasterliederkranz.com

Sunday, May 10: 100th Anniversary Celebration of the West Coplay Männerchor in Stiles. Music by the Emil Schanta Band. Info: www.westcm.org

Friday, May 15: Maifest at the Reading Liederkranz. Info: www.readingliederkranz.com

Sunday, May 17: Maibaumtanz at the Coplay Sängerbund. Music by the Coplay Sängerbund Chorus and the Joe Weber Orchestra. Info: www.coplaysaengerbund.com


NEW BRITAIN, CT

Friday, May 1, 7 pm: Heimat Abend. Austrian Donau Club, 545 Arch Street, $3. Music by Joe Rogers and his band.

Friday, May 15, 7:30 pm: Heurigan Abend. Austrian Donau Club, 545 Arch Street, $3. Music by Schachtelgebirger Musikanten.

4) BURGENLAND EMIGRANT OBITUARIES
Angela Barlekamp (née Wagner)

Angela W Barlekamp, 88, of Brick, New Jersey, passed away on Tuesday April 7, 2015 at Shorrock Gardens Care Center, Brick.

Born in Punitz, Austria, she was a daughter of the late Robert and Angela (Wagner) Wagner.

She lived in Clifton, NJ, and Albuquerque, NM before moving to Brick 11 years ago. Angela was a parishioner at St. Dominic's R.C. Church, Brick and a member of the Roche Retirees Club, Nutley, NJ.

Surviving are her husband of 69 years Harry W. Barlekamp, her sons Robert and his wife Linda, Daniel and his wife Jean, her sister Theresia Groseibl; her five grandchildren Christopher, Courtney Wood, Jason, Jeffrey and Daniel, and her three great-grandchildren Skyler, Tristin and Fiona.

The family may receive relatives and friends for a visitation on Friday April 10, 2015 from 2-4 and 7-9 PM at Colonial Funeral Home, 2170 Hwy 88, Brick, NJ. A Funeral Mass will be celebrated Saturday April 11, 2015, 9am at St. Dominic's RC Church, Brick. Entombment will follow at Calvary Cemetery, Paterson, NJ. In lieu of flowers, donations may be made in Angela's memory to the American Cancer Society at www.cancer.org/donate. Condolences may be sent by visiting www.colonialfuneralgroup.com.

Published in The Record on Apr. 9, 2015



Frank Luksander


Frank Luksander, 90, of Mahomet, Illinois, died at 10:37pm on April 16, 2015 at his home.

Born on May 22, 1924 in Sopron (Ödenburg), Hungary, he was a son of the late Ferenc and Maria (Scholl) Luksander,

He married Elizabeth Kladler on December 15, 1945 in Sopron. She died on April 28, 2002.

Frank enjoyed traveling both at home and in Europe, and took special pleasure visiting his native Hungary. He was also an avid fan of Illini Sports, especially basketball and football. Frank also enjoyed the annual family fishing trip to Canada and looked forward to it every year. Even though he was always active with work and hobbies, the lights of his life were always his family, grandchildren, and great-grandchildren.

Survivors include: three daughters and two sons; Elizabeth Van Arsdall of Champaign; Edie Smith of Blue Earth, Minnesota; Kathleen Lewis of Farmer City; Frank Luksander of Charleston; Louis Luksander of Mahomet; 12 grandchildren; 11 great-grandchildren.

Blair-Owens Funeral Home in Mahomet will conduct a graveside funeral service at 11:00am on Monday April 20 at Riverside Cemetery in Mahomet. Rev. Msgr. James Ramer will officiate.



Frank Filipovits

Frank Filipovits, 83, of Tatamy, Pennsylvania, passed away on Sunday, April 19, 2015, at New Eastwood, Easton.

He was the husband of the late Angela (Teklits) Filipovits.

Born February 22, 1932, in Szentpéterfa (Petrovo Selo/Prostrum), Hungary, Frank was a son of the late Anthony and Maria (Ujvari) Filipovits.

After first leaving Hungary, Frank moved to Austria and then eventually to Toronto, Canada, where he met his future wife, Angela Teklits. They were married on October 27, 1956. Frank later became a U.S. Citizen and settled in Nazareth, PA.

He worked for Penn Dixie Cement Company and Lone Star Cement, from where he retired in 1994. After his retirement, Frank enjoyed spending time at home with his family, watching soccer and playing his harmonica. Frank was a member of Holy Family Catholic Church, Nazareth, and a life member of the Holy Family Sick and Relief Society. He was also a proud member of the United Paperworkers International Union.

Frank is survived by his children, Richard Filipovits and his wife Deanna, of Bushkill Township, and Christine Williams and her fiancée Kevin, of Tatamy. Also surviving are three grandchildren, Jeffrey, Steven and Amanda; and his faithful canine companion, Darby.

In addition to his parents and wife, Angela, Frank was predeceased by a brother, Louis.

Family and friends are invited to call on Tuesday, April 21, from 6-8:30 pm and on Wednesday, April 22, from 9:30-10:30 am in the Schmidt Funeral Home, 407 Belvidere St., Nazareth. A Mass of Christian Burial will begin at 11:00 am at Holy Family Catholic Church, 23 Forest Drive, Nazareth. Burial will follow at Holy Family Cemetery. Memorial contributions in Frank's name may be made to the American Heart Association , Lehigh Valley Division, 212 East Broad Street, Bethlehem, PA 18018. Please visit a tribute page in honor of Frank at www.schmidtfuneralhomepc.com.

Published in The Express Times from Apr. 20 to Apr. 21, 2015



Isabella Stadler (née Baumgartner)

Isabella Stadler, of Chicago, Illinois, passed away April 15, 2015.

Born in Rotenturm, Austria, she the daughter of the late Josef and Katharina Baumgartner.

Isabella retired from Marshall Fields after 30 years of service. She was very devout in her Catholic faith and active in the Austrian and German communities.

Survivors: children, Katharina (Werner) Linder, Gerhard, Jr. and Dr. Frank (Dr. Marcia Lu); grandchildren, Alexander Linder and Christian, Nicholaus and Isabella Stadler; nephews and nieces, Josef, Rudolf, Eva and Isabella Baumgartner; many cousins.

She was predeceased by brothers Frank (the late Maria) and Josef (the late Anna) Baumgartner.

The Stadler family would like to thank Dr. William Rhoades, Dr. Kenneth Cohen, Dr. Walter Stadler, Dr. Angel Galvez, Dr. Wayne Rubenstein, Dr. Leslie Brookfield, Dr. John White, Dr. Jeffrey Schwartz, Dr. Nora Jaskowiak, and Dr. Italo Pieri, the entire care team at Advocate Lutheran General Hospital and the DCAM 6D and 6E units at the University of Chicago Medical Center for their compassionate and exceptional medical care of our dear mother.

Services: Funeral Monday 9:15 a.m. from Smith-Corcoran Funeral Home, 6150 N. Cicero Ave., to St. Mary of the Woods Church, 7000 N. Moselle Ave., for Mass at 10 a.m. Entombment St. Joseph Cemetery. Visitation Sunday 3 - 8 p.m. In lieu of flowers, donations may be made in memory of Isabella to The Society of the Danube Swabians German School, 625 E. Seegers Rd., Des Plaines, IL 60016 or Make-A-Wish, Youth Leadership Committee, 2800 Club Center Drive, Sacramento, CA 95835, please include "in honor of Isabella Stadler". Credit card donations can also be accepted at 916-437-0206. Isabella's grandson is currently a co-chair of this committee and as an ardent supporter of her grandchildren's efforts, the family hopes to grant a wish in Isabella's honor.


END OF NEWSLETTER


NOTICE (Terms and Conditions): The Burgenland Bunch (BB) was formed and exists to assist Burgenland descendants in their research into their heritage and, toward that end, reserves the right to use any communication you have with us (email, letter, phone conversation, etc.) as part of our information exchange and educational research efforts.
• If you do not want your communication to be used for this purpose, indicate that it is "confidential" and we will abide by that request.
• Correspondents who communicate with the BB without requesting confidentiality retain their copyright but give a non-exclusive license to the BB allowing us to forward to BB members, publish in our monthly newsletter or on our website, and/or subsequently and permanently archive all or parts of such communications.

The Burgenland Bunch homepage (website) can be found at:
http://www.the-burgenland-bunch.org

Burgenland Bunch Newsletter, copyright © 2015, The Burgenland Bunch, all rights reserved