The
News
Dedicated to Austrian-Hungarian Burgenland Family History

THE BURGENLAND BUNCH NEWS - No. 247
September 30, 2014, © 2014 - The Burgenland Bunch - all rights reserved

Editor: Thomas Steichen (email: t_steichen@comcast.net)
Archives at: BB Newsletter Index

Our 18th Year. The Burgenland Bunch Newsletter is issued monthly online. It was founded by Gerald Berghold (who retired Summer 2008 and died in August 2008).



Current Status Of The BB:
* Members: 2280 * Surname Entries: 7476 * Query Board Entries: 5377 * Staff Members: 17


This newsletter concerns:

1) THE PRESIDENT'S CORNER

2) AN 1885 FAMILY DOCUMENT

3) RE-LAUNCH OF THE ELLIS ISLAND WEBSITE

4) DAY OF THE SIEGE: SEPTEMBER ELEVEN 1683

5) SLAVIC MIGRATION FROM GERMANY (by Frank Paukowits)

6) HISTORICAL BB NEWSLETTER ARTICLES:
- THE MYTH OF GERMAN ALMOST REPLACING ENGLISH AS US LANGUAGE
(by Bob Unger)
- IVAN'S RAIN

7) ETHNIC EVENTS

8) BURGENLAND EMIGRANT OBITUARIES (courtesy of Bob Strauch)

1) THE PRESIDENT'S CORNER (by Tom Steichen)


Concerning this newsletter, after the bits and pieces here in my "Corner," our first full-length article speaks of the transcription and translation of An 1885 Family Document. It is worth sharing mainly because it touches on an important topic: Zuständigkeit... but it is also elegantly written in its briefness... see for yourself.

Article 3 concerns the Re-Launch of the Ellis Island Website. The old site was launched in 2001; the new one uses modern design and adds new data... but there are and will be growing pains!

Article 4 is a movie review. Yes, I know I've never reviewed a movie in this newsletter, but the topic is about a Siege broken on September 11, 1683... another 9/11 date that should be important to you.

In Article 5, Frank Paukowits presents a breakthrough, insightful analysis of data from the Burgenland DNA study that concerns Slavic Migration from Germany to Burgenland.

The remaining articles are our standard sections: Historical Newsletter Articles, and the Ethnic Events and Emigrant Obituaries sections. The Historical Newsletter Articles section returns to its normal short format with two articles from 10 years ago. Although I mention the title of the second article, I do not reprint it; instead is serves as the inspiration for some reminiscing!





Barbara Alert: BB Member Research staff member Barbara Raabe took leave from the staff some time back to deal with family medical issues. Just recently, her email address started bouncing all messages, saying the messages could not be delivered because her email account was "not available" (computer talk for 'no longer exists'). Given that email is how I communicate with most staff members, I have no other contact information for Barbara. If anyone knows Barbara's current email address, street address, phone number, or can provide an explanation of what the situation is, I would appreciate hearing from you. Barbara is a valued member of the staff and loss of contact is troubling; please help.





St. Louis Gathering of Burgenländer and Descendants: Theresa McWilliams, our St. Louis Research staff member, wishes to announce an upcoming gathering of St. Louis Burgenländers and descendants. The event will be held Sunday, November 2, 2014, 2-6 pm, at the Community Center Cafeteria of the Holy Name of Jesus Catholic Church, 10235 Ashbrook Dr, St. Louis, MO. As Theresa says: Come, enjoy meeting and conversing with other folks who share an enthusiasm for their Burgenland heritage. Bring photos, memorabilia, favorite family recipes, even a dish to share if you like, or just yourself. For more information, and to let us know you plan to attend, contact Theresa McWilliams tmacwms@sbcglobal.net. Erzählen Sie Ihren Freunden! (Tell your friends!)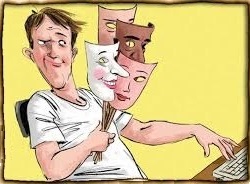 Spoofing Alert: BB staff member Frank Paukowits was a recent "victim" of a email spoofing attack. A "spoof" is when an email message is sent out by a third party using someone else's email address and name.

Not all spoofs are malicious, in fact, when you use one of the BB forms to join the BB or change your information, we programmatically create an email from the data you type in and then send it to appropriate staff members for processing... but that email appears to be sent from you, as it lists your name and email address as the sender. (You can read more about this at http://en.wikipedia.org/wiki/Email_spoofing.)

Spoofs become malicious only when something dangerous is inserted into the message or when the message prompts you to do something you will regret.

In the "attack" on Frank (or more accurately, the "attack" on the people who received the message supposedly from Frank), the message claimed that Frank was on vacation in the Philippines and was mugged, losing all his cash and credit cards, thus he needed $2450 to pay his hotel bills, etc. and get back home (none of this is true, of course). Some of the messages had a link for people to click to start the process of sending money to 'Frank'; the ones I saw (second hand) did not, so they likely changed the (hidden) return email address to someone other than Frank.

The important thing for you to know is that these types of messages are always fake and, in themselves, are not dangerous. However, do not reply to them and do not click links in them. If you know and want to communicate with the purported sender, start a fresh message using his/her address from your address book.





A few days after I wrote the above paragraphs, my wife discovered that she had received one of these messages from 'Frank' in her seldom-used Yahoo email. That message showed hidden reply address Paukowits1#yandex.com (I purposely replaced the @ with # so it is not an active address). Using a web tool, I was able to show that this email address terminates in a mail server located in Russia.

Further, I compared the internet header information in a legitimate message from Frank to that in this spoofed message. The legitimate message shows an originating IP address for an email server located in Queens, NY (which is where Frank lives). The spoofed message originated from a mail server near Wichita, KS, which strongly suggests that Frank's computer was not the source of the spoofed message (however, someone's computer in Kansas is compromised!). Such is the reality of an electronic world... so be careful out there!





*New* Edlitz Burgenland Book: Last month I published a short note about BB member Rudi Wolf's new book, Edlitz: Dorf und Leute im Wandel der Zeit [Edlitz: Village and Its People Through the Ages], now available from Lulu for $18.07 via link Edlitz Book.

That message prompted a couple of BB members to write in about other Burgenland village books, one to ask if a book existed for Rudersdorf, the other to ask if I knew about the book for Stegersbach.





The question about the Rudersdorf book came from BB member Alice Kobalter Karleski, who wrote (in part): "Are there any books, or any kind of publications about Rudersdorf, Burgenland? That is where my Father's family settled in the very early 1700's. They were part of the re-settlement group from Southern Germany. To be exact, from Schwabia, in the Black Forest."

I replied that newsletter 136 (Jan 2005) mentions a German-language Rudersdorf village history book called Marktgemeinde Rudersdorf, 600 Jahre Rudersdorf, Markterhebung und Wappenverleihung (copyright Marktgemeinde Rudersdorf, 1991). I also checked online and found a number of booksellers with copies available.





As for the Stegersbach book, BB member Jane Gross wrote (in part): "I wondered if you might be familiar with a book called 'Stegersbach,' which was produced to celebrate the community's 700th anniversary in 1989. I've recently come across the book again, and it has some wonderful information in it, I think, although I am struggling with the German. I don't think I've ever seen a reference to this book in the BB newsletters, but I recognized a name in the credits: Dr. Walter Dujmovits, which prompted me to mention the book to you and just inquire whether you know of it, and whether any of the content has ever been translated into English. I'm particularly interested in the community history section, from the late 1800s through WWII, as I have found some family names mentioned."

Jane also provided the 'front material' from the book that shows the overall editor was Hubert Koller and that the text was authored/edited in sections; Walter Dujmovits was one such section editor. The publisher was LeykamDruck Universitätsbuchdruckerei Gesellschaft m.b.H. and the book is copyright Marktgemeinde Stegersbach, 1989. I was not previously aware of the book and a check online does not show any copies for sale. To the best of my knowledge, no translation exists.





It turns out that the mention of the Rudersdorf book in NL 136 was part of an article about such village and/or church history books (Chroniks). This prompted me to gather together a listing of all that I am aware of; you can find that list at BB page: v_Chroniks.htm. I will note that I'm sure there are many more such histories available and that we likely have mentioned some of them in the many BB newsletters... I just did not find them.

Therefore, I ask you readers to help fill out this list by sending me information about ones you know of but that I have not mentioned. Also, some of the current listed titles (and related information) may not be completely accurate... any corrections will be appreciated. Do send in what you know!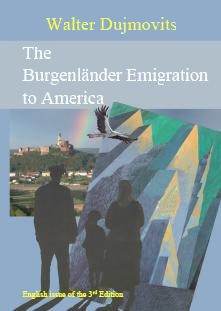 Update on book "The Burgenländer Emigration to America": As I will do for a while, here is this month's update on purchases of the English issue of the 3rd edition of Dr. Walter Dujmovits' book "Die Amerika-Wanderung Der Burgenländer."

As of September 29, 638 copies had been purchased. Apparently the new, lower price prompted some new people to buy a copy (or others to purchase more copies... regardless, the book rank went down to 543 (after having risen to 571 from 565 the previous month due to slowed sales).

In case you missed it, Lulu reduced its production charge for the book, allowing us to drop its price and offer it for online purchase at a list price of $7.41, plus tax & shipping. See the BB homepage for a link to the information / ordering page and for any current discounts.





One More Book: As you may recall, BB staff member Emmerich Koller wrote a memoir in 2006 titled "Good Dogs Do Stray: Memoir of an Immigrant from Hungary." In 2011, he published a German translation titled "

Über die Grenzen: Erinnerungen eines Emigranten aus Ungarn

" (Across the Border: Memories of an Emigrant from Hungary) via Oberwart publishing house lex liszt 12, publisher Horst Horvath. More information about both books can be found at http://www.emmerichkoller.com/.

I mention this because, when I attempted to contact Emmerich last month, he replied from Oberschützen, where he had just performed a reading from his German edition at the Hianzenverein. He also had a featured presentation in Deutsch-Schützen and tells me that his book is well received in Burgenland, "selling quite well so that I am getting very positive reviews and unexpectedly generous royalties. Who would have thought." This is Emmerich's second book tour of Burgenland, doing presentations and readings.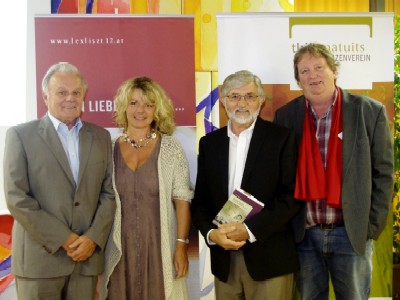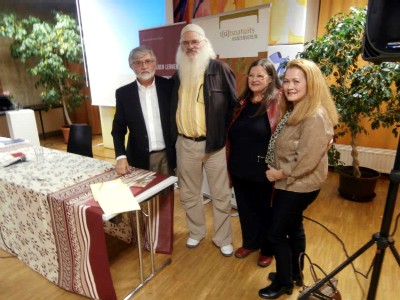 Dr. Walter Dujmovits, vice president of the Hianzenverein, provided the introduction in Oberschützen and BB staff member Hannes Graf was in attendance. As part of his visit to the Hianzenverein, Emmerich was inducted as its newest member and was

caj

oled by Walter into writing an article for the Auswandererschicksal (Emigrant's Fate) column for the next BG newsletter.




Follow-up to an Information Request from Walter Dujmovits, Jr.: Last month I published a note from Walter that said there is a "Lake Tschida" in North Dakota named after a Mr. Michael Tschida. He commented that "there is no doubt that Mr. Tschida´s family roots lay in the Seewinkel in Burgenland, maybe in Apetlon or Illmitz" and he asked "does anyone know more about Michael Tschida and the settlement of Burgenländers in North Dakota in the 19th century?"

I made some comments about Glen Ullin, the town where Mr. Tschida lived, and about BB members who have connections there, then I requested further information from you readers. As always, a number of you responded. I share parts of those responses below.





Cheryl Richardson wrote (in part) to say that her Burgenland ancestors from Illmitz settled in Mandan and St. Anthony, ND, which are in Morton Co, same as Glen Ullin. Within the emigrant party of her ancestors was a Tschida, though not Michael. She also provided names for some 20+ Burgenländers who settled in these cities. She commented that the "1910 census shows Michael Tschida born 1866 and his wife Mary Unger born 1870 in Vienna living in Glen Ullin. They emigrated in 1888." She also offered to send to Walter "some information from a book entitled 'Mantani - A History of Mandan and Morton County 1738 to 1964' written by Sarah Tostevin."

Margaret Kaiser also wrote (in part) saying "According to a bare-bones tree posted on Ancestry.com, Michael Tschida, 1866-1957, was married to a Mary Unger. His parents were Stephen Tschida and Mary Lander. From census records he appears to have immigrated around 1888." She also provided extracts from numerous newspapers describing Tschida's activities over the years.

I myself looked up the 1900 and 1910 census records, discovering that the Tschida family was living in a 1900 census district entitled "Custer Township & Townships 137-140-Ranges 79-81 Mandan city Ward 1-3, Morton, North Dakota, United States." Both Michael (age 34) and wife Mary (age 30) are listed as born in Hungary, he emigrated in 1888 and she in 1887; they married in 1892. They have two children, Michael and Rosa, both born in ND. The 1910 record has them in Glen Ullin, each 10 years older and still born in Hungary, but they have added two children, Adolph and Edmund. His emigration year is transcribed as 1877 (???) and her's is not reported. (Given this 1910 census record, it appears that Cheryl Richardson obtained the "Vienna" birth location and "Unger" surname from other sources.) Despite the information from Cheryl, Margaret and myself, I was not able to determine a birth village for either Michael or Mary, so the trail goes cold here.





Obituary: Robert J. Schatz, 1929-2014: Bob Schatz writes (in part): Hi Tom, I wanted to let you know that my father [Robert J Schatz] passed away on August 30 and was buried on his birthday September 4th. He was the youngest of 11 children of Joseph L Schatz and Johanna T Stranzl of house Schatz und Schuster in Urbersdorf. He was born in Dewey Heights [a neighborhood in Fullerton, PA]; his father died when he was 2 years of age and then his mother when he was 5. He served in the US Air Force from 1951-55, attaining the rank of Staff Sergeant. He married my mother, Dolores Parvel of Fullerton, in 1957. He died in Allentown after a two-month illness and was buried next to my mom at Laurel Cemetery, Whitehall, [PA] not far from their house, close to the Lehigh River. When I visited their graves last Saturday, I was surprised to see a small herd of deer in the cemetery, which would have pleased both of them. My best, Bob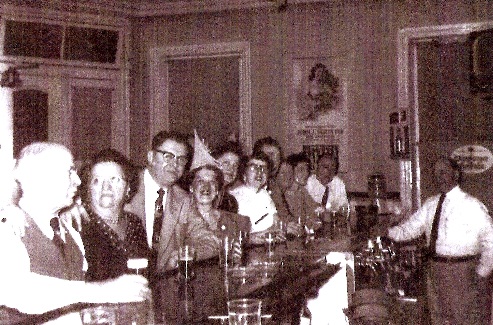 Follow-up to "A Double Blast From the Past": Last month, Bob Fahringer shared a family story and three pictures in an article titled as above. The second photo, taken at Fiedler's Cafe at 2nd & Gordon Sts and reprinted to the right, stirred BB member Joanne Oberecker Rogers to write, saying (in part): "I am pretty sure that my paternal grandfather and his girlfriend are in that pic. Second and third from the left, Minerva Strauch and Joseph Obereker (his spelling). Can you confirm?"

I, of course, could not, so I forwarded the question on to Bob Fahringer... but also to BB staff member Bob Strauch, as his surname was mentioned by Joanne.

Bob Strauch replied first, saying (in part): "Minnie Strauch was my paternal grandmother. I don't think that's her in the foto, nor do I think the man is Joe Obereker." So my conjecture of a surname relationship to Bob proved correct... but Joanne's conjecture that the lady in the picture was Minerva received a negative from Bob.

Bob Fahringer then replied, saying (in part): "Hello, Joanne, I will give you the names in the pic from Fiedler's Café. Most are Fiedlers and spouses. L to R: John Fiedler / his 2nd wife Teresa (Deutsch) Fiedler / Teresa's son Otto Panner & his wife Doris / Emma (Fiedler) Fuellenbach / Erna (Fiedler) Wiesner & husband Andy / Pauline (Eder) Fiedler (husband Ed Fiedler is behind the bar) / the couple on the far end are unknown to me."

Again, Joanne's conjecture was denied. However, part of the reason she thought this couple might be Joe Obereker and Minerva Strauch was that Joe operated a nearby café, possibly at 5th & Gordon, so she thought they may have 'hung out' together. Bob Strauch commented on that, saying: "I quizzed my folks about Joe owning a café. They said he did, but my dad thought it might have been at 7th and Turner. My mom says that Farnschlader's Café was at 5th and Gordon. Kulowitsch's Café was nearby on Gordon between 4th and 5th. I think there a Café just about every half-block."

So, though Joanne does not gain another picture of her grandfather, she possibly learned the correct location for his café!





Recipes from the German/Austrian cookbook of the Austria Donau Club: We are still waiting for Frank Paukowits to resume sending materials; while he has his computer room back, he now can't find the recipe book! ...but recipes will return (we hope!).



Pride of Place: Restaurant Horvath, Ritzing im Burgenland



Covered patio dining area at Restaurant Horvath in Ritzing... if you can't tell where you are from the food and wine, the wall mural makes it clear. The space is advertised on the restaurant's website as "Hobby der Chefin, ein Meer von Pflanzen und Blüten..." (Hobby of the cook: a sea of plants and flowers...).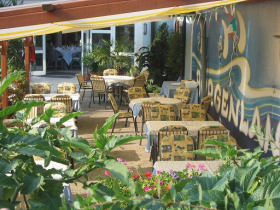 While not shown in the picture above, there is, in fact, a "sea" of plants and flowers that borders the patio both behind and to the right of where the photographer is standing (see right). But is it the gardening or the windsurfing (shown in the mural) that is the hobby of the chef?

Regardless, it looks like a pleasant place for a good meal or an excellent glass of Burgenland wine! Cheers!



2) AN 1885 FAMILY DOCUMENT

BB Member Bob Chapman asked for help in transcribing and translating a handwritten but official German-language (with a touch of Hungarian thrown in) family document from Lébény, Hungary. He had attempted to find a translator, even going to the German Embassy in Los Angeles, who provided some names, but all of those translators were stumped by the old German Kurrent script writing, complaining that the text was faint, the handwriting hard to decipher, and that the language was outdated.

Bob had requested help from the BB with some other documents so was reluctant to ask for more, but this one proved to be quite easy (compared to other documents the BB team has taken on). I received the document late on a Wednesday, electronically tweaked the image to bring out the text, did a partial transcription on Thursday morning then sent it out to a BB staff group to decipher what I could not. By noon Friday it was all worked out and returned to Bob.

I'm writing this article because I found the document to be elegantly written, highly complimentary to Bob's ancestors, and touching on a topic, Zuständigkeit, that has been discussed recently in this BB Newsletter. Bob kindly gave permission to share with you.

Below is the document in question: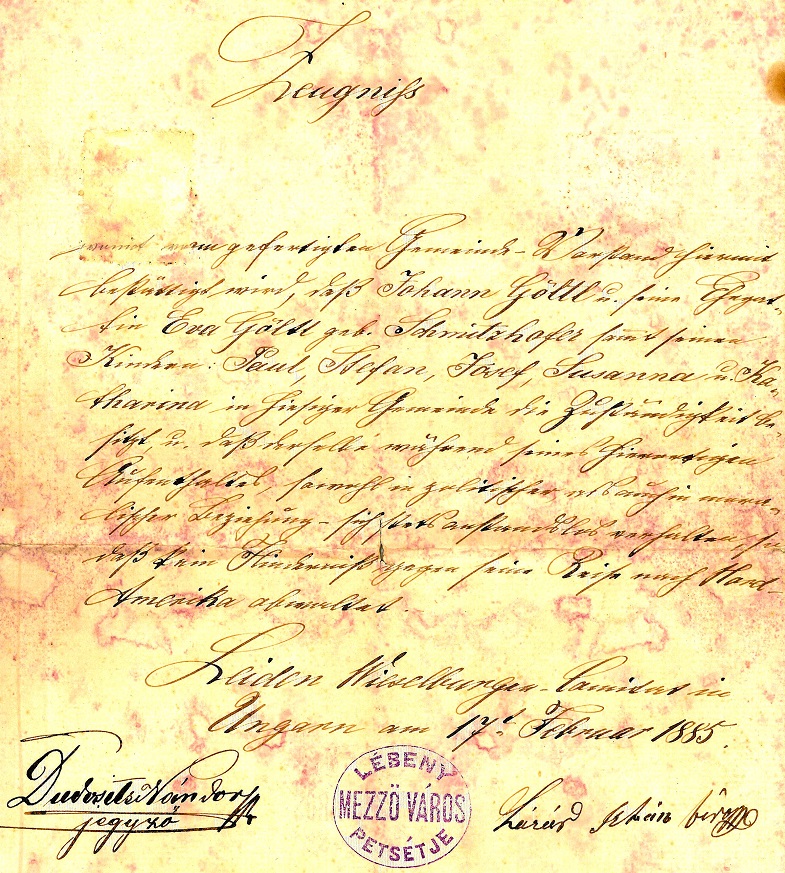 To give credit where credit is due, after my partial transcription that left 10 words unknown, Fritz Königshofer responded and had worked out with reasonable certainty all but two words, though he also provided speculative transcriptions for those words; and he provided an initial translation. Wilhelm Schmidt then responded to Fritz' transcription and translation, filling in the missing words and refining the translation. I present below the final transcription (maintaining line breaks):
Zeugnis

womit vom gefertigten Gemeindevorstand hiermit
bestätigt wird, dass Johann Göltl und seine Ehegat-
tin Eva Göltl geb. Schmitzhofer sammt seinen
Kindern: Paul, Stefan, Josef, Susanna, und Ka-
tharina in hiesiger Gemeinde die Zuständigkeit be-
sitzt, und dass derselbe während seines hierortigen
Aufenthaltes sowohl in politischer als auch in mann-
lischer Beziehung sich stets anstandslos verhalten, so
dass kein Hindernis gegen seine Reise nach Nord-
Amerika obwaltet.

Leiden Wieselburger Comitat in
Ungarn am 17. Februar 1885

[circle with Hungarian text: Lébény Mezzo Város Petsétje]
Dudosits Nándor Lárár István
jegyző biró
The Los Angeles translators that Bob approached were right: the handwriting was (only somewhat) hard to decipher, and the language is outdated... but dealing with those issues is something the BB staff is good at. We, as a group, have looked at enough Kurrent handscript so not to be intimidated by it and, because of our experience at looking at old Western Hungarian officialese, we are not put off by the outdated language. Still, translating these old German words and sentence constructs to English is as much art as science and literal translations are not always the best translations.

Below, I present two translations of the main body of the document, one from Fritz and the other from Wilhelm (note that line breaks are only approximate due to the rearrangement of words and phrases required when moving from German to English). Only one translation of the signature block is presented, though it is interesting that the text in the seal and the titles of the signing officials were in Hungarian, whereas the rest of the document was in German.
Certificate [of good conduct]

Whereby the town's Board signed below hereby
confirms that Johann Göltl and his wife
Eva Göltl neé Schmitzhofer, together with his
children Paul, Stephen, Joseph, Susanna, and
Catherine, has home rights in this town,
and that he during the time he lived and worked
here always behaved impeccably in regard
to politics and human relations, so
that no obstacle obtains against his travel
to North America.

=====

Testimony

prepared by the community council whereby it herewith
attests that Johann Göltl and his wife
Eva Göltl neé Schmitzhofer, together with his
children Paul, Stephen, Joseph, Susanna, and
Catherine, are residents of this community
and that the same (he), during his stay in this place,
in both public and personal conduct,
comported himself without reproach, so
that there is no impediment to his immigration to North
America.

Lébény, county of Moson in
Hungary, on February 17, 1885

[circle with text: Lébény Market Town Seal]
Dudosits Nándor [Ferdinand] Lárár István [Stephen]
Clerk Judge / Magistrate
As you can see, the underlying intent of the document is essentially identical in both translations, though the English wording differs. The second is the more word-for-word literal translation and, in general, is the one I find most satisfactory.

However, there is one phrase for which I personally prefer the first translation. That phrase is "in hiesiger Gemeinde die Zuständigkeit besitzt" and the two translations are "has home rights in this town" and "are residents of this community."

Home rights, usually designated by the word Zuständigkeit, was an early form of local citizenship and conferred the right of access to community property and some additional protections under the law, including an early form of welfare when needed. You obtained these valuable home rights in a particular village either through birth or by a special grant, and you could maintain these home rights even if you were a current resident of a different village. It is my belief that the town council of Lébény would not have used that particularly rather complex word to mean only residents, as there are simpler German words (Anwohner, Bewohnern, Einwohnern) that mean exactly that, therefore I lean toward the first translation.

The argument given against this position is that a literal translation of Zuständigkeit in der Gemeinde is "standing in the community, a recognized place or position with all the prerogatives of an inhabitant of the community. To call the prerogatives rights is too strong. We don't know what standing he actually had. Residence may be too weak, but that's all we know for sure."

My other staff member argues that "Since residency does not imply Zuständigkeit in all cases, the certificate of good behavior would have required a slightly different wording if the person was not resident in Lébény or was not zuständig there. In the latter case, perhaps his zuständige town would have needed to issue the certificate." Nonetheless, he allows that "since Mr. Göltl was zuständig nach Lébény and also resident there, like most people, either phrase is correct and will do."

Interestingly, I looked up Zuständigkeit in my massive (nearly 2,000 A4-size pages in two volumes) German-English comprehensive Langenscheidt New Muret-Sanders Encyclopedic Dictionary that was revised and republished in 1975 but has roots reaching back to 1859. The only translations given are 1) responsibility and 2) jurisdiction. This says nothing about either home rights or standing. However, one example given for the root word zuständig is "nach Wien zuständig sein" and the explanation/translation given is "Austrian officialese: to have the right of domicile in Vienna." So it appears we must consider the "Austrian officialese" use of the word for it to make sense in this document. But, is "the right of domicile" the same as "home rights" or does it mean just "residency"?

In Article 5 of BB Newsletter #236 (31 Oct 2013), titled The Right of Domicile, I provide substantial evidence that indicates that the phrase "the right of domicile" is just a variation of phrase "home rights," and has more meaning attached than just simple residency. Thus it appears that there are reasons other than my "personal preference" for using the "home rights" translation instead of a "residency" translation. The first confers much more information about his official "citizenship" standing in the community. Thus, to not translate the phrase in that manner rejects important information. Therefore, I still lean toward the "home rights" translation and I recommended that form to Bob.


3) RE-LAUNCH OF THE ELLIS ISLAND WEBSITE


Header section of the new Ellis Island website

I'm not sure, yet, what to think about the new Ellis Island website... the one where you can search and display passenger manifests for ships that arrived through Ellis Island. As of September 1, when you go to www.ellisisland.org, you are now automatically redirected to www.libertyellisfoundation.org, a site which combines the elements of the former Ellis Island passenger site plus ones for the Statue of Liberty, Wall of Honor and Flag of Faces websites.

The site is designated as a "beta" ...but there is no way to go back to the old site so this is somewhat misleading. Regardless, it is a fairly dramatic makeover, ditching the old, early 2000s site with a modern, slick-looking site that has lots of graphics and photos. One can't argue that it doesn't look better... but the jury is still out on whether it works better ...in fact, my initial experience with it found it to be intermittently slow ...that is, when it did not quit altogether. This is, of course, the hallmark of a beta site: it is expected not to work quite right, uses its customers to find bugs and bottlenecks, and depends on complaints to figure out what to fix. I suspect we are in for a 6-month ride where, every time you visit, the interface will be slightly different and the going will be slow.

What you will discover on a first visit is that you will need a new password (and perhaps user name) to get past a first search. In my case, I could not remember either the exact user name or password from the old site so had to reregister completely. Even then, the site locked up twice during my first two attempts to do so... but I was able to register on my third try.

In theory, registered users of the old EllisIsland.org site can select a new password by clicking the login link in the top right corner and choosing Forgot Password, or you can opt to log in with Facebook. But nothing tells you that you can do this and that you will need your old username to do so.

Of course, once you are in, you will also need to learn the interface, as what you knew about the old site will not help you here, except in a most general sense. You'll find the passenger and ship records search under Ellis Island in the navigation menu (or you can go there directly via link www.libertyellisfoundation.org/passenger). There also is a dedicated Passenger Search button at the upper right of the home page (see image above). If you do use the navigation menu, be warned that the Passenger Search option is near the bottom of the pop-down Ellis Island menu pane and that it may actually be off the bottom of your screen when you have your screen zoomed beyond 100%. You will need to adjust your zoom, as there is no way to scroll down to it (a beta bug that users will need to complain about!).

Once you get to Passenger Search, you will be greeted by a rather cryptic screen whose core is the following: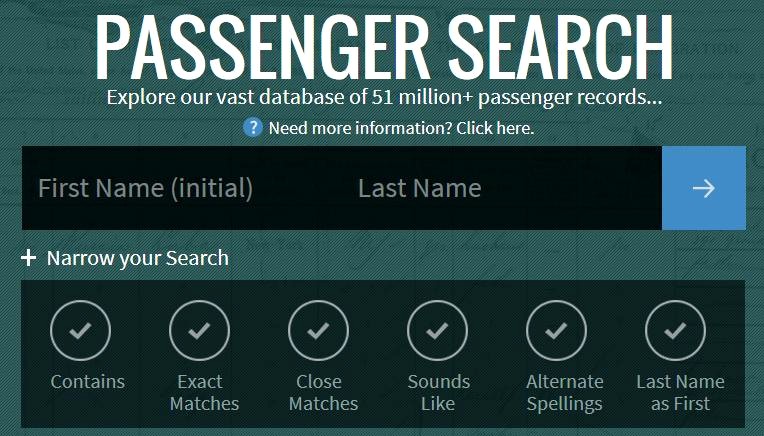 You must enter a Last Name in the appropriate box (although the "box" does not really appear until you hover the cursor over text "Last Name") and you may enter a first name initial (but do not have to). Despite the box text of "First Name (initial)", you cannot enter more than a single letter in this box (another bug to my way of thinking).

You may also click one or more of the circled checkmarks to pick those options (these options are actually called "filters"). The last filter, Last Name as First, is new to this revision of the website. What is not obvious, however, is that these circled checkmarks are not what is meant by the text "+ Narrow your Search" (the filter options generally expand the search, not narrow it).

If you click that 'Narrow your Search' text, additional options will appear, including ones to select Gender and Marital Status and, if you click the right-side horizontal scroll arrow, ones for Year of Birth, Current Age, Age at Arrival Range, and Year, Month and Day of Arrival (you move little sliders to pick a range for each of these... my complaint here is that the sliders are quite short so you need to make very fine moves to select the exact range you want, which is very hard to do!).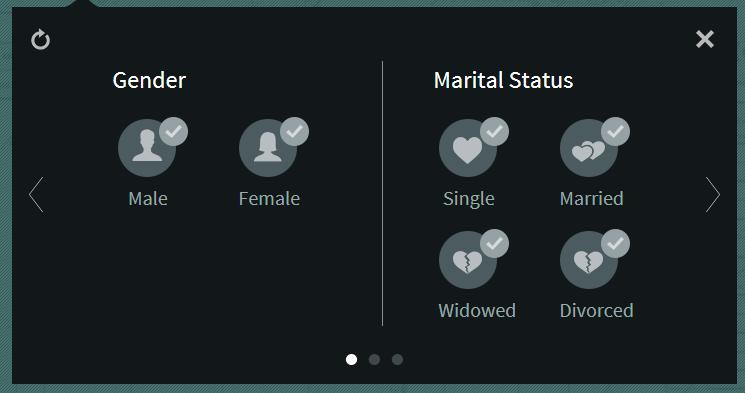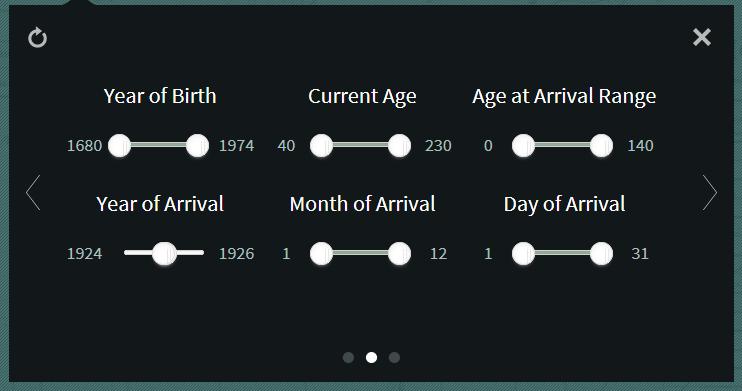 Narrow your Search options (not shown full size)

If you click the right-side horizontal scroll arrow again, you will find type-in boxes for quite a few other things: Town of Origin, Ship Name, Port of Departure, Arrival Port (this one is grayed out because the only possible port for Ellis Island records is New York... but its presence suggest the site plans to add records of other ports), Passenger ID, Passenger First Name (the only place you can put in a full first name), Companion's First Name, and Place of Birth. There is also a clickable "plus sign" for Ethnicity, which calls up a sub-form where you check boxes for each ethnicity.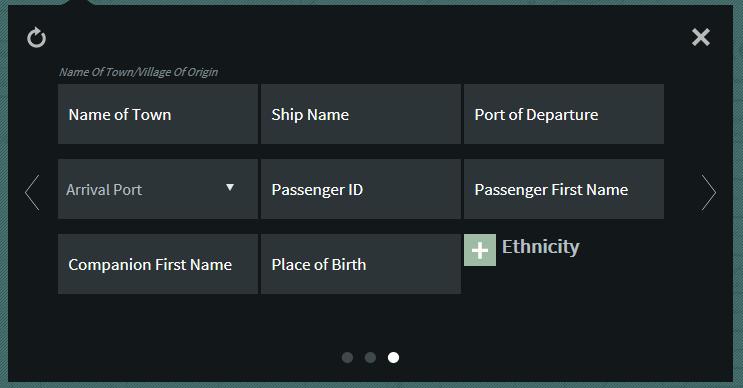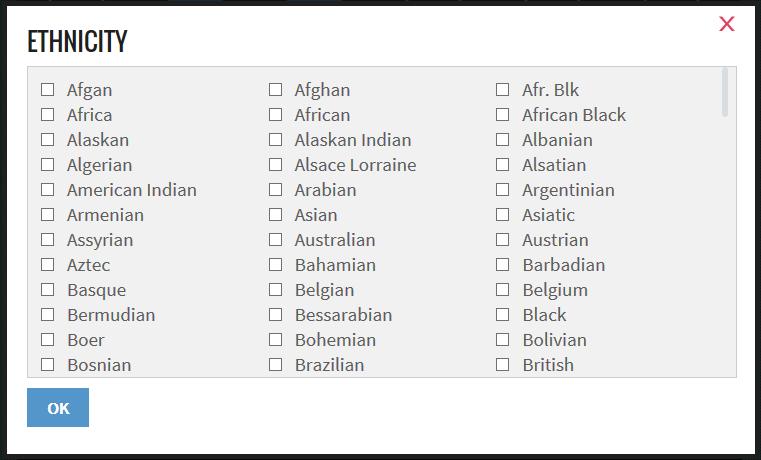 Narrow your Search options (not shown full size)

Discerning users of Steven Morse's One-Step Ellis Island Gold Form will recognize that "Narrow Your Search" almost exactly duplicates the options that the Morse form previously provided... however, the Morse form still works too.

Once you choose your desired options, you click the arrow in the blue box next to Last Name to initiate the search.

The results (for a search for surname Steichen) look like this: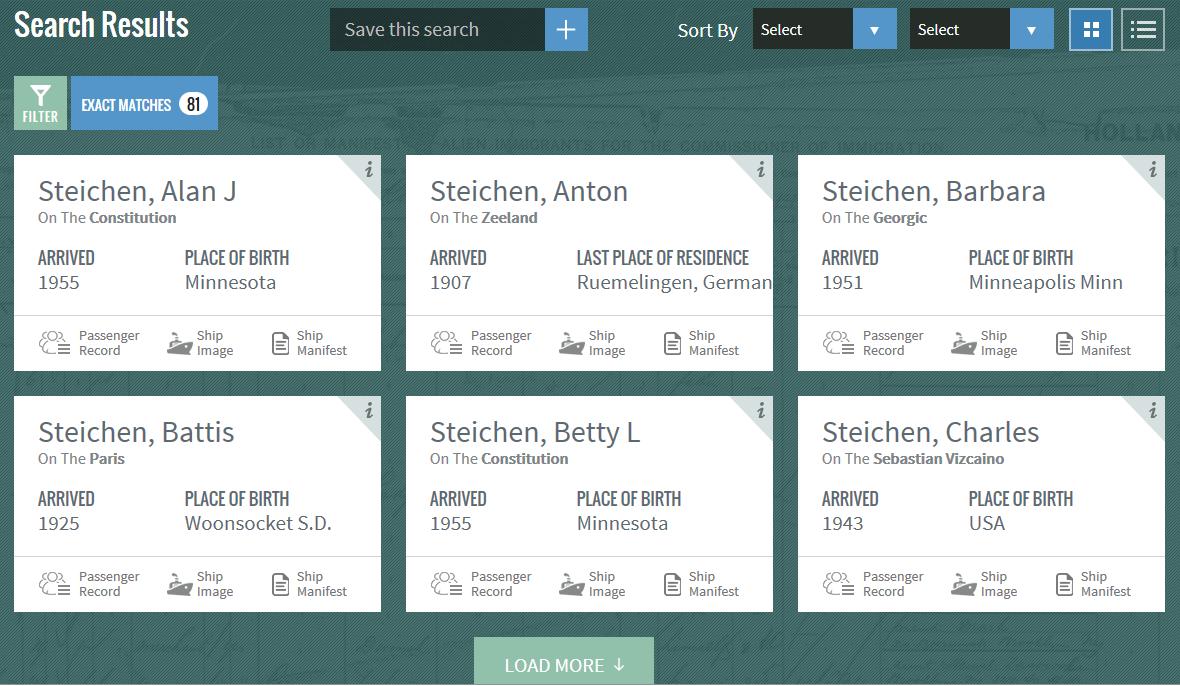 What you see above is the default display. If you prefer a list format, you can click the rightmost of the two little square icons in the upper right corner (shown again here; the left icon of these two returns to this grid display). A number of features should be noted. Over in the upper left is a Filter button that calls up the filters from the search page. Next to that, it notes that the selected filter option, Exact Matches, returns 81 records. At the top, to the right of the middle of the screen, are two boxes to set Sort options (First Name, Last Name or Arrival Date, with Ascending or Descending sub-options). I will note that these filters seem to get "hung up" and often will return nothing... the only recourse I have found is to start the search process over again.

In each of the record boxes are some more choices for that specific record. Note the little italic i in the blue triangle in the upper right corner. Hovering over this calls up more information from that record. Do note, however, that if you are not logged in, you only get a little bit more information... you must log-in to get the full display (there is a note at the bottom of the added information that tells you this... but, if the displayed information is too large, this message gets pushed off the bottom of the pane... another beta bug). Also, if you choose to log-in at this time, the login works fine but you are returned to a selection page and your search is lost (I think this also is a beta bug). You must also log-in before you can see manifest images or other advanced data so, for now, if you think you want anything more than the default information, log-in before you search!

Going back to the record boxes, at the bottom of each are three icons (with text) for Passenger Record, Ship Image, or Ship Manifest. These return a summary of the passenger record, a picture of the ship, or the manifest itself.

If you choose Ship Manifest, it opens in an embedded sub-window in a medium resolution format with an image of a magnifying glass overlaid. Only really clear images can be read in this format and, even in these, the overlay image obscures some of the underlying text. The intent is for you to move your mouse pointer over the image so that a larger, higher resolution format appears of that part of the image that fits in the sub-window. Different parts of the image appear as you move your mouse pointer about.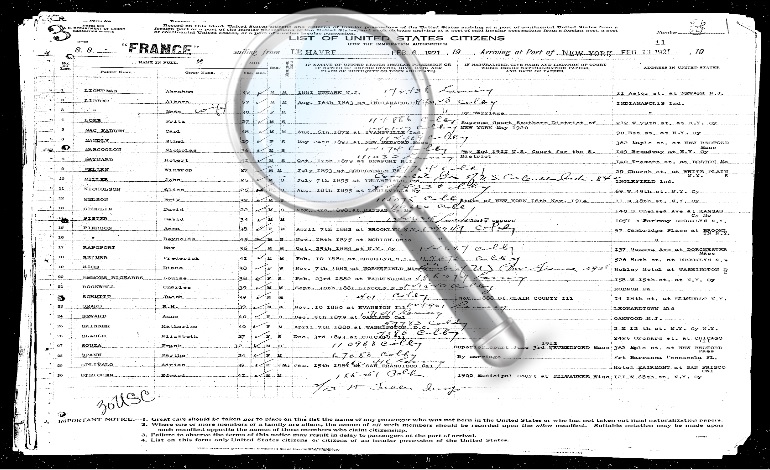 You might reasonably ask why they chose this awkward format... the answer, I'll conjecture, is that they want to make it difficult for you to capture electronically a usable image while still being able to claim you can view the manifest online. Unlike the old site, where you could freely download a copy of the image, now your only option is to pay for a good-resolution printed copy of the complete image... and you do pay: $29.99 for the first page, plus $20 for the second page when it is a two-page manifest! ... and you must pay additional for shipping too. Granted, these are nice large archival copies... but they still are just prints of the scanned image.

One advantage of the new site is that about two-thirds of the passenger records from years 1925 through 1957 have been added, with the remaining third expected to be available by year-end. The previous site stopped at 1924, when immigration slowed due to restrictive quotas and Ellis became more a record-keeping center than the main NYC in-processing center (however, the available 1925-1957 records were previously searchable via both Ancestry and FamilySearch and could be viewed on the old Ellis site, even though they were not searchable through Ellis itself! Likewise, some of Steven Morse's One-Step tools could/can look at the Ellis records in ways the Ellis' old and new sites did not/do not allow.).

So that is an overview of the new Ellis Island site. I suspect it is a sign of old age (mine) that I'm less tolerant of fighting through beta site errors and relearning interfaces... you may have perceived some of that in this review. However, I also hope that the site gets through its "learning curve" quickly and settles into a stable and fast format. I also hope they return to the days where you could freely make an electronic copy of a manifest. Those who want a keepsake will still pay the price for a gift-quality copy.... but those of us who just want to document an emigration event will not pay, even if an electronic copy is not available.



4) DAY OF THE SIEGE: SEPTEMBER ELEVEN 1683

I'm not much of a TV watcher... but my wife is, which is why we have a Netflix account (she loves to serially watch full seasons of British TV show... binge-watching, if you will). In fairness, I must report that the hours she spends watching TV are equally matched by the hours I sit in front of my computer, where I respond to BB members and staff, do research and write articles and, in season, watch Minnesota Twins baseball or other Minnesota sports (I was born and raised in Minnesota and, despite not living there for nearly 40 years, I find my Minnesota "affiliation" hard to break!). And, I occasionally watch a Netflix movie (usually, on my computer).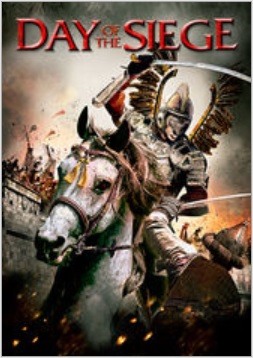 I don't know if you recognize the title of this article, but it is the title of a 2012 English-speaking joint Italian/Polish movie and it contains a date that was crucial in Burgenland history.

As the Netflix teaser says: "In 1683 Vienna, a small contingent of cavalry stands against 300,000 Ottoman Empire soldiers in an epic battle that will decide the world's fate."

Much like the movie itself, this teaser is not historically accurate, though there is some logic behind its errors. I'll talk a little more about that as I comment on the movie itself.

As stated above, the movie is a joint Italian and Polish production, which is evident when you observe who are the heroes, idiots and villains in the story line. Not surprisingly, the clear-cut hero is Jan Sobieski, the King of Poland, who devised and led the final attack on the Ottoman besiegers. Another hero, played by F. Murray Abraham (the only cast member I recognize...though my lack of recognition of other cast members may just reflect my general lack of knowledge about movie people), is Marco D'Aviano, an Italian monk most often referred to as simply Brother Marco. My review of the real participants in the siege and breaking thereof shows absolutely no Italian involvement (other than that Pope Innocent XI supported the formation of a Holy League to defeat the Muslim Ottomans). Nonetheless, the Italian monk Marco holds a significant role in the movie (there also is a fictitious thousand-strong Italian brigade that gets mentioned as ready to participate in the fight... but never appears in the story again).

As for the main villain, it is, of course, Kara Mustafa, the Grand Vizier (Commander) of the Ottoman troops, though he is presented in a quite sympathetic manner (and he is given a beautiful Italian wife). A far less sympathetic presentation is that for the movie's main idiot, the Habsburg's Leopold I (Holy Roman Emperor, King of Germany, Hungary, Croatia and Bohemia), who is given a high-pitched voice and unmanly behaviorisms and is written as a self-interested coward.

One last bit of evident Italian favoritism is that the "reason" given for why the Ottomans must capture Vienna is to open the road to Rome! Clearly, Vienna was in no way a gateway to Rome, neither geographically nor militarily. It was, however, a gateway to Western Europe and stopping the Ottomans in 1683 did "decide the world's fate," as it reversed the westward momentum of the Muslim Ottomans, and started the 16-year eastward push of the Christian forces, a push that finally drove the Ottomans from Europe.

You may also have noticed the "teaser's" claim that "a small contingent of cavalry stands against 300,000 Ottoman Empire soldiers." Kara Mustafa did enter Europe with a group of 300,000 ...but a sizable number of these were camp followers rather than soldiers. Further, some of the soldiers were kept back from Vienna to guard the supply lines of the Ottomans. Realistically, Mustafa had about 12,000 men in the siege force and about 70,000 soldiers in his observation force, waiting to defend against an attack, plus 300 cannon.

Vienna was defended by 11,000 infantry soldiers and 5,000 volunteers with 370 cannon. Sobieski's relief force numbered nearly 85,000, of which some 20,000 were cavalry, another 18,000 were dragoons (mounted infantry, who maneuvered on horseback but fought on foot), and the rest infantry. He also had around 150 cannon, which he situated on high ground to give them more reach. So yes, the contingent of cavalry was small relative to "300,000" Ottomans, but the total relief force was equal, if not larger, than the Ottoman force.

I think I've "bashed" this movie's inaccuracies enough, but I must mention the "cheesy" cannon ball special effects... they are so bad they have their own odd fascination!

Despite all this, the movie has enough redeeming qualities to allow me to recommend it. First, the underlying story, once you discount the gratuitous Italian bits, is quite accurate, though the timeline depicted is compacted relative to the actual history. Much of the activity around the actual siege and the eventual breaking of it is accurate enough to give viewers a realistic understanding of warfare at the time, and Jan Sobieski is properly credited for his crucial role in the outcome of the battle. Both the costumes and photography are excellent, and the movie gives a nice glimpse at both 17th Century court life and that of the peasants.

Since so few movies address this topic, I recommend it to those of you with a Netflix account. It is picturesque enough and factual enough to be worth seeing, especially if you'd like a small history lesson too.





Hannes Graf read a draft of the above article and commented that he had studied about "the real heroes" of the battle, as per the Austrian Military Museum in Vienna. The Museum and its records say that the real heroes were the mosquitoes and rats who brought sickness to the Ottoman troops (malaria, cholera). At that time, the Neusiedler See was some four times greater in area than it is now and the Danube River had flooded large areas around Vienna, making inviting breeding grounds for mosquitoes and likely driving rats towards the troops. Further, the wet ground meant that only three of the cannon the Ottomans brought from the east were actually in range of Vienna. Hannes says it was not a good idea for the Ottomans to attack under these conditions, but they did... however, "with these facts, nobody can make a Hollywood movie!"



5) SLAVIC MIGRATION FROM GERMANY (by Frank Paukowits)

The Burgenland DNA Study Project has reported an interesting finding regarding migration into Burgenland. Specifically, this involves people who migrated from present-day Germany during the period between 1100 and 1500 AD.

Frank Paukowits and Tibor Feher, who are analyzing the DNA of project participants, have always been perplexed by the fact that they had people with the West Slavic R1A Haplogroup gene in the project with German surnames.

The written history covering the period between 1100 and 1500 AD never reported a migration of Slavs into Burgenland. Historians, however, have indicated that an inflow of "Germans" did occur during that period from the Fichtelgebirge region in Bavaria, which borders the Czech Republic. They had come to this conclusion based on the fact that the dialect spoken in this area closely paralleled the Bavarian dialect spoken in southern Burgenland (Hianzen).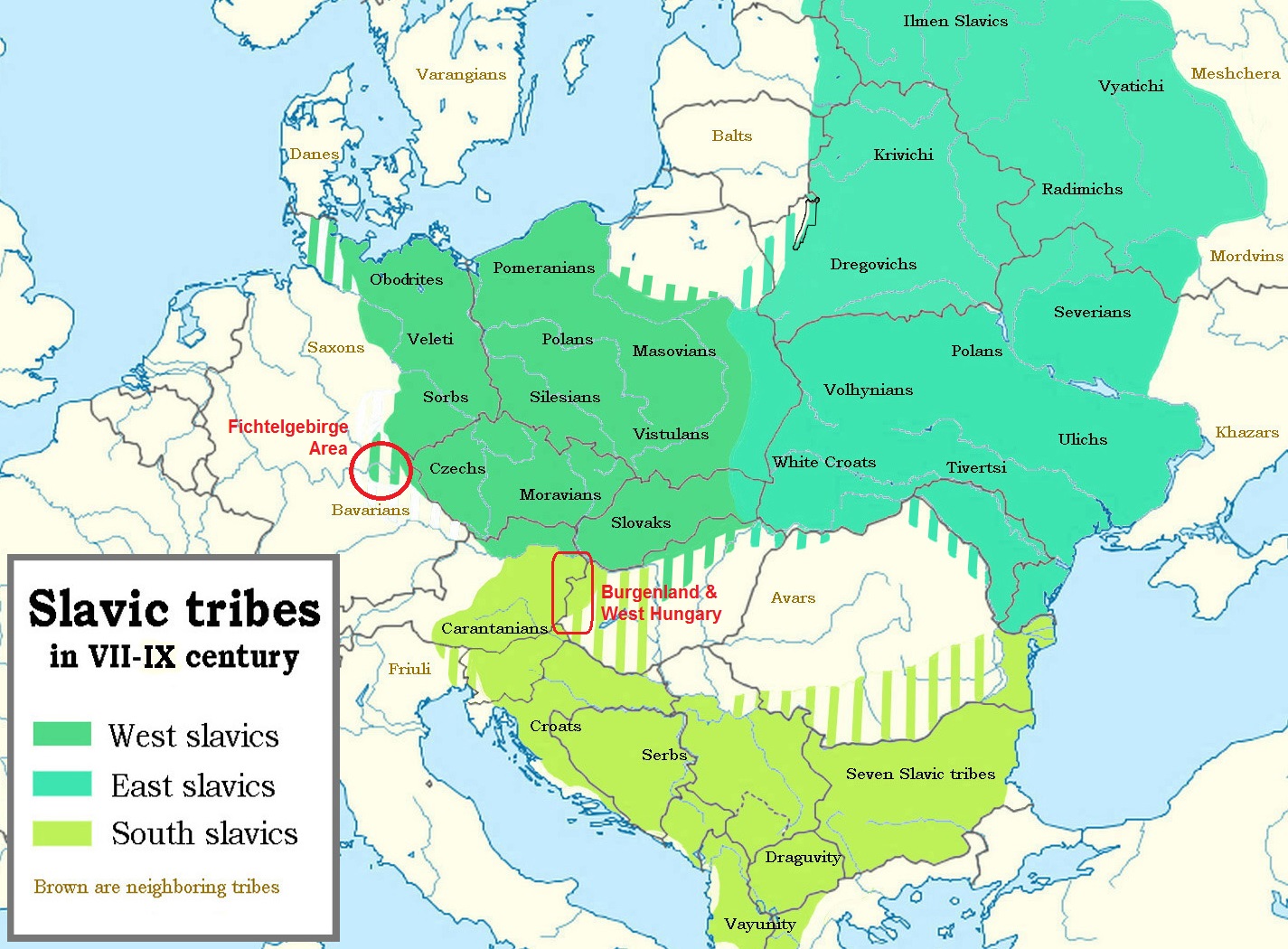 Internet sources indicated that the Fichtelgebirge section had first been settled by West Slavic tribes in the 500's AD. Eupedia, a resource showing DNA haplogroup distributions by country, indicates that the areas of East and North Germany have a significantly higher percentage of the Slavic gene than the rest of Germany. The Fichtelgebirge region is in east Germany, so the results shown in Eupedia would be consistent with the presence of a sizable Slavic population in this region.

Our theory, which we think is plausible both from a DNA and linguistic standpoint, is that, in part, the migration of people into Burgenland from Germany in the period from 1100 to 1500 AD may have actually represented people with Slavic backgrounds who had been Germanized over the intervening centuries. This would account for the fact that a number of the Slavic-gene people in our project had German surnames, although their DNA was definitely Slavic. This was part of the Germanization process that took place in the many centuries these Slavs lived in a German territory.

This analysis definitely shows the power of using DNA along with other tools…. in this case linguistics…. to recreate historical events a thousand years earlier. Frank and Tibor are encouraging BB members with a link to Burgenland on the paternal side of the family to join the Project. Usually, there is a sale on the DNA test required for the project toward the end of the year. If you want information, e-mail Frank at paukowits1@aol.com.

6) HISTORICAL BB NEWSLETTER ARTICLES
Editor: This is part of our series designed to recycle interesting articles from the BB Newsletters of 10 years ago. The first article below discusses one of the many myths about US history. The second article, title noted but not reprinted, served as a personal reminder... I share that story instead.




THE BURGENLAND BUNCH NEWS No. 132A
Sep 30, 2004

THE MYTH OF GERMAN ALMOST REPLACING ENGLISH AS US LANGUAGE (courtesy of Bob Unger)

(Bob forwards the following extract from an essay written by Dennis Barron and posted by Geoffrey Mess in soc.culture.german in March 1996: The Legendary English-Only Vote of 1795)

Urban Legend: German almost became the official language of the US

Dennis Barron writes: Long before I ever came to the US, I heard the story of how, a long, long time ago, the US voted on an official language. In events packed with drama, opinions were split between English and German. It all came down to the final vote: English won - by a single vote, because one German-favoring guy was sitting on the toilet.

Gripping as this story may be, it is not exactly true. As the essay below explains, there was no such vote and therefore no fateful diarrhea.

The German Vote

On January 13, 1795, Congress considered a proposal, not to give German any official status, but merely to print the federal laws in German as well as English. During the debate, a motion to adjourn failed by one vote. The final vote rejecting the translation of federal laws, which took place one month later, is not recorded.

The translation proposal itself originated as a petition to Congress on March 20, 1794, from a group of Germans living in Augusta, Virginia. A House committee responding to that petition recommended publishing sets of the federal statutes in English and distributing them to the states, together with the publication of three thousand sets of laws in German, "for the accommodation of such German citizens of the United States, as do not understand the English language" (American State Papers ser. 10, v. 1:114). According to the succinct report in the Aurora Gazette, "A great variety of plans were proposed, but none that seemed to meet the general sense of the House" (22 January, 1795, p. 3).





Also in September of 2004 (BB NL No. 132B) was a short article titled "Ivan's Rain Causes Much Damage in Pittsburgh Area." While I'm not going to reprint it, I will note that it caused me to reminisce, recalling a memory that was not so pleasant.

At that time ten years ago, I was still living and working in North Carolina. A few years prior, my wife and I had sold a mountain cabin we had along the Blue Ridge Parkway in southern Virginia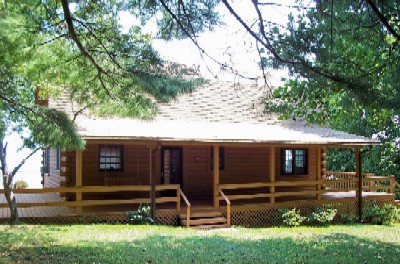 and, in 2004, were just completing the purchase of our second, nicer cabin a few miles away. In fact, we had signed the paperwork the morning that the remnants of Hurricane Ivan crossed over North Carolina and into Virginia. After signing the papers and a quick lunch, we headed to our "new" log cabin, running through strong wind and squalling rain from car to porch. As we looked about, once inside, to decide about changes and additions we would make, the wind rose and sheets of horizontal rain battered the exposed southern and eastern sides of our cabin high on the escarpment looking over the Carolina Piedmont. Soon rainwater started pouring in from the tops of the windows (whose framings were normally protected by the wide roof overhang). Looking out the other side of the cabin, we noted trees bending and branches flying through the air... and shingles... from our roof! So, our first task would become sealing window framing and replacing the shingles... not an auspicious start to ownership of the cabin... but it was a memorable first day with Ivan! ...and Newsletter 132B reminded me of it.



7) ETHNIC EVENTS

LEHIGH VALLEY, PA

October 1-5: Oktoberfest at the Reading Liederkranz. Info: www.readingliederkranz.com

October 3-5 & 10-12: Oktoberfest at SteelStacks in Bethlehem. Info: www.artsquest.org/oktoberfest

October 12: Harvest Dance at the Coplay Sängerbund. Music by the Emil Schanta Band. Info: www.coplaysaengerbund.com

October 18: Weinlesefest at the Lancaster Liederkranz. Music by Heidi & Heimatecho. Info: www.lancasterliederkranz.com


NEW BRITAIN, CT

Friday, October 3, 7 pm: Heimat Abend. Austrian Donau Club, 545 Arch Street, $3. Music by Joe Rogers and his band.

Friday, October 17, 7:30 pm: Heurigan Abend. Austrian Donau Club, 545 Arch Street, $3. Music by Schachtelgebirger Musikanten.

Sunday, November 2, 3-5 pm: "Salute to Vienna" Concert: music by the great Austrian Masters. New Britain Symphony, Welte Hall, 1615 Stanley Street. $23. Austrian deserts will be available at intermission. (Sponsored in part by the Austrian Donau Club of New Britain.) For more info: http://newbritainsymphony.org/events/nbso-fall-concert/


ST. LOUIS, MO

Sunday, November 2, 2014, 2-6 pm: St Louis Gathering of Burgenländer and Descendants, at the Community Center Cafeteria of the Holy Name of Jesus Catholic Church, 10235 Ashbrook Dr, St. Louis. Contact Theresa McWilliams at tmacwms@sbcglobal.net for more information or to say you plan to attend.

8) BURGENLAND EMIGRANT OBITUARIES
Alois Billovits

Alois Billovits, 78, native of Steingraben, Austria, passed away on July 25, 2014 in Flushing, New York. Beloved husband of Agnes (née Jandrisevits). Loving father of Richard and Gerald. Cherished grandfather of 5. Dearest brother of Maria Howorka.

Reposing at the Frederick Funeral Home 192-15 Northern Blvd. Flushing NY 11358 on Sunday July 27, 2014 from 2-5 & 7-9pm. Funeral Mass Monday July 28, 2014 St. Kevin R. C. Church, Flushing NY at 9:45 a.m. Interment Mt. St. Mary's Cemetery. Funeral arrangements are under the care of Frederick Funeral Home, Flushing, New York.



Josef Miksits

Josef Miksits, 76, of Wantagh, New York, and native of Gerersdorf bei Güssing, Austria, passed away on August 24, 2014. Beloved husband of Gertrude. Devoted father of Karin Hagen (Salvatore Fabozzi), Trudy Moussaui (Alex) and Joseph Miksits (Laura). Cherished grandfather of Sean, Melissa, Sarah, Lauren, Christopher, Joseph and Thomas. Dearest brother of Helene.

Visitation Thursday, from 2-4 & 7-9:30 PM at C.S. Bartholomew & Son, 302 South Bedford Ave., Bellmore. Funeral Mass Friday, 10:45 am at St. Barnabas R.C. Church, Bellmore. Entombment at Pinelawn Memorial Park.



Günther Decker

Günther Decker, 73, of Emmaus, Pennsylvania, died September 10, 2014 in Lehigh Valley Inpatient Hospice.

He was the husband of Hedwig (Schwab) Decker.

Born in Königsdorf, Austria, he was the son of the late Rudolf and Ida (Holler) Decker.

He was a woodworker for Knoll, Inc. for 40 years, retiring in 2005. He was a member of the Lehigh Sängerbund, the Austrian-Hungarian Veterans Society, and the Mercantile Club of Emmaus. He was also a long-time Lehigh Valley representative for the worldwide Burgenländische Gemeinschaft.

Survivors: Wife; Son, Kevin Decker and wife Danielle of Telford; Daughter, Karin wife of Duane Wagner of Easton; Grandchildren, Katarina, Annalena, and Chase.

Services: Memorial Services Monday, Sept. 15, 2014 at 11:00 AM in Schantz Funeral Home, P.C., 250 Main St., Emmaus. Visitation 10:00 to 11:00 AM in the funeral home. Online condolences may be made to www.schantzfh.com. Contributions: In lieu of flowers, contributions may be made to Lehigh Valley Hospice, 2166 S. 12th St., Allentown, PA 18103.

Published in Morning Call on Sept. 12, 2014.



END OF NEWSLETTER


NOTICE (Terms and Conditions): The Burgenland Bunch (BB) was formed and exists to assist Burgenland descendants in their research into their heritage and, toward that end, reserves the right to use any communication you have with us (email, letter, phone conversation, etc.) as part of our information exchange and educational research efforts.
• If you do not want your communication to be used for this purpose, indicate that it is "confidential" and we will abide by that request.
• Correspondents who communicate with the BB without requesting confidentiality retain their copyright but give a non-exclusive license to the BB allowing us to forward to BB members, publish in our monthly newsletter or on our website, and/or subsequently and permanently archive all or parts of such communications.

The Burgenland Bunch homepage (website) can be found at:
http://www.the-burgenland-bunch.org

Burgenland Bunch Newsletter, copyright © 2014, The Burgenland Bunch, all rights reserved